Sunday 1 September 2019 Calendar with holidays, observances and special days
Holidays and observances
Acne Awareness Month in Canada (also Craniofacial Awareness Month and Prostate Cancer Awareness Month)
Earliest day on which Labor Day can fall, while September 7 is the latest; celebrated on the first Monday in September. (Canada, United States, Palau)
Emma M Nutt Day (in September of 1878 Emma M Nutt became the first female phone operator, and from that point forward it's been a woman's work)
The day Germany invaded Poland in 1939 (triggering World War II)
Wattle Day (Australia)
Events
In 2017 the European X-ray Free Electron Laser (XFEL) is officially opened in the German city of Hamburg.
In 2016 an annular solar eclipse occurs.
1985 – A joint American–French expedition locates the wreckage of the RMS Titanic.
1982 – The United States Air Force Space Command is founded.
1979 – The American space probe Pioneer 11 becomes the first spacecraft to visit Saturn when it passes the planet at a distance of 21,000 kilometres (13,000 mi).
1972 – In Reykjavík, Iceland, American Bobby Fischer beats Russian Boris Spassky to become the world chess champion.
1961 – The first conference of the Non Aligned Countries is held in Belgrade.
1952 – The Old Man and the Sea, the Pulitzer Prize-winning novel by Ernest Hemingway, is first published.
1951 – The United States, Australia and New Zealand sign a mutual defense pact, called the ANZUS Treaty.
1939 – General George C. Marshall becomes Chief of Staff of the United States Army.
1934 – The first Metro-Goldwyn-Mayer animated cartoon, The Discontented Canary, is released to movie theatres.
1920 – The Fountain of Time opens as a tribute to the 100 years of peace between the United States and Great Britain following the Treaty of Ghent.
1897 – The Tremont Street Subway in Boston opens, becoming the first underground rapid transit system in North America.
1878 – Emma Nutt becomes the world's first female telephone operator when she is recruited by Alexander Graham Bell to the Boston Telephone Dispatch Company.
1864 – American Civil War: The Confederate Army General John Bell Hood orders the evacuation of Atlanta, ending a four-month siege by General William Tecumseh Sherman.
1862 – American Civil War: Battle of Chantilly: Confederate Army troops defeat a group of retreating Union Army troops in Chantilly, Virginia.
1836 – Narcissa Whitman, one of the first English-speaking white women to settle west of the Rocky Mountains, arrives at Walla Walla, Washington.
1804 – Juno, one of the largest asteroids in the Main Belt, is discovered by the German astronomer Karl Ludwig Harding.
1772 – The Mission San Luis Obispo de Tolosa is founded in San Luis Obispo, California.
1604 – Adi Granth, now known as Guru Granth Sahib, the holy scripture of Sikhs, was first installed at Harmandir Sahib.
1529 – The Spanish fort of Sancti Spiritu, the first one built in modern Argentina, is destroyed by natives.
Births
1996 – Zendaya Stoermer Coleman, American actress and singer
1988 – Gabriel Ferrari, American soccer player
1985 – Larsen Jensen, American swimmer
1984 – Joe Trohman, American singer-songwriter, guitarist, and producer
1984 – Nick Noble, American football player
1982 – Ryan Gomes, American basketball player
1981 – Clinton Portis, American football player
1977 – Aaron Schobel, American football player
1977 – Arsalan Iftikhar, American lawyer and author
1976 – Babydaddy, American singer-songwriter and producer
1975 – Cuttino Mobley, American basketball player
1975 – Nomy Lamm, American singer-songwriter and activist
1974 – Jason Taylor, American football player and sportscaster
1974 – Jhonen Vasquez, American writer, director, cartoonist, and comic illustrator
1974 – Yutaka Yamamoto, Japanese director and producer, founded Ordet Animation Studio
1973 – Zach Thomas, American football player
1971 – Joe Enochs, American soccer player and manager
1970 – Padma Lakshmi, Indian-American actress and author
1966 – Ken Levine, American video game designer, co-founded Irrational Games
1966 – Tim Hardaway, American basketball player and coach
1964 – Charlie Robison, American singer-songwriter and guitarist
1964 – Holly Golightly, American author and illustrator
1961 – Boney James, American saxophonist, composer, and producer
1961 – Christopher Ferguson, American captain, pilot, and astronaut
1961 – Pete DeCoursey, American journalist (d. 2014)
1960 – Karl Mecklenburg, American football player
1959 – Joe Jusko, American illustrator and painter
1959 – Keith Clearwater, American golfer
1959 – Kenny Mayne, American football player and journalist
1957 – Gloria Estefan, Cuban-American singer-songwriter and actress
1956 – Bernie Wagenblast, American publisher, founded the Transportation Communications Newsletter
1956 – Vinnie Johnson, American basketball player and sportscaster
1953 – Don Blackman, American singer-songwriter, pianist, and producer (d. 2013)
1953 – Joseph Williams, American singer-songwriter and keyboard player
1950 – Phil McGraw, American psychologist, author, and talk show host
1950 – Phillip Fulmer, American football player and coach
1949 – Garry Maddox, American baseball player and sportscaster
1948 – Greg Errico, American drummer and producer
1948 – Russ Kunkel, American drummer and producer
1947 – Al Green, American lawyer and politician
1945 – Scott Spencer, American author and academic
1944 – Archie Bell, American soul singer-songwriter and musician
1944 – Leonard Slatkin, American conductor and composer
1942 – C. J. Cherryh, American author and educator
1939 – Lily Tomlin, American actress, comedian, screenwriter, and producer
1938 – Alan Dershowitz, American lawyer and author
1937 – Al Geiberger, American golfer
1937 – Allen Weinstein, American historian and academic (d. 2015)
1937 – Ron O'Neal, American actor, director, and screenwriter (d. 2004)
1933 – Ann Richards, American educator and politician, 45th Governor of Texas (d. 2006)
1933 – Conway Twitty, American singer-songwriter and guitarist (d. 1993)
1933 – Marshall Lytle, American bass player and songwriter (d. 2013)
1931 – Beano Cook, American journalist and sportscaster (d. 2012)
1931 – Boxcar Willie, American singer-songwriter and guitarist (d. 1999)
1929 – Mava Lee Thomas, American baseball player (d. 2013)
1927 – Wyatt Cooper, American author and screenwriter (d. 1978)
1926 – Gene Colan, American illustrator (d. 2011)
1925 – Art Pepper, American saxophonist, clarinet player, and composer (d. 1982)
1925 – Arvonne Fraser, American activist
1924 – Hal Douglas, American voice actor (d. 2014)
1923 – Rocky Marciano, American boxer (d. 1969)
1922 – Yvonne De Carlo, Canadian-American actress and singer (d. 2007)
1920 – Liz Carpenter, American journalist, author, and activist (d. 2010)
1920 – Richard Farnsworth, American actor and stuntman (d. 2000)
1916 – Dorothy Cheney, American tennis player (d. 2014)
1914 – John H. Adams, American jockey (d. 1995)
1913 – Christian Nyby, American director and producer (d. 1993)
1907 – Walter Reuther, American union leader, founded United Auto Workers (d. 1970)
1904 – Johnny Mack Brown, American football player and actor (d. 1974)
1899 – Richard Arlen, American actor (d. 1976)
1896 – A. C. Bhaktivedanta Swami Prabhupada, Indian religious leader, founded the International Society for Krishna Consciousness (d. 1977)
1895 – Engelbert Zaschka, German engineer and designer, invented the Human-powered aircraft (d. 1955)
1893 – Yasuo Kuniyoshi, Japanese-American painter and photographer (d. 1953)
1892 – Leverett Saltonstall, American lieutenant and politician, 55th Governor of Massachusetts (d. 1979)
1877 – Rex Beach, American author, playwright, and water polo player (d. 1949)
1875 – Edgar Rice Burroughs, American soldier and author (d. 1950)
1871 – J. Reuben Clark, American lawyer, civil servant, and religious leader (d. 1961)
1866 – James J. Corbett, American boxer (d. 1933)
1851 – John Clum, American journalist and agent (d. 1932)
1850 – Jim O'Rourke, American baseball player and manager (d. 1919)
1795 – James Gordon Bennett Sr., American publisher, founded the New York Herald (d. 1872)
1689 – Kilian Ignaz Dientzenhofer, Bohemian architect, designed Ss. Cyril and Methodius Cathedral (d. 1751)
Deaths
2015 – Ben Kuroki, American sergeant and pilot (b. 1917)
2015 – Dean Jones, American actor and singer (b. 1931)
2015 – Richard G. Hewlett, American historian and author (b. 1923)
2014 – Joseph Shivers, American chemist and academic, developed spandex (b. 1920)
2014 – Rogers McKee, American baseball player (b. 1926)
2013 – Margaret Mary Vojtko, American linguist and academic (b. 1930)
2012 – Hal David, American songwriter and composer (b. 1921)
2008 – Jerry Reed, American singer-songwriter, guitarist, and actor (b. 1937)
2006 – Bob O'Connor, American businessman and politician, 57th Mayor of Pittsburgh (b. 1944)
2006 – Warren Mitofsky, American journalist (b. 1934)
2005 – R. L. Burnside, American singer-songwriter and guitarist (b. 1926)
2003 – Rand Brooks, American actor and producer (b. 1918)
1998 – Cary Middlecoff, American golfer and sportscaster (b. 1921)
1990 – Edwin O. Reischauer, American scholar and diplomat (b. 1910)
1989 – A. Bartlett Giamatti, American businessman and academic (b. 1938)
1989 – Tadeusz Sendzimir, Polish-American engineer (b. 1894)
1988 – Luis Walter Alvarez, American physicist and academic, Nobel Prize laureate (b. 1911)
1986 – Murray Hamilton, American actor (b. 1923)
1983 – Henry M. Jackson, American lawyer and politician (b. 1912)
1983 – Larry McDonald, American physician and politician (b. 1935)
1982 – Haskell Curry, American mathematician and academic (b. 1900)
1981 – Ann Harding, American actress (b. 1901)
1977 – Ethel Waters, American singer and actress (b. 1896)
1969 – Drew Pearson, American journalist and author (b. 1897)
1947 – Frederick Russell Burnham, American soldier and adventurer (b. 1861)
1838 – William Clark, American soldier, explorer, and politician, 4th Governor of Missouri Territory (b. 1770)
Sunday 1 September 2019
List of commemorative months in September in Ohio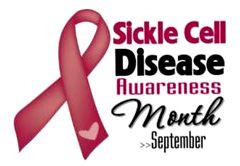 Sickle Cell Anemia Awareness Month; Leukemia, Lymphoma, and Myeloma Awareness Month; Mitochondrial Disease Awareness Month; Brain Aneurysm Awareness Month; Ohio Preparedn..→