Sunday 20 October 2019 Calendar with holidays, observances and special days
Holidays and observances
Information Overload Day
Internation Lead Poisoning Prevention Week
National Brandied Fruit Day in USA
National Down Syndrome Day in South Africa
Shemini Atzeret (date of 2019. Ñelebrated on the 22nd day of the Hebrew month of Tishrei - שְׁמִינִי עֲצֶרֶת - an independent one-day holiday which follows immediately after the seven-day festival of Sukkot)
Vietnamese Women's Day in Vietnam
Events
In 2016 researchers at James Cook University in Australia report that adding a type of dried seaweed (Asparagopsis taxiformis) to the diet of cattle could reduce their emissions of methane by 50-70%.
1973 – "Saturday Night Massacre": United States President Richard Nixon fires U.S. Attorney General Elliot Richardson and Deputy Attorney General William Ruckelshaus after they refuse to fire Watergate special prosecutor Archibald Cox, who is finally fired by Robert Bork.
1968 – Former First Lady Jacqueline Kennedy marries Greek shipping tycoon Aristotle Onassis.
1961 – The Soviet Union performs the first armed test of a submarine-launched ballistic missile, launching an R-13 from a Golf-class submarine.
1952 – Governor Evelyn Baring declares a state of emergency in Kenya and begins arresting hundreds of suspected leaders of the Mau Mau Uprising, including Jomo Kenyatta, the future first President of Kenya.
1947 – The House Un-American Activities Committee begins its investigation into Communist infiltration of the cinema of the United States, resulting in a blacklist that prevents some from working in the industry for years.
1947 – The United States of America and the Islamic Republic of Pakistan establish diplomatic relations for the first time.
1944 – American general Douglas MacArthur fulfills his promise to return to the Philippines when he commands an Allied assault on the islands, reclaiming them from the Japanese during the Second World War.
1939 – Pope Pius XII publishes his first major encyclical, entitled Summi Pontificatus.
1873 – Yale, Princeton, Columbia, and Rutgers universities draft the first code of American football rules.
1818 – The Convention of 1818 is signed between the United States and the United Kingdom, which settles the Canada–United States border on the 49th parallel for most of its length.
1803 – The United States Senate ratifies the Louisiana Purchase.
1781 – The Patent of Toleration, providing limited freedom of worship, is approved in Habsburg Monarchy.
1548 – The city of Nuestra Señora de La Paz (Our Lady of Peace) is founded by Alonso de Mendoza by appointment of the king of Spain and Holy Roman Emperor, Charles V.
Births
1989 – Colin Wilson, Canadian-American ice hockey player
1985 – Alphonso Smith, American football player
1985 – Dominic McGuire, American basketball player
1985 – Jennifer Freeman, American actress
1984 – Mitch Lucker, American singer-songwriter (d. 2012)
1982 – Katie Featherston, American actress
1979 – John Krasinski, American actor, director, and producer
1979 – Paul Terek, American decathlete
1977 – Leila Josefowicz, Canadian-American violinist
1976 – Dan Fogler, American actor, director, producer, and screenwriter
1974 – Bashar Rahal, Emirati-American actor and producer
1974 – Ed Hale, American singer-songwriter, writer and socio-political activist
1972 – Brian Schatz, American academic and politician, 11th Lieutenant Governor of Hawaii
1971 – Eddie Jones, American basketball player
1971 – Snoop Dogg, American rapper, producer, and actor
1970 – Michelle Malkin, American blogger and author
1969 – Juan González, Puerto Rican-American baseball player
1966 – Patrick Volkerding, American computer scientist and engineer, founded Slackware
1965 – Jonathan I. Schwartz, American businessman
1965 – William Zabka, American actor and producer
1964 – Kamala Harris, American lawyer and politician, 32nd Attorney General of California
1962 – David M. Evans, American director and screenwriter
1958 – Dave Krieg, American football player
1958 – Lynn Flewelling, American author and academic
1958 – Scott Hall, American wrestler
1958 – Valerie Faris, American director and producer
1958 – Viggo Mortensen, American actor and producer
1957 – Hilda Solis, American academic and politician, 25th United States Secretary of Labor
1955 – Aaron Pryor, American boxer
1955 – Thomas Newman, American composer and conductor
1954 – Steve Orich, American composer and conductor
1953 – Keith Hernandez, American baseball player and sportscaster
1953 – Richard McWilliam, American businessman and philanthropist, co-founded the Upper Deck Company (d. 2013)
1952 – Melanie Mayron, American actress and director
1951 – Al Greenwood, American keyboard player
1951 – Ken Ham, Australian-American evangelist
1950 – Tom Petty, American singer-songwriter, guitarist, and producer (d. 2017)
1950 – William Russ, American actor and director
1948 – Sandra Dickinson, American-English actress and composer
1946 – Diana Gittins, American-English sociologist, author, and academic
1946 – Lewis Grizzard, American comedian and author (d. 1994)
1944 – David Mancuso, American party planner, created The Loft (d. 2016)
1942 – Earl Hindman, American actor (d. 2003)
1940 – Robert Pinsky, American poet and critic
1937 – Wanda Jackson, American singer-songwriter and guitarist
1936 – Bobby Seale, American activist, co-founded the Black Panther Party
1935 – Jerry Orbach, American actor and singer (d. 2004)
1934 – Bill Chase, American trumpet player (d. 1974)
1934 – Eddie Harris, American saxophonist (d. 1996)
1933 – Barrie Chase, American actress and dancer
1932 – Rosey Brown, American football player and coach (d. 2004)
1932 – William Christopher, American actor and singer (d. 2016)
1931 – Mickey Mantle, American baseball player and sportscaster (d. 1995)
1931 – Richard Caliguiri, American lawyer and politician, 54th Mayor of Pittsburgh (d. 1988)
1927 – Joyce Brothers, American psychologist, author, and actress (d. 2013)
1926 – Edward Douglas-Scott-Montagu, 3rd Baron Montagu of Beaulieu, English lieutenant and politician, founded the National Motor Museum (d. 2015)
1925 – Art Buchwald, American soldier and journalist (d. 2007)
1925 – Tom Dowd, American record producer and engineer (d. 2002)
1924 – Robert Peters, American poet, playwright, and critic (d. 2014)
1923 – Robert Craft, American conductor and musicologist (d. 2015)
1922 – Franco Ventriglia, American opera singer (d. 2012)
1922 – John Anderson, American actor (d. 1992)
1921 – Manny Ayulo, American racing driver (d. 1955)
1920 – Nick Cardy, American illustrator (d. 2013)
1919 – Tracy Hall, American chemist and academic (d. 2008)
1918 – Robert Lochner, American-German soldier and journalist (d. 2003)
1914 – Fayard Nicholas, American actor, dancer, and choreographer (d. 2006)
1913 – Grandpa Jones, American singer-songwriter and banjo player (d. 1998)
1910 – Bob Sheppard, American sportscaster (d. 2010)
1909 – Carla Laemmle, American actress and photographer (d. 2014)
1907 – Arlene Francis, American actress and television personality (d. 2001)
1904 – Enolia McMillan, American educator and activist (d. 2006)
1901 – Adelaide Hall, American-English singer, actress, and dancer (d. 1993)
1901 – Frank Churchill, American film composer (d. 1942)
1900 – Wayne Morse, American lieutenant, lawyer, and politician (d. 1974)
1895 – Morrie Ryskind, American writer/director (d. 1985)
1895 – Rex Ingram, American actor (d. 1969)
1894 – Olive Thomas, American model and actress (d. 1920)
1893 – Charley Chase, American actor, director, and screenwriter (d. 1940)
1891 – Samuel Flagg Bemis, American historian and author (d. 1973)
1885 – Jelly Roll Morton, American pianist, composer, and bandleader (Red Hot Peppers and New Orleans Rhythm Kings) (d. 1941)
1882 – Bela Lugosi, Hungarian-American actor (d. 1956)
1882 – Margaret Dumont, American actress (d. 1965)
1874 – Charles Ives, American composer (d. 1954)
1864 – James F. Hinkle, American banker and politician, 6th Governor of New Mexico (d. 1951)
1859 – John Dewey, American psychologist and philosopher (d. 1952)
1819 – Báb, Iranian religious leader, founded Bábism (d. 1850)
1801 – Melchior Berri, Swiss architect and educator, designed the Natural History Museum of Basel (d. 1854)
1759 – Chauncey Goodrich, American lawyer and politician, 8th Lieutenant Governor of Connecticut (d. 1815)
1711 – Timothy Ruggles, American lawyer, jurist, and politician, (d. 1795)
1632 – Christopher Wren, English physicist, mathematician, and architect, designed St Paul's Cathedral (d. 1723)
Deaths
2016 – Robert E. Kramek, former United States Coast Guard admiral (b. 1939)
2014 – Oscar de la Renta, Dominican-American fashion designer (b. 1932)
2013 – Don James, American football player and coach (b. 1932)
2013 – Larri Thomas, American actress and dancer (b. 1932)
2013 – Lawrence Klein, American economist and academic, Nobel Prize laureate (b. 1920)
2013 – Sid Yudain, American journalist, founded Roll Call (b. 1923)
2012 – Dave May, American baseball player (b. 1943)
2012 – E. Donnall Thomas, American physician and academic, Nobel Prize laureate (b. 1920)
2012 – John McConnell, American activist, created Earth Day (b. 1915)
2012 – Paul Kurtz, American philosopher and academic (b. 1925)
2012 – Raymond Watson, American businessman (b. 1926)
2010 – Bob Guccione, American publisher, founded Penthouse magazine (b. 1930)
2008 – Gene Hickerson, American football player (b. 1935)
2007 – Max McGee, American football player and sportscaster (b. 1932)
2006 – Jane Wyatt, American actress (b. 1910)
2005 – Shirley Horn, American singer and pianist (b. 1934)
2004 – Anthony Hecht, American poet and educator (b. 1923)
2004 – Chuck Hiller, American baseball player, coach, and manager (b. 1934)
2003 – Jack Elam, American actor (b. 1918)
2001 – Ted Ammon, American financier and banker (b. 1949)
1999 – Calvin Griffith, Canadian-American businessman (b. 1911)
1995 – Christopher Stone, American actor, director, and screenwriter (b. 1942)
1994 – Burt Lancaster, American actor (b. 1913)
1992 – Werner Torkanowsky, German-American conductor (b. 1926)
1990 – Joel McCrea, American actor (b. 1905)
1984 – Carl Ferdinand Cori, Czech-American biochemist and pharmacologist, Nobel Prize laureate (b. 1896)
1984 – Paul Dirac, English-American physicist and mathematician, Nobel Prize laureate (b. 1902)
1983 – Merle Travis, American singer-songwriter and guitarist (b. 1917)
1977 – Ronnie Van Zant, American singer-songwriter (b. 1948)
1977 – Steve Gaines, American guitarist (b. 1949)
1972 – Harlow Shapley, American astronomer and academic (b. 1885)
1964 – Herbert Hoover, American engineer and politician, 31st President of the United States (b. 1874)
1957 – Michalis Dorizas, Greek-American javelin thrower and football player (b. 1890)
1950 – Henry L. Stimson, American colonel, lawyer, and politician, 46th United States Secretary of State (b. 1867)
1940 – Gunnar Asplund, Swedish architect and academic, co-designed Skogskyrkogården (b. 1885)
1936 – Anne Sullivan, American educator (b. 1866)
1926 – Eugene V. Debs, American union leader and politician (b. 1855)
1910 – David B. Hill, American lawyer and politician, 29th Governor of New York (b. 1843)
1865 – Champ Ferguson, American guerrilla leader (b. 1821)
Sunday 20 October 2019
International Day of the Air Traffic Controller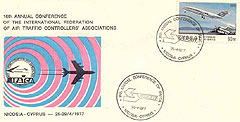 The International Day of the Air Traffic Controller, celebrated on 20 October each year, not only marks the anniversary of the International Federation of Air Traffic Con..→