Friday 8 November 2019 Calendar with holidays, observances and special days
Holidays and observances
Day of Baku Metro Employees in Azerbaijan
Dunce Day
International Day of Radiology (World Radiography Day)
National Aboriginal Veterans Day (Canada)
National Cappuccino Day and Cook Something Bold Day in USA
Statehood Day (Montana, 1889)
Throne's Birthday in Tuvalu (Date for 2019. Celebrated on the second Monday in November)
X-Ray Day
Events
2016 – Donald Trump is elected the 45th President of the United States, defeating Hillary Clinton.
1994 – Republican Revolution: On the night of the 1994 United States midterm elections, Republicans make historic electoral gains by securing massive majorities in both houses of congress (54 seats in the House and eight seats in the Senate, additionally). Thus bringing a close to four decades of Democratic domination.
1977 – Manolis Andronikos, a Greek archaeologist and professor at the Aristotle University of Thessaloniki, discovers the tomb of Philip II of Macedon at Vergina.
1966 – Former Massachusetts Attorney General Edward Brooke becomes the first African American elected to the United States Senate since Reconstruction.
1966 – U.S. President Lyndon B. Johnson signs into law an antitrust exemption allowing the National Football League to merge with the upstart American Football League.
1965 – The 173rd Airborne is ambushed by over 1,200 Viet Cong in Operation Hump during the Vietnam War, while the 1st Battalion, Royal Australian Regiment fight one of the first set-piece engagements of the war between Australian forces and the Viet Cong at the Battle of Gang Toi.
1960 – John F. Kennedy defeats Richard Nixon in one of the closest presidential elections of the 20th century to become the 35th president of the United States.
1957 – Operation Grapple X, Round C1: The United Kingdom conducts its first successful hydrogen bomb test over Kiritimati in the Pacific.
1957 – Pan Am Flight 7 disappears between San Francisco and Honolulu. Wreckage and bodies are discovered a week later.
1950 – Korean War: United States Air Force Lt. Russell J. Brown, while piloting an F-80 Shooting Star, shoots down two North Korean MiG-15s in the first jet aircraft-to-jet aircraft dogfight in history.
1933 – Great Depression: New Deal: US President Franklin D. Roosevelt unveils the Civil Works Administration, an organization designed to create jobs for more than 4 million unemployed.
1932 – Franklin D. Roosevelt is elected the 32nd President of the United States, defeating incumbent Herbert Hoover.
1917 – The first Council of People's Commissars is formed, including Vladimir Lenin, Leon Trotsky and Joseph Stalin.
1895 – While experimenting with electricity, Wilhelm Röntgen discovers the X-ray.
1892 – The New Orleans general strike begins, uniting black and white American trade unionists in a successful four-day general strike action for the first time.
1861 – American Civil War: The "Trent Affair": The USS San Jacinto stops the British mail ship Trent and arrests two Confederate envoys, sparking a diplomatic crisis between the UK and US.
1644 – The Shunzhi Emperor, the third emperor of the Qing dynasty, is enthroned in Beijing after the collapse of the Ming dynasty as the first Qing emperor to rule over China.
Births
1991 – Aaron Fotheringham, American wheelchair athlete
1991 – Riker Lynch, American singer-songwriter and bass player
1989 – Giancarlo Stanton, American baseball player
1987 – Sam Bradford, American football player
1986 – Aaron Swartz, American computer programmer and activist (d. 2013)
1983 – Danielle Valore Evans American short story writer
1982 – Ted DiBiase, Jr., American wrestler and actor
1980 – Laura Jane Grace, American singer-songwriter, guitarist, and producer
1978 – Maurice Evans, American basketball player
1977 – Bucky Covington, American singer-songwriter and guitarist
1977 – Nick Punto, American baseball player
1976 – Colin Strause, American director, producer, and visual effects designer
1975 – Brevin Knight, American basketball player and sportscaster
1974 – Joshua Ferris, American author
1973 – David Muir, American journalist
1972 – Gretchen Mol, American model and actress
1970 – Tom Anderson, American businessman, co-founded Myspace
1968 – Parker Posey, American actress
1967 – Courtney Thorne-Smith, American actress
1965 – Craig Chester, American actor and screenwriter
1965 – Jeff Blauser, American baseball player and manager
1965 – Mike Matarazzo, American bodybuilder and boxer (d. 2014)
1959 – Chi Chi LaRue, American drag queen performer and director
1958 – Don Byron, American clarinet player and composer
1958 – Ken Lamberton, American author and educator
1957 – Tim Shaw, American swimmer
1956 – Steven Miller, American record producer and engineer
1955 – Jeffrey Ford, American author and educator
1955 – Patricia Barber, American singer-songwriter and pianist
1954 – Michael D. Brown, American lawyer and radio host
1954 – Rickie Lee Jones, American singer-songwriter and producer
1954 – Timothy Egan, American journalist and author
1953 – John Musker, American animator, director, producer, and screenwriter
1952 – Alfre Woodard, American actress
1952 – Christie Hefner, American publisher and businesswoman
1952 – Jerry Remy, American baseball player and sportscaster
1952 – John Denny, American baseball player and coach
1951 – Gerald Alston, American R&B singer
1951 – Peter Suber, American philosopher and academic
1950 – Mary Hart, American journalist and actress
1949 – Bonnie Raitt, American singer-songwriter and guitarist
1949 – Wayne LaPierre, American businessman, author, and activist
1948 – Dale Gardner, American captain and astronaut (d. 2014)
1947 – Lewis Yocum, American physician and surgeon (d. 2013)
1947 – Margaret Rhea Seddon, American physician and astronaut
1947 – Minnie Riperton, American singer-songwriter (d. 1979)
1945 – Arnold Rosner, American composer (d. 2013)
1944 – Bonnie Bramlett, American singer and actress (Delaney & Bonnie)
1942 – Angel Cordero Jr., Puerto Rican-American jockey
1932 – Ben Bova, American journalist and author
1931 – Morley Safer, Canadian-American journalist and author (d. 2016)
1929 – Bobby Bowden, American football player and coach
1927 – Chris Connor, American singer (d. 2009)
1927 – Patti Page, American singer and actress (d. 2013)
1926 – Carroll E. Lanier, American sailor and politician (d. 2012)
1926 – Darleane C. Hoffman, American nuclear chemist
1924 – Joe Flynn, American actor (d. 1974)
1924 – Robert V. Hogg, American statistician and academic (d. 2014)
1923 – Jack Kilby, American physicist and engineer, Nobel Prize laureate (d. 2005)
1922 – Thea D. Hodge, American computer scientist and academic (d. 2008)
1921 – Douglas Townsend, American composer, musicologist, and academic (d. 2012)
1920 – Esther Rolle, American actress (d. 1998)
1919 – James S. Ackerman, American historian and academic
1914 – Norman Lloyd, American actor, director, and producer
1913 – Lou Ambers, American boxer (d. 1995)
1912 – June Havoc, American actress, singer and dancer (d. 2010)
1911 – Al Brosch, American golfer (d. 1975)
1910 – James McCormack, American general (d. 1975)
1908 – Martha Gellhorn, American journalist and author (d. 1998)
1904 – Cedric Belfrage, English-American journalist and author, co-founded the National Guardian (d. 1990)
1900 – Margaret Mitchell, American journalist and author (d. 1949)
1898 – Marie Prevost, Canadian-American actress and singer (d. 1937)
1897 – Dorothy Day, American journalist and activist (d. 1980)
1896 – Bucky Harris, American baseball player and manager (d. 1977)
1883 – Charles Demuth, American painter (d. 1935)
1866 – Herbert Austin, 1st Baron Austin, English businessman, founded the Austin Motor Company (d. 1941)
1836 – Milton Bradley, American businessman, founded the Milton Bradley Company (d. 1911)
1772 – William Wirt, American lawyer and politician, 9th United States Attorney General (d. 1834)
Deaths
2015 – Joseph Cure, American ice hockey player and actor (b. 1984)
2015 – Rhea Chiles, American philanthropist, founded the Polk Museum of Art (b. 1930)
2014 – Don Paul, American football player and sportscaster (b. 1925)
2014 – Ernie Vandeweghe, Canadian-American basketball player and physician (b. 1928)
2014 – Phil Crane, American academic and politician (b. 1930)
2013 – Arnold Rosner, American composer (b. 1945)
2013 – Penn Kimball, American journalist and academic (b. 1915)
2013 – William C. Davidon, American physicist, mathematician, and academic (b. 1927)
2012 – Lee MacPhail, American businessman (b. 1917)
2012 – Peggy Vaughan, American author (b. 1936)
2011 – Bil Keane, American cartoonist (b. 1922)
2011 – Heavy D, Jamaican-American rapper, producer, and actor (b. 1967)
2010 – Jack Levine, American soldier and painter (b. 1915)
2010 – Quintin Dailey, American basketball player (b. 1961)
2007 – Chad Varah, English priest, founded The Samaritans (b. 1911)
2006 – Basil Poledouris, American composer and conductor (b. 1945)
2005 – David Westheimer, American soldier and author (b. 1917)
2003 – C.Z. Guest, American actress, fashion designer, and author (b. 1920)
2003 – Guy Speranza, American singer-songwriter (b. 1956)
1999 – Lester Bowie, American trumpet player and composer (b. 1941)
1994 – Michael O'Donoghue, American actor and screenwriter (b. 1940)
1985 – Jacques Hnizdovsky, Ukrainian-American painter and illustrator (b. 1915)
1983 – James Booker, American singer and pianist (b. 1939)
1983 – Mordecai Kaplan, Lithuanian-American rabbi and educator (b. 1881)
1978 – Norman Rockwell, American painter and illustrator (b. 1894)
1977 – Bucky Harris, American baseball player and manager (b. 1896)
1974 – Ivory Joe Hunter, American singer-songwriter and pianist (b. 1914)
1968 – Wendell Corey, American actor and politician (b. 1914)
1965 – Dorothy Kilgallen, American journalist, television personality, and game show panelist (b. 1913)
1959 – Frank S. Land, American activist, founded the DeMolay International (b. 1890)
1895 – Robert Battey, American surgeon and academic (b. 1828)
1887 – Doc Holliday, American dentist and poker player (b. 1851)
Friday 8 November 2019
World Town Planning Day (World Urbanism Day)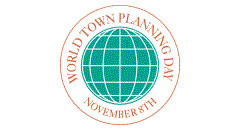 The international organisation for World Urbanism Day, also known as "World Town Planning Day", was founded in 1949 by the late Professor Carlos Maria della Pao..→