Saturday 9 November 2019 Calendar with holidays, observances and special days
Holidays and observances
Chaos Never Dies Day
Day of the Skulls in Bolivia (Dia de los ñatitas)
Inventors' Day (Germany, Austria, Switzerland)
National Greek Yogurt Day in USA
Schicksalstag (Germany)
The Prophet's Birthday or Mawleed al Nabi (There is not a single verse in the Qur'an OR a Hadith of Prophet Muhammad (Peace be upon him) forbidding the celebration of Prophet's birthday)
World Freedom Day (United States)
Events
1998 – A US federal judge, in the largest civil settlement in United States history, orders 37 US brokerage houses to pay 1.03 billion United States dollars to cheated NASDAQ investors to compensate for price fixing.
1994 – The chemical element darmstadtium is discovered.
1970 – Vietnam War: The Supreme Court of the United States votes 6–3 against hearing a case to allow Massachusetts to enforce its law granting residents the right to refuse military service in an undeclared war.
1967 – Apollo program: NASA launches the unmanned Apollo 4 test spacecraft atop the first Saturn V rocket from Cape Kennedy, Florida.
1967 – The first issue of Rolling Stone magazine is published.
1960 – Robert McNamara is named president of Ford Motor Company, the first non-Ford to serve in that post. A month later, he resigned to join the administration of newly elected John F. Kennedy.
1935 – The Congress of Industrial Organizations is founded in Atlantic City, New Jersey, by eight trade unions belonging to the American Federation of Labor.
1906 – Theodore Roosevelt is the first sitting President of the United States to make an official trip outside the country. He did so to inspect progress on the Panama Canal.
1887 – The United States receives rights to Pearl Harbor, Hawaii.
1883 – The Royal Winnipeg Rifles of the Canadian Armed Forces (known then as the "90th Winnipeg Battalion of Rifles") is founded.
1862 – American Civil War: Union General Ambrose Burnside assumes command of the Army of the Potomac, after George B. McClellan is removed.
1861 – The first documented football match in Canada is played at University College, Toronto.
1780 – American Revolutionary War: In the Battle of Fishdam Ford a force of British and Loyalist troops fail in a surprise attack against the South Carolina Patriot militia under Brigadier General Thomas Sumter.
Births
1990 – Hodgy Beats, American rapper and producer
1988 – Analeigh Tipton, American model, actress, and figure skater
1988 – Nikki Blonsky, American actress, singer, and dancer
1984 – French Montana, Moroccan-American rapper
1984 – Joel Zumaya, American baseball player
1983 – Ted Potter, Jr., American golfer
1982 – Boaz Myhill, American-Welsh footballer
1981 – Eyedea, American rapper and producer (d. 2010)
1980 – Vanessa Lachey, Filipino-American television host and actress
1979 – Adam Dunn, American baseball player
1979 – Dave Bush, American baseball player
1978 – Sisqó, American singer-songwriter, producer, and actor
1978 – Steven López, American martial artist
1973 – Nick Lachey, American singer-songwriter, producer, and actor
1972 – Corin Tucker, American singer-songwriter and guitarist
1972 – Eric Dane, American actor
1971 – David Duval, American golfer and sportscaster
1970 – Bill Guerin, American ice hockey player and coach
1970 – Domino, American DJ and producer
1970 – Nelson Diebel, American swimmer and coach
1970 – Scarface, American rapper and producer
1970 – Susan Tedeschi, American singer-songwriter and guitarist
1969 – Allison Wolfe, American singer-songwriter
1969 – Roxanne Shanté, American rapper
1969 – Sandra Denton, Jamaican-American rapper and actress
1964 – Robert Duncan McNeill, American actor, director, and producer
1960 – Demetra Plakas, American drummer
1960 – Sarah Franklin, American-English anthropologist and academic
1952 – Jim Riggleman, American baseball player, coach, and manager
1952 – Sherrod Brown, American academic and politician
1951 – Lou Ferrigno, American bodybuilder and actor
1948 – Joe Bouchard, American bass player and songwriter
1947 – Robert David Hall, American actor, singer, and pianist
1946 – Benny Mardones, American singer-songwriter
1942 – Tom Weiskopf, American golfer and sportscaster
1941 – Tom Fogerty, American singer-songwriter and guitarist (d. 1990)
1939 – Paul Cameron, American psychologist and academic
1938 – Ti-Grace Atkinson, American author and critic
1936 – Bob Graham, American lawyer and politician, 38th Governor of Florida
1936 – Mary Travers, American singer-songwriter (d. 2009)
1935 – Bob Gibson, American baseball player and manager
1934 – Carl Sagan, American astronomer, astrophysicist, and cosmologist (d. 1996)
1933 – Ed Corney, American professional bodybuilder
1931 – George Witt, American baseball player and coach (d. 2013)
1931 – Whitey Herzog, American baseball player and manager
1928 – Anne Sexton, American poet and academic (d. 1974)
1925 – Alistair Horne, English-American journalist, historian, and author (d. 2017)
1924 – Robert Frank, Swiss-American photographer and director
1923 – Alice Coachman, American high jumper (d. 2014)
1923 – Elizabeth Hawley, American-Nepali journalist and historian
1923 – James Schuyler, American poet and author (d. 1991)
1922 – Dorothy Dandridge, American actress, singer, and dancer (d. 1965)
1920 – Byron De La Beckwith, American assassin of Medgar Evers (d. 2001)
1920 – Philip G. Hodge, American engineer and academic (d. 2014)
1918 – Choi Hong Hi, South Korean general and martial artist, co-founded taekwondo (d. 2002)
1918 – Spiro Agnew, American soldier, lawyer, and politician, 39th Vice President of the United States (d. 1996)
1918 – Thomas Ferebee, American colonel (d. 2000)
1916 – Martha Settle Putney, American lieutenant, historian, and educator (d. 2008)
1915 – Sargent Shriver, American lieutenant, lawyer, and politician, 21st United States Ambassador to France (d. 2011)
1914 – Hedy Lamarr, Austrian-American actress and inventor (d. 2000)
1914 – Thomas Berry, American priest, historian, and theologian (d. 2009)
1913 – Paulene Myers, American actress (d. 1996)
1897 – Harvey Hendrick, American baseball player (d. 1941)
1894 – Mae Marsh, American actress (d. 1968)
1892 – Mabel Normand, American actress (d. 1930)
1891 – Louisa E. Rhine, American botanist and parapsychologist (d. 1983)
1886 – Ed Wynn, American actor (d. 1966)
1883 – Edna May Oliver, American actress (d. 1942)
1880 – Giles Gilbert Scott, English architect, designed the red telephone box (d. 1960)
1874 – Albert Francis Blakeslee, American botanist and academic (d. 1954)
1871 – Florence R. Sabin, American medical scientist (d. 1953)
1869 – Marie Dressler, Canadian-American actress and singer (d. 1934)
1854 – Maud Howe Elliott, American activist and author (d. 1948)
1853 – Stanford White, American architect and partner, co-founded McKim, Mead & White (d. 1906)
1825 – A. P. Hill, American general (d. 1865)
1802 – Elijah Parish Lovejoy, American minister, journalist, and activist (d. 1837)
1801 – Gail Borden, American surveyor and publisher, invented condensed milk (d. 1874)
1731 – Benjamin Banneker, American farmer, surveyor, and author (d. 1806)
Deaths
2016 – Greg Ballard, American basketball player and coach (b. 1955)
2015 – Byron Krieger, American fencer (b. 1920)
2015 – Carol Doda, American actress and dancer (b. 1937)
2015 – Tommy Hanson, American baseball player (b. 1986)
2014 – Orlando Thomas, American football player (b. 1972)
2014 – R. A. Montgomery, American author and publisher (b. 1936)
2013 – Emile Zuckerkandl, Austrian-American biologist and academic (b. 1922)
2013 – Kalaparusha Maurice McIntyre, American saxophonist (b. 1936)
2012 – James L. Stone, American colonel, Medal of Honor recipient (b. 1922)
2012 – Joseph D. Early, American soldier and politician (b. 1933)
2006 – Ed Bradley, American journalist (b. 1941)
2006 – Ellen Willis, American journalist and activist (b. 1941)
2004 – Iris Chang, American historian, journalist, and author (b. 1968)
2003 – Art Carney, American actor and comedian (b. 1918)
2003 – Gordon Onslow Ford, English-American painter (b. 1912)
2002 – William Schutz, American psychologist and academic (b. 1925)
2000 – Eric Morley, English television host, founded Miss World (b. 1918)
2000 – Sherwood Johnston, American race car driver (b. 1927)
1999 – Mabel King, American actress and singer (b. 1932)
1993 – Ross Andru, American illustrator (b. 1925)
1992 – William Hillcourt, Danish-American scout leader and author (b. 1900)
1988 – John N. Mitchell, American lieutenant, lawyer, and politician, 67th United States Attorney General (b. 1913)
1977 – Fred Haney, American baseball player, coach, and manager (b. 1898)
1972 – Victor Adamson; American director, producer, screenwriter, and actor (b. 1890)
1971 – Maude Fealy, American actress and screenwriter (b. 1883)
1953 – Louise DeKoven Bowen, American philanthropist and activist (b. 1859)
1952 – Philip Murray, Scottish-American labor leader (b. 1886)
1951 – Sigmund Romberg, Hungarian-American pianist and composer (b. 1887)
1944 – Frank Marshall, American chess player and theoretician (b. 1877)
1942 – Charles Courtney Curran, American painter (b. 1861)
1942 – Edna May Oliver, American actress (b. 1883)
1940 – Stephen Alencastre, Portuguese-American bishop (b. 1876)
1924 – Henry Cabot Lodge, American historian and politician (b. 1850)
1911 – Howard Pyle, American author and illustrator (b. 1853)
1880 – Edwin Drake, American businessman (b. 1819)
Saturday 9 November 2019
International Day Against Fascism and Antisemitism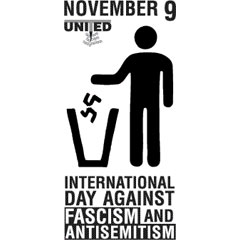 After the Nazis came to power in Germany in 1933, Jews were subjected to increasingly discriminatory treatment accompanied by organised violence. On November 9th 1938, th..→