Sunday 11 November 2018 Calendar with holidays, observances and special days
Holidays and observances
Armistice Day (New Zealand, France, Belgium and Serbia. End of World War I-related observances)
Children's Day in Croatia
End of World War I-related observances: - Veterans Day, called Armistice Day until 1954, when it was rededicated to honor American military, naval, and Air Force veterans. (United States)
National Education Day in India
Opening of carnival ("Karneval"/"Fasching"), on 11-11, at 11:11. (Germany, the Netherlands, and other countries)
Pocky & Pretz Day in Japan
Remembrance Day (United Kingdom and the Commonwealth of Nations, including Australia and Canada)
Statehood Day (Washington, 1889)
Women's Day in Belgium
Events
1972 – Vietnam War: Vietnamization: The United States Army turns over the massive Long Binh military base to South Vietnam.
1967 – Vietnam War: In a propaganda ceremony in Phnom Penh, Cambodia, three American prisoners of war are released by the Viet Cong and turned over to "new left" antiwar activist Tom Hayden.
1940 – World War II: In the Battle of Taranto, the Royal Navy launches the first all-aircraft ship-to-ship naval attack in history.
1930 – Patent number US1781541 is awarded to Albert Einstein and Leó Szilárd for their invention, the Einstein refrigerator.
1926 – The United States Numbered Highway System is established.
1918 – Józef Piłsudski assumes supreme military power in Poland - symbolic first day of Polish independence.
1911 – Many cities in the Midwestern United States break their record highs and lows on the same day as a strong cold front rolls through.
1889 – The State of Washington is admitted as the 42nd state of the United States.
1864 – American Civil War: General William Tecumseh Sherman begins burning Atlanta to the ground in preparation for his march to the sea.
1839 – The Virginia Military Institute is founded in Lexington, Virginia.
1813 – War of 1812: Battle of Crysler's Farm: British and Canadian forces defeat a larger American force, causing the Americans to abandon their Saint Lawrence campaign.
1778 – Cherry Valley massacre: Loyalists and Seneca Indian forces attack a fort and village in eastern New York during the American Revolutionary War, killing more than forty civilians and soldiers.
1750 – The F.H.C. Society, also known as the Flat Hat Club, is formed at Raleigh Tavern, Williamsburg, Virginia. It is the first college fraternity.
1675 – Gottfried Leibniz demonstrates integral calculus for the first time to find the area under the graph of y = ƒ(x).
Births
1991 – Christa B. Allen, American actress
1989 – Adam Rippon, American figure skater
1987 – Vinny Guadagnino, American actor
1986 – Jon Batiste, American singer and pianist
1986 – Mark Sanchez, American football player
1986 – Victor Cruz, American football player
1985 – Austin Collie, American football player
1985 – Jessica Sierra, American singer
1980 – Willie Parker, American football player and coach
1977 – Marsha Mehran, Iranian-American author (d. 2014)
1976 – Jason Grilli, American baseball player
1974 – Jon B., American singer-songwriter and producer
1974 – Leonardo DiCaprio, American actor and producer
1974 – Static Major, American singer-songwriter and producer (d. 2008)
1973 – Jason White, American singer-songwriter and guitarist
1971 – David DeLuise, American actor and director
1968 – David L. Cook, American singer-songwriter and comedian
1967 – Frank John Hughes, American actor, producer, and screenwriter
1965 – Max Mutchnick, American screenwriter and producer
1964 – Calista Flockhart, American actress
1964 – Margarete Bagshaw, American painter and potter (d. 2015)
1963 – Billy Gunn, American wrestler and actor
1962 – Demi Moore, American actress, director, and producer
1960 – Chuck Hernandez, American baseball player and coach
1960 – Peter Parros, American actor, producer, and screenwriter
1960 – Stanley Tucci, American actor and director
1959 – Carl Williams, American boxer (d. 2013)
1958 – Carlos Lacámara, Cuban-American actor and playwright
1955 – Dave Alvin, American singer-songwriter and guitarist
1954 – Mary Gaitskill, American novelist, essayist, and short story writer.
1954 – Roger Slifer, American author, illustrator, screenwriter, and producer (d. 2015)
1953 – Marshall Crenshaw, American singer-songwriter and guitarist
1951 – Kim Peek, American megasavant (d. 2009)
1951 – Marc Summers, American television host and producer
1950 – Jim Peterik, American singer-songwriter and guitarist
1949 – Kathy Postlewait, American golfer
1948 – Vincent Schiavelli, American actor (d. 2005)
1946 – Al Holbert, American race car driver (d. 1988)
1945 – Vince Martell, American singer and guitarist
1942 – Diane Wolkstein, American author and radio host (d. 2013)
1942 – Roy Fredericks, Guyanese-American cricketer and politician (d. 2000)
1940 – Barbara Boxer, American journalist and politician
1940 – Dennis Coffey, American guitarist
1939 – Denise Alexander, American actress
1937 – Alicia Ostriker, American poet and scholar
1936 – Jack Keller, American songwriter and producer (d. 2005)
1933 – Peter B. Lewis, American businessman and philanthropist (d. 2013)
1930 – Hugh Everett III, American physicist and mathematician (d. 1982)
1930 – Mildred Dresselhaus, American physicist and academic
1929 – LaVern Baker, American singer (d. 1997)
1928 – Ernestine Anderson, American singer (d. 2016)
1927 – Mose Allison, American singer-songwriter and pianist (d. 2016)
1925 – John Guillermin, English-American director, producer, and screenwriter (d. 2015)
1925 – Jonathan Winters, American actor and screenwriter (d. 2013)
1922 – Kurt Vonnegut, American novelist, short story writer, and essayist (d. 2007)
1921 – Terrel Bell, American sergeant, academic, and politician, 2nd United States Secretary of Education (d. 1996)
1918 – Stubby Kaye, American entertainer (d. 1997)
1915 – Anna Schwartz, American economist and author (d. 2012)
1915 – William Proxmire, American soldier, journalist, and politician (d. 2005)
1914 – Henry Wade, American soldier and lawyer (d. 2001)
1914 – Howard Fast, American novelist and screenwriter (d. 2003)
1914 – James Gilbert Baker, American astronomer, optician, and academic (d. 2005)
1912 – Thomas C. Mann, American lawyer, politician, and diplomat, United States Ambassador to El Salvador (d. 1999)
1909 – Robert Ryan, American actor (d. 1973)
1906 – Brother Theodore, German-American monologuist and comedian (d. 2001)
1904 – Alger Hiss, American lawyer and convicted spy (d. 1996)
1904 – J. H. C. Whitehead, Indian-American mathematician and academic (d. 1960)
1901 – F. Van Wyck Mason, American historian and author (d. 1978)
1901 – Sam Spiegel, American film producer (d. 1985)
1899 – Pat O'Brien, American actor (d. 1983)
1896 – Carlos Eduardo Castañeda, Mexican-American historian
1896 – Shirley Graham Du Bois, American author, playwright, composer, and activist (d. 1977)
1895 – Wealthy Babcock, American mathematician and academic (d. 1990)
1894 – Beverly Bayne, American actress (d. 1982)
1891 – Rabbit Maranville, American baseball player and manager (d. 1954)
1887 – Roland Young, English-American actor (d. 1953)
1885 – George S. Patton, American general (d. 1945)
1872 – David I. Walsh, American lawyer and politician, 46th Governor of Massachusetts (d. 1947)
1836 – Thomas Bailey Aldrich, American poet and author (d. 1907)
Deaths
2016 – Robert Vaughn, American actor (b. 1932)
2016 – Victor Bailey, American singer and bass player (Weather Report) (b. 1960)
2015 – Nathaniel Marston, American actor and producer (b. 1975)
2015 – Rita Gross, American theologian and author (b. 1943)
2014 – Big Bank Hank, American rapper (b. 1956)
2014 – Carol Ann Susi, American actress (b. 1952)
2014 – Harry Lonsdale, American chemist, businessman, and politician (b. 1932)
2014 – Jim Rogers, American academic and politician (b. 1935)
2014 – John Doar, American lawyer and activist (b. 1921)
2014 – Philip G. Hodge, American engineer and academic (b. 1920)
2013 – Bob Beckham, American singer-songwriter (b. 1927)
2013 – John Barnhill, American basketball player and coach (b. 1938)
2013 – John S. Dunne, American priest and theologian (b. 1929)
2012 – Harry Wayland Randall, American photographer (b. 1915)
2010 – Marie Osborne Yeats, American actress and costume designer (b. 1911)
2008 – Herb Score, American baseball player and sportscaster (b. 1933)
2007 – Delbert Mann, American director and producer (b. 1920)
2005 – Moustapha Akkad, Syrian-American director and producer (b. 1930)
2005 – Peter Drucker, Austrian-American author, theorist, and educator (b. 1909)
2004 – Dayton Allen, American comedian and voice actor (b. 1919)
1999 – Mary Kay Bergman, American voice actress (b. 1961)
1998 – Frank Brimsek, American ice hockey player and soldier (b. 1913)
1997 – Rod Milburn, American hurdler and coach (b. 1950)
1997 – William Alland, American film producer and writer (b. 1916)
1994 – John A. Volpe, American soldier and politician, 61st Governor of Massachusetts (b. 1908)
1993 – Erskine Hawkins, American trumpet player and bandleader (b. 1914)
1993 – John Stanley, American author and illustrator (b. 1914)
1985 – Arthur Rothstein, American photographer and educator (b. 1915)
1984 – Martin Luther King, Sr., American pastor, missionary, and activist (b. 1899)
1979 – Dimitri Tiomkin, Ukrainian-American composer and conductor (b. 1894)
1976 – Alexander Calder, American sculptor (b. 1898)
1972 – Berry Oakley, American bass player (b. 1948)
1962 – Joseph Ruddy, American swimmer and water polo player (b. 1878)
1945 – Jerome Kern, American composer (b. 1885)
1939 – Bob Marshall, American author and activist (b. 1901)
1887 – Adolph Fischer, German-American printer and activist (b. 1858)
1887 – Albert Parsons, American journalist and activist (b. 1848)
1887 – August Spies, American journalist and activist (b. 1855)
1887 – George Engel, German-American businessman and activist (b. 1836)
1880 – Lucretia Mott, American activist (b. 1793)
1862 – James Madison Porter, American lawyer and politician, 18th United States Secretary of War (b. 1793)
1831 – Nat Turner, American slave and rebel leader (b. 1800)
Sunday 11 November 2018
Armistice Day in Mississippi (Veterans Day)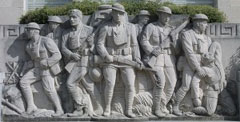 The Legislature has designated the eleventh day of November as the day for the observance of Armistice Day (VETERANS DAY) , and under the provisions of Section 3-3-7, Mis..→