Tuesday 3 December 2019 Calendar with holidays, observances and special days
Holidays and observances
Advocate's Day in India
Doctors' Day in Cuba
Make A Gift Day
National Peppermint Latte Day in USA
Roof Over Your Head Day
Statehood Day (Illinois, 1818)
Events
2005 – XCOR Aerospace makes the first manned rocket aircraft delivery of U.S. Mail in Kern County, California.
1997 – In Ottawa, Ontario, Canada, representatives from 121 countries sign the Ottawa Treaty prohibiting manufacture and deployment of anti-personnel landmines. The United States, People's Republic of China, and Russia do not sign the treaty, however.
1994 – The PlayStation was released in Japan
1992 – A test engineer for Sema Group uses a personal computer to send the world's first text message via the Vodafone network to the phone of a colleague.
1979 – Ayatollah Ruhollah Khomeini becomes the first Supreme Leader of Iran.
1973 – Pioneer program: Pioneer 10 sends back the first close-up images of Jupiter.
1967 – At Groote Schuur Hospital in Cape Town, South Africa, a transplant team headed by Christiaan Barnard carries out the first heart transplant on a human (53-year-old Louis Washkansky).
1927 – Putting Pants on Philip, the first Laurel and Hardy film, is released.
1912 – Bulgaria, Greece, Montenegro, and Serbia (the Balkan League) sign an armistice with the Ottoman Empire, temporarily halting the First Balkan War. (The armistice will expire on February 3, 1913, and hostilities will resume.)
1910 – Modern neon lighting is first demonstrated by Georges Claude at the Paris Motor Show.
1904 – The Jovian moon Himalia is discovered by Charles Dillon Perrine at California's Lick Observatory.
1898 – The Duquesne Country and Athletic Club defeated an all-star collection of early football players 16-0, in what is considered to be the very first all-star game for professional American football.
1834 – The Zollverein (German Customs Union) begins the first regular census in Germany.
1800 – War of the Second Coalition: Battle of Hohenlinden: French General Moreau decisively defeats the Archduke John of Austria near Munich. Coupled with First Consul Napoleon Bonaparte's earlier victory at Marengo, this will force the Austrians to sign an armistice and end the war.
Births
1987 – Alicia Sacramone, American gymnast
1987 – Brian Robiskie, American football player
1987 – Michael Angarano, American actor, director, and screenwriter
1985 – Amanda Seyfried, American actress
1985 – Marcus Williams, American basketball player
1985 – Mike Randolph, American soccer player
1985 – Robert Swift, American basketball player
1983 – James Ihedigbo, American football player
1983 – Sherri DuPree, American singer-songwriter and guitarist
1982 – Dascha Polanco Dominican-American actress
1981 – Tyjuan Hagler, American football player
1980 – Anna Chlumsky, American actress
1980 – Jenna Dewan, American actress and dancer
1979 – Rock Cartwright, American football player
1978 – Trina, American rapper and producer
1977 – Chad Durbin, American baseball player
1977 – Troy Evans, American football player
1976 – Cornelius Griffin, American football player
1976 – Gary Glover, American baseball player
1973 – Holly Marie Combs, American actress and producer
1971 – Vernon White, American mixed martial artist and wrestler
1970 – Lindsey Hunter, American basketball player and coach
1970 – Paul Byrd, American baseball player
1969 – Hal Steinbrenner, American businessman, co-owner of the New York Yankees
1968 – Brendan Fraser, American actor and producer
1968 – Montell Jordan, American singer-songwriter and producer
1965 – Andrew Stanton, American voice actor, director, producer, screenwriter
1964 – Darryl Hamilton, American baseball player and sportscaster (d. 2015)
1963 – Joe Lally, American singer-songwriter and bass player
1963 – Terri Schiavo, American medical patient (d. 2005)
1960 – Daryl Hannah, American actress and producer
1960 – Julianne Moore, American actress and author
1960 – Mike Ramsey, American ice hockey player and coach
1954 – Grace Andreacchi, American-English author, poet, and playwright
1953 – Rob Waring, American-Norwegian vibraphonist and contemporary composer
1952 – Don Barnes, American singer-songwriter and guitarist
1951 – Mike Bantom, American basketball player and manager
1951 – Ray Candy, American wrestler and trainer (d. 1994)
1951 – Rick Mears, American race car driver
1949 – Heather Menzies, Canadian-American actress
1949 – Mickey Thomas, American singer-songwriter
1942 – Alice Schwarzer, German journalist and publisher, founded EMMA Magazine
1942 – David K. Shipler, American journalist and author
1940 – Jeffrey R. Holland, American academic and religious leader
1939 – John Paul, Sr., Dutch-American race car driver
1938 – Sally Shlaer, American mathematician and engineer (d. 1998)
1937 – Bobby Allison, American race car driver and businessman
1937 – Morgan Llywelyn, American-Irish model and author
1935 – Eddie Bernice Johnson, American nurse and politician
1934 – Nicolas Coster, British-American actor
1931 – Jaye P. Morgan, American singer and actress
1929 – John S. Dunne, American priest and theologian (d. 2013)
1928 – Thomas M. Foglietta, American politician and diplomat, United States Ambassador to Italy (d. 2004)
1927 – Andy Williams, American singer (d. 2012)
1922 – Len Lesser, American actor (d. 2011)
1921 – John Doar, American lawyer and activist (d. 2014)
1921 – Phyllis Curtin, American soprano and academic (d. 2016)
1914 – Irving Fine, American composer and academic (d. 1962)
1907 – Connee Boswell, American jazz singer (d. 1976)
1901 – Glenn Hartranft, American shot putter and discus thrower (d. 1970)
1901 – Mildred Wiley, American high jumper (d. 2000)
1899 – Howard Kinsey, American tennis player (d. 1966)
1897 – William Gropper, American cartoonist and painter (d. 1977)
1891 – Thomas Farrell, American general (d. 1967)
1879 – Charles Hutchison, American actor, director, and screenwriter (d. 1949)
1878 – Francis A. Nixon, American businessman (d. 1956)
1863 – Gussie Davis, African-American songwriter (d. 1899)
1842 – Charles Alfred Pillsbury, American businessman, founded the Pillsbury Company (d. 1899)
1842 – Ellen Swallow Richards, American chemist, ecologist, and educator (d. 1911)
1842 – Phoebe Hearst, American philanthropist and activist (d. 1919)
1838 – Cleveland Abbe, American meteorologist and academic (d. 1916)
1826 – George B. McClellan, American general and politician, 24th Governor of New Jersey (d. 1885)
1755 – Gilbert Stuart, American painter (d. 1828)
Deaths
2015 – Scott Weiland, American singer-songwriter (b. 1967)
2014 – Herman Badillo, Puerto Rican-American lawyer and politician (b. 1929)
2014 – Ian McLagan, English-American singer-songwriter and keyboard player (b. 1945)
2014 – Nathaniel Branden, Canadian–American psychotherapist and author (b. 1930)
2008 – Robert Zajonc, Polish-American psychologist and author (b. 1923)
2005 – Frederick Ashworth, American admiral (b. 1912)
2005 – Herb Moford, American baseball player (b. 1928)
2004 – Shiing-Shen Chern, Chinese-American mathematician and academic (b. 1911)
2002 – Adrienne Adams, American illustrator (b. 1906)
2002 – Glenn Quinn, Irish-American actor (b. 1970)
2000 – Gwendolyn Brooks, American poet and educator (b. 1917)
2000 – Hoyt Curtin, American composer and producer (b. 1922)
1999 – John Archer, American actor (b. 1915)
1999 – Madeline Kahn, American actress, comedian, and singer (b. 1942)
1999 – Scatman John, American singer-songwriter and pianist (b. 1942)
1993 – Lewis Thomas, American physician, etymologist, and academic (b. 1913)
1989 – Connie B. Gay, American businessman, founded the Country Music Association (b. 1914)
1981 – Walter Knott, American farmer, founded Knott's Berry Farm (b. 1889)
1973 – Emile Christian, American trombonist, cornet player, and composer (b. 1895)
1972 – William Manuel Johnson, American bassist (b. 1872)
1967 – Harry Wismer, American football player and sportscaster (b. 1913)
1949 – Maria Ouspenskaya, Russian-American actress and educator (b. 1876)
1928 – Ezra Meeker, American farmer and politician (b. 1830)
1910 – Mary Baker Eddy, American religious leader and author, founded Christian Science (b. 1821)
1904 – David Bratton, American water polo player (b. 1869)
1902 – Robert Lawson, New Zealand architect, designed the Otago Boys' High School and Knox Church (b. 1833)
1876 – Samuel Cooper, American general (b. 1798)
1815 – John Carroll, American archbishop (b. 1735)
Tuesday 3 December 2019
International Day of Persons with Disabilities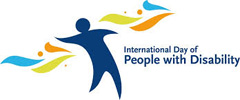 The annual observance of the International Day of Disabled Persons was proclaimed in 1992 (A/RES/47/3, 37th plenary meeting, 14 October 1992), by the United Nations Gener..→