Thursday 5 December 2019 Calendar with holidays, observances and special days
Holidays and observances
Bathtub Party Day (unofficial)
Children's Day in Suriname
Krampusnacht in Austria
National Comfort Food Day and Repeal of Prohibition Day in USA (On December 5th, 1933, Utah, the final state needed for a three quarters majority, ratified the 21st Amendment, repealing Prohibition and restoring the American right to a celebratory drink)
Repeal Day (United States)
The King Bhumibol Adulyadej Memorial Birthday or Father's Day in Thailand
Events
2004 – The Civil Partnership Act comes into effect in the United Kingdom, and the first civil partnership is registered there.
1964 – Lloyd J. Old discovered the first linkage between the major histocompatibility complex (MHC) and disease—mouse leukemia—opening the way for the recognition of the importance of the MHC in the immune response.
1964 – Vietnam War: For his heroism in battle earlier in the year, Captain Roger Donlon is awarded the first Medal of Honor of the war.
1958 – The Preston By-pass, the UK's first stretch of motorway, opens to traffic for the first time. (It is now part of the M6 and M55 motorways.)
1955 – The American Federation of Labor and the Congress of Industrial Organizations merge and form the AFL–CIO.
1933 – The Twenty-first Amendment to the United States Constitution is ratified.
1932 – German-born Swiss physicist Albert Einstein is granted an American visa.
1848 – California Gold Rush: In a message to the United States Congress, U.S. President James K. Polk confirms that large amounts of gold had been discovered in California.
1766 – In London, auctioneer James Christie holds his first sale.
1492 – Christopher Columbus becomes the first European to set foot on the island of Hispaniola (now Haiti and the Dominican Republic).
Births
1990 – Montee Ball, American football player
1986 – Justin Smoak, American baseball player
1986 – LeGarrette Blount, American football player
1985 – Frankie Muniz, American actor, drummer, and race car driver
1982 – Eddy Curry, American basketball player
1982 – Trai Essex, American football player
1979 – Nick Stahl, American actor and producer
1978 – Neil Druckmann, American video game designer and author
1976 – Amy Acker, American actress
1976 – Rachel Komisarz, American swimmer and coach
1975 – Paula Patton, American actress
1974 – Brian Lewis, American sprinter
1974 – Charlie Batch, American football player and sportscaster
1972 – Cliff Floyd, American baseball player and sportscaster
1972 – Duane Ross, American hurdler and coach
1972 – Mike Mahoney, American baseball player
1971 – Ashia Hansen, American-English triple jumper
1970 – Michel'le, American singer-songwriter
1969 – Eric Etebari, American actor, director, and producer
1969 – Morgan J. Freeman, American director, producer, and screenwriter
1968 – Lisa Marie, American model and actress
1968 – Lydia Millet, American novelist
1968 – Margaret Cho, American comedian, actress, producer, and screenwriter
1967 – Gary Allan, American singer-songwriter and guitarist
1965 – John Rzeznik, American singer-songwriter, guitarist, and producer
1963 – Carrie Hamilton, American actress and playwright (d. 2002)
1963 – Doctor Dré, American television and radio host
1962 – Pablo Morales, American swimmer and coach
1960 – Jack Russell, American singer-songwriter and producer
1960 – Osvaldo Golijov, Argentinian-American composer and educator
1954 – Gary Roenicke, American baseball player and scout
1949 – David Manning, English civil servant and diplomat, British Ambassador to the United States
1947 – Jim Messina, American singer-songwriter, guitarist, and producer
1947 – Jim Plunkett, American football player and radio host
1940 – Frank Wilson, American singer-songwriter and producer (d. 2012)
1936 – James Lee Burke, American journalist, author, and academic
1935 – Calvin Trillin, American novelist, humorist, and journalist
1934 – Joan Didion, American novelist and screenwriter
1932 – Jim Hurtubise, American race car driver (d. 1989)
1932 – Little Richard, American singer-songwriter, pianist, and actor
1932 – Sheldon Lee Glashow, American physicist and academic, Nobel Prize laureate
1922 – Casey Ribicoff, American philanthropist (d. 2011)
1921 – Alvy Moore, American actor and producer (d. 1997)
1916 – Hilary Koprowski, Polish-American virologist and immunologist, created the world's first effective live polio vaccine (d. 2013)
1916 – Walt McPherson, American basketball player and coach (d. 2013)
1912 – Sonny Boy Williamson II, American singer-songwriter and harmonica player (d. 1965)
1910 – Abraham Polonsky, American director and screenwriter (d. 1999)
1905 – Gus Mancuso, American baseball player, coach, and sportscaster (d. 1984)
1905 – Otto Preminger, Austrian-American actor, director, and producer (d. 1986)
1902 – Strom Thurmond, American educator, general, and politician, 103rd Governor of South Carolina (d. 2003)
1901 – Milton H. Erickson, American psychiatrist and author (d. 1980)
1901 – Walt Disney, American animator, director, producer, and screenwriter, co-founded The Walt Disney Company (d. 1966)
1898 – Grace Moore, American soprano and actress (d. 1947)
1897 – Nunnally Johnson, American director, producer, and screenwriter (d. 1977)
1896 – Ann Nolan Clark, American historian, author, and educator (d. 1995)
1896 – Carl Ferdinand Cori, Czech-American biochemist and pharmacologist, Nobel Prize laureate (d. 1984)
1895 – Elbert Frank Cox, American mathematician and academic (d. 1969)
1890 – Fritz Lang, Austrian-American director, producer, and screenwriter (d. 1976)
1886 – Rose Wilder Lane, American journalist and author (d. 1968)
1879 – Clyde Vernon Cessna, American pilot and businessman, founded the Cessna Aircraft Corporation (d. 1954)
1872 – Harry Nelson Pillsbury, American chess player (d. 1906)
1869 – Ellis Parker Butler, American author and poet (d. 1937)
1855 – Clinton Hart Merriam, American zoologist, ornithologist, entomologist, and ethnographer (d. 1942)
1841 – Marcus Daly, Irish-American businessman (d. 1900)
1839 – George Armstrong Custer, American general (d. 1876)
1822 – Elizabeth Cabot Agassiz, American philosopher and academic, co-founded Radcliffe College (d. 1907)
1782 – Martin Van Buren, American lawyer and politician, 8th President of the United States (d. 1862)
Deaths
2015 – Chuck Williams, American businessman and author, founded Williams-Sonoma, Inc. (b. 1915)
2015 – Tibor Rubin, Hungarian-American soldier, Medal of Honor recipient (b. 1929)
2015 – Vic Eliason, American clergyman and radio host, founded VCY America (b. 1936)
2014 – Ernest C. Brace, American captain and pilot (b. 1931)
2013 – Fred Bassetti, American architect and academic, founded Bassetti Architects (b. 1917)
2013 – William B. Edmondson, American lawyer and diplomat, United States Ambassador to South Africa (b. 1927)
2012 – Dave Brubeck, American pianist and composer (b. 1920)
2012 – Oscar Niemeyer, Brazilian architect, designed the United Nations Headquarters and Cathedral of Brasília (b. 1907)
2010 – Alan Armer, American director, producer, and screenwriter (b. 1922)
2010 – Don Meredith, American football player, sportscaster, and actor (b. 1938)
2009 – William Lederer, American soldier and author (b. 1912)
2008 – Beverly Garland, American actress and businesswoman (b. 1926)
2008 – George Brecht, American chemist and composer (b. 1926)
2008 – Nina Foch, Dutch-American actress (b. 1924)
2007 – Andrew Imbrie, American composer and academic (b. 1921)
2007 – George Paraskevaides, Greek-Cypriot businessman and philanthropist, co-founded Joannou & Paraskevaides (b. 1916)
2005 – Edward L. Masry, American lawyer and politician (b. 1932)
2002 – Roone Arledge, American sportscaster and producer (b. 1931)
2001 – Franco Rasetti, Italian-American physicist and academic (b. 1901)
1998 – Albert Gore, Sr., American lawyer and politician (b. 1907)
1995 – Clair Cameron Patterson, American scientist (b. 1922)
1995 – L. B. Cole, American illustrator and publisher (b. 1918)
1994 – Harry Horner, Czech-American director, producer, and production designer (b. 1910)
1990 – Alfonso A. Ossorio, Filipino-American painter and sculptor (b. 1916)
1984 – Cecil M. Harden, American politician (b. 1894)
1983 – Robert Aldrich, American director, producer, and screenwriter (b. 1918)
1979 – Jesse Pearson, American actor, singer, and screenwriter (b. 1930)
1977 – Katherine Milhous, American author and illustrator (b. 1894)
1975 – Constance McLaughlin Green, American historian and author (b. 1897)
1973 – Robert Watson-Watt, Scottish engineer, invented the radar (b. 1892)
1969 – Claude Dornier, German engineer and businessman, founded Dornier Flugzeugwerke (b. 1884)
1968 – Fred Clark, American actor (b. 1914)
1965 – Joseph Erlanger, American physiologist, neuroscientist, and academic Nobel Prize laureate (b. 1874)
1961 – Emil Fuchs, German-American lawyer and businessman (b. 1878)
1955 – Glenn L. Martin, American pilot and businessman, founded the Glenn L. Martin Company (b. 1886)
1953 – William Sterling Parsons, American admiral (b. 1901)
1951 – Shoeless Joe Jackson, American baseball player and manager (b. 1887)
1931 – Vachel Lindsay, American poet (b. 1879)
1887 – Eliza R. Snow, American poet and songwriter (b. 1804)
1784 – Phillis Wheatley, Senegal-born slave, later American poet (b. 1753)
Thursday 5 December 2019
International Volunteer Day (International Volunteer Day for Economic and Social Development)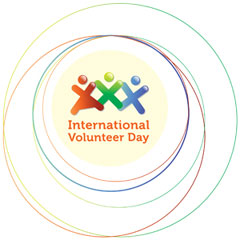 96% of volunteers say that it "makes people happier". The experience of helping others provides meaning, a sense of self-worth, a social role and health enhancement. If y..→