Saturday 21 December 2019 Calendar with holidays, observances and special days
Holidays and observances
Armed Forces Day in the Philippines
Flashlight Day
Forefathers' Day (Plymouth, Massachusetts)
Humbug Day (This day was created to allow us an opportunity to express our frustrations)
Look on the Bright Side Day
National French Fried Shrimp Day in USA
Events
2004 – Iraq War: A suicide bomber killed 22 at the forward operating base next to the main U.S. military airfield at Mosul, Iraq, the single deadliest suicide attack on American soldiers.
1988 – The first flight of Antonov An-225 Mriya, the largest aircraft in the world.
1970 – First flight of F-14 multi-role combat aircraft.
1968 – Apollo program: Apollo 8 is launched from the Kennedy Space Center, placing its crew on a lunar trajectory for the first visit to another celestial body by humans.
1967 – Louis Washkansky, the first man to undergo a heart transplant, dies in Cape Town, South Africa, having lived for 18 days after the transplant.
1937 – Snow White and the Seven Dwarfs, the world's first full-length animated feature, premieres at the Carthay Circle Theatre.
1936 – First flight of the Junkers Ju 88 multi-role combat aircraft.
1919 – American anarchist Emma Goldman is deported to Russia.
1913 – Arthur Wynne's "word-cross", the first crossword puzzle, is published in the New York World.
1883 – The Royal Canadian Dragoons and The Royal Canadian Regiment, the first Permanent Force cavalry and infantry regiments of the Canadian Army, are formed.
1826 – American settlers in Nacogdoches, Mexican Texas, declare their independence, starting the Fredonian Rebellion.
Births
1995 – Bobby, South Korean-American rapper
1989 – Mark Ingram Jr., American football player
1982 – Philip Humber, American baseball player
1978 – Charles Dera, American pornographic actor, dancer, model, and mixed martial arts fighter
1967 – Terry Mills, American basketball player and coach
1965 – Andy Dick, American comedian, actor, producer, and screenwriter
1960 – Sherry Rehman, Pakistani journalist, politician, and diplomat, 25th Pakistan Ambassador to the United States
1959 – Florence Griffith Joyner, American sprinter and actress (d. 1998)
1957 – Ray Romano, American actor, producer, and screenwriter
1956 – Dave Laut, American shot putter (d. 2009)
1955 – Jane Kaczmarek, American actress
1954 – Chris Evert, American tennis player and coach
1953 – Betty Wright, American singer-songwriter
1952 – Steve Furniss, American swimmer
1950 – Jeffrey Katzenberg, American screenwriter and producer, co-founded DreamWorks Animation
1950 – Max Maven, American magician and mentalist
1948 – Barry Gordon, American actor and voice artist; longest-serving president of the Screen Actors Guild (1988–95)
1948 – Dave Kingman, American baseball player
1948 – Samuel L. Jackson, American actor and producer
1946 – Carl Wilson, American singer-songwriter and guitarist (d. 1998)
1946 – Roy Karch, American director, producer, and screenwriter
1944 – Michael Tilson Thomas, American pianist, composer, and conductor
1940 – Frank Zappa, American singer-songwriter, guitarist, and producer (d. 1993)
1937 – Jane Fonda, American actress, producer, and activist
1935 – John G. Avildsen, American director, producer, and cinematographer (d. 2017)
1935 – Phil Donahue, American talk show host and producer
1933 – Robert Worcester, American businessman and academic, founded MORI
1932 – Edward Hoagland, American author and critic
1926 – Joe Paterno, American football player and coach (d. 2012)
1922 – Paul Winchell, American actor, voice artist, and ventriloquist (d. 2005)
1920 – Adele Goldstine, American computer programmer (d. 1964)
1920 – Alicia Alonso, Cuban ballerina and choreographer, founded the Cuban National Ballet
1918 – Donald Regan, American colonel and politician, 11th White House Chief of Staff (d. 2003)
1915 – Werner von Trapp, Austrian-American singer (d. 2007)
1913 – Arnold Friberg, American illustrator and painter (d. 2010)
1911 – Josh Gibson, American baseball player (d. 1947)
1892 – Walter Hagen, American golfer (d. 1969)
1891 – John William McCormack, American lawyer and politician, 53rd Speaker of the United States House of Representatives (d. 1980)
1890 – Hermann Joseph Muller, American geneticist and biologist, Nobel Prize laureate (d. 1967)
1889 – Sewall Wright, American geneticist and biologist (d. 1988)
1872 – Albert Payson Terhune, American journalist and author (d. 1942)
1872 – Trevor Kincaid, Canadian-American zoologist and academic (d. 1970)
1868 – George W. Fuller, American chemist and engineer (d. 1934)
1851 – Thomas Chipman McRae, American lawyer and politician, 26th Governor of Arkansas (d. 1929)
1832 – John H. Ketcham, American general and politician (d. 1906)
1820 – William H. Osborn, American businessman (d. 1894)
Deaths
2013 – Edgar Bronfman, Sr., Canadian-American businessman and philanthropist (b. 1929)
2013 – John Eisenhower, American historian, general, and diplomat, 45th United States Ambassador to Belgium (b. 1922)
2009 – Edwin G. Krebs, American biochemist and academic, Nobel Prize laureate (b. 1918)
1992 – Albert King, American singer-songwriter, guitarist, and producer (b. 1924)
1992 – Nathan Milstein, Russian-American violinist and composer (b. 1903)
1992 – Stella Adler, American actress and educator (b. 1901)
1974 – Richard Long, American actor and director (b. 1927)
1964 – Carl Van Vechten, American author and photographer (b. 1880)
1958 – Lion Feuchtwanger, German-American author and playwright (b. 1884)
1957 – Eric Coates, English-American viola player and composer (b. 1886)
1953 – Kaarlo Koskelo, Finnish-American wrestler and businessman (b. 1888)
1952 – Kenneth Edwards, American golfer (b. 1886)
1945 – George S. Patton, American general (b. 1885)
1940 – F. Scott Fitzgerald, American novelist and short story writer (b. 1896)
1937 – Frank B. Kellogg, American lawyer and politician, 45th United States Secretary of State, Nobel Prize laureate (b. 1856)
1937 – Ted Healy, American comedian and actor (b. 1896)
1929 – I. L. Patterson, American politician, 18th Governor of Oregon (b. 1859)
1920 – Mohammed Abdullah Hassan, Somalian general, founded the Dervish state (b. 1856)
Saturday 21 December 2019
Homeless Personsí Memorial Day in Ohio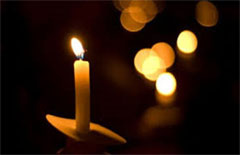 According to HUDís 2014 Point-in-Time Report, 34% of the total homeless population is under 24. Some homeless children and youth are with their families. In 2014, however..→