The gifts of the Master. Theme - ęEaster Quotes, Sayings, Verses, PoemsĽ
58 quotes & wishes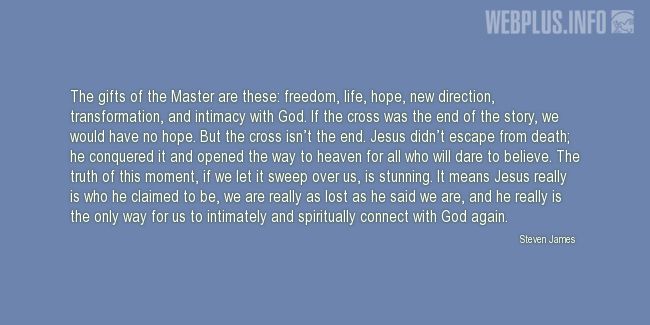 «The gifts of the Master» illustrated quotation. Easter Quotes, Sayings, Verses, Poems, free quote pictures for Facebook, Twitter, LinkedIn, Reddit, Pinterest and other social networks.
The gifts of the Master
The gifts of the Master are these: freedom, life, hope, new direction, transformation, and intimacy with God. If the cross was the end of the story, we would have no hope. But the cross isnít the end. Jesus didnít escape from death; he conquered it and opened the way to heaven for all who will dare to believe. The truth of this moment, if we let it sweep over us, is stunning. It means Jesus really is who he claimed to be, we are really as lost as he said we are, and he really is the only way for us to intimately and spiritually connect with God again.
Steven James