But, at thirty…. Theme - «Youth»
22 quotes & wishes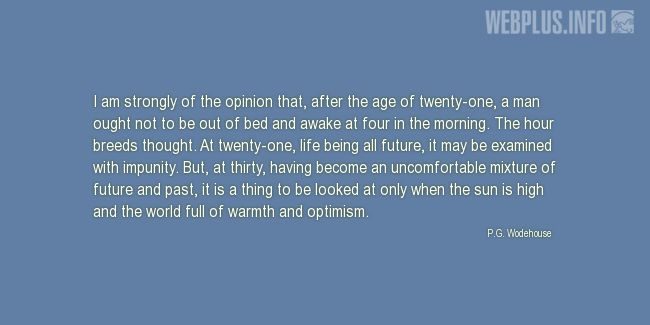 «But, at thirty…» illustrated quotation. Youth, free quote pictures for Facebook, Twitter, LinkedIn, Reddit, Pinterest and other social networks.
Quotes and wishes: «
Youth
»
But, at thirty…
I am strongly of the opinion that, after the age of twenty-one, a man ought not to be out of bed and awake at four in the morning. The hour breeds thought. At twenty-one, life being all future, it may be examined with impunity. But, at thirty, having become an uncomfortable mixture of future and past, it is a thing to be looked at only when the sun is high and the world full of warmth and optimism.
P.G. Wodehouse