Teachers' Day in Pakistan
Teachers' Day in Pakistan is held on October 5. This event in the first decade of the month October is annual.
Help us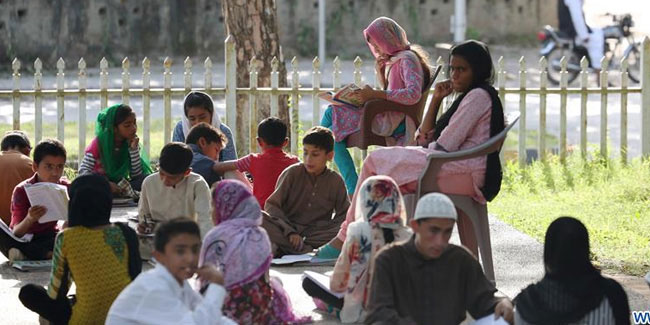 Teachers are considered integral to the fabric of society but, unfortunately, our society does little to honour them. In Pakistan, teachers have poor working conditions, uncertain promotions and frequent delays in salary payments.
Pakistan has the world's second-highest number of out-of-school children where an estimated 22.8 million children between 5 to 16 years of age are not attending school representing 44pc of the total population in this age group. Many poor Pakistani families cannot afford to send their children to school. Why? Because parents still have to pay for transport, clothing, and school materials. For rural families, this is just impossible.
Technically, every Pakistani child should have access to free school, between the ages of 5 and 16. In reality though, the government spends 7 times as much on the military as it does on its education system. Because of this, schooling infrastructure is in shambles and teachers are unqualified.
Similar holidays and events, festivals and interesting facts

Libraries Week in UK on October 2
;

Teachers' Day in Sri Lanka on October 6
;

National Coaches Day in US on October 6
(PROCLAMATION 4157 -SEPT. 19, 1972. RICHARD NIXON. Coaches are highly qualified teachers — in highly specialized fields);

Teachers' Day in Laos on October 7
;

National Coaches Appreciation Week in USA on October 8
(is a time to recognize the contributions of coaches across the U.S. Week begins on the second Sunday of October);

Grandparents Day in Pakistan on October 8
(Second Sunday in October);

National School Lunch Week in US on October 9
(the second full week of October. President John F. Kennedy created National School Lunch Week [NSLW] in 1962 to promote the importance of a healthy school lunch in a child's life and the impact it has inside and outside of the classroom)