Cat Parade or Kattenstoet in Belgium
Cat Parade or Kattenstoet in Belgium is held on May 12. Held on the second Sunday in May. This event in the second decade of the month May is annual.
Help us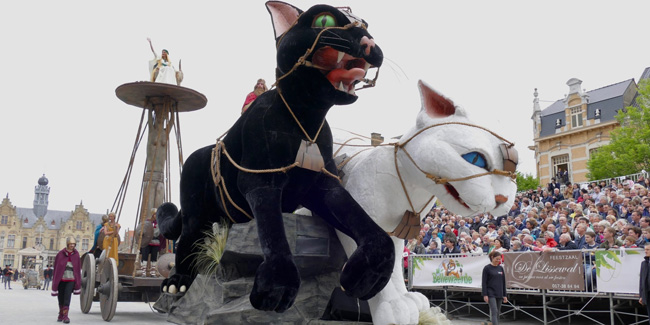 The first Cat Parade took place in 1938. On the 2nd Sunday of May, an unusual procession occupies the streets of Ypres (Ieper), a small town near the French border. The Kattenstoet literally translates to 'the Cat Parade' and it is fully dedicated to felines. The procession unites around 2,000 people in masquerade costumes of cats, mice, witches and sorcerers, cartoon and fairy-tale characters, etc. The majority of floats depict cats and reflect local legends and the history of Ypres. The most impressive participants of the parade are Ypres' giants. Goliath, medieval characters, and male and female cats are among the giants that walk side-by-side with dancers and musicians through the streets of the town.
There are numerous legends behind this tradition that date back to medieval times. The most popular version claims that during the Middle Ages, citizens used to torture and throw cats from the towers. Cats were considered to have some relation to witchcraft and the killing of cats equated to the destruction of evil spirits.
Similar holidays and events, festivals and interesting facts

Cinco de Meow Day on May 5
;

International Hug Your Cat Day on May 30
;

Hug Your Cat Day in US on June 4
;

Garfield The Cat Day on June 19
(Garfield was famously created by cartoonist Jim Davis and appeared in a cartoon strip on 19th June 1978);

Take Your Cat to Work Day in USA on June 19
(Held on the third Monday of June);

Cat World Domination Day on June 25
;

International Tiger Day or Global Tiger Day on July 29