Qingming Festival
Qingming Festival is held on April 4. 清明節 or 清明节 also known as Pure Brightness Festival or Tomb-sweeping Day. This event in the first decade of the month April is annual.
Help us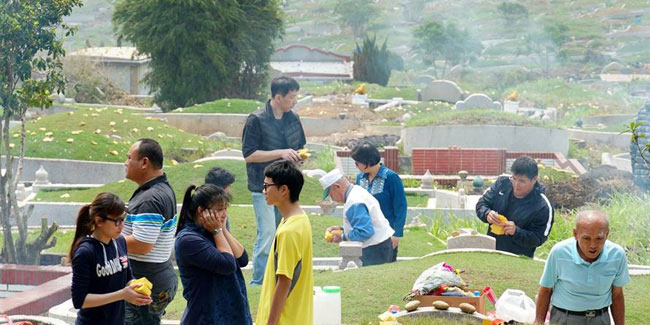 The Qingming Festival is not always celebrated on the same day. This holiday takes place in the spring, and it's either on April 4 or 5 of each year. It's not tied to the Gregorian Calendar; it instead follows the Chinese solar calendar. The festival lasts three days total, and it starts after the spring equinox.
Literally, qingming 清明 means "clear-bright," and shanghe tu 上河圖 means "going-along-the-river-picture." Another possible translation of the scroll's name is "Spring Festival," referring to the Qingming festival when, in early spring, the living sweep the graves of their ancestors.
The Qingming Festival started over 2,500 years ago during the Zhou Dynasty. Emperors would offer sacrifices in honor of their ancestors in exchange for wealth, peace and good harvests for the country. In 732, Emperor Xuanzong of the Tang Dynasty stated respect must be paid at ancestors' graves.
Similar holidays and events, festivals and interesting facts

World Party Day on April 3
;

Children's Day in Hong Kong, Taiwan on April 4
;

Black Day on April 14
(South Korea, Japan, Taiwan. An unofficial holiday celebrated annually by single people - unmarried or unmarried people);

Chinese Language Day in China on April 20
;

Navy Day in China on April 23
;

Youth Day in China on May 4
;

Literary Day in Republic of China on May 4