Champagne Day
Champagne Day is held on August 4. Âirthday of champagne in 1693. This event in the first decade of the month August is annual.
Help us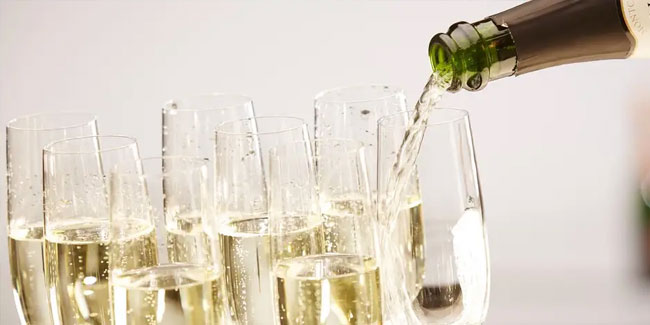 A bottle of champagne has around 49 million bubbles! Champagne is actually a type of wine.
Champagne, the wine, is named after the region where it is grown, fermented, and bottled: Champagne, France. Nestled in the country's northeastern corner, near Paris, the only labels that are legally allowed to bare the name "Champagne" are bottled within 100 miles of this region (according to European Law).
The French monk Dom Perignon is thought to have invented champagne in 1693. But 30 years earlier, an English scientist discovered winemakers on this side of the Channel had long been adding sparkle to their tipple. Some call it fizz, some just call it bubbly, but its proper name is English sparkling wine.
Let scientists argue, and we will enjoy this popular drink.
Similar holidays and events, festivals and interesting facts

National Mead Day and Mustard Day in USA on August 3
(First Saturday of August);

National White Wine Day in US on August 4
;
International Pinot Noir Day on August 16
(Pinot noir is such an expressive wine);

National Pinot Noir Day in USA on August 18
;

International Cabernet Day on August 29
(Celebrated on the Thursday before the US Labour Day);

International Cabernet Sauvignon Day on August 30
;

International Grenache Day on September 15
(Celebrated on the 3rd Friday in September)