Carnival in Oruro, Bolivia
Carnival in Oruro, Bolivia is held on February 10. Carnaval de Oruro - each year on the Saturday before Ash Wednesday. This event in the first decade of the month February is annual.
Help us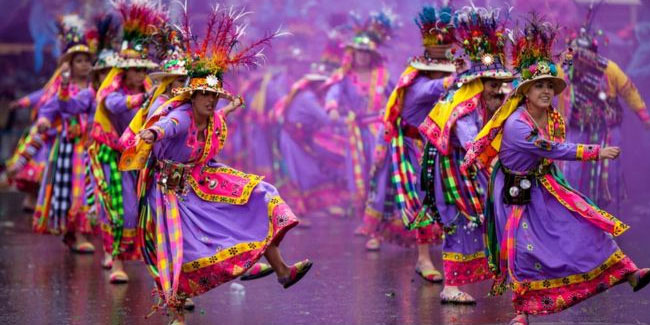 The Carnival of Oruro is a religious and cultural festival in Oruro, Bolivia. It has been celebrated since the 18th century. Originally an indigenous festival, the celebration later was transformed to incorporate a Christian ritual around the Virgin of Candelaria (Virgin of Socavón). The carnival is one of UNESCO's Masterpieces of the Oral and Intangible Heritage of Humanity. In 2008, the Carnival of Oruro in Bolivia was inscribed on UNESCO's Representative List of the Intangible Cultural Heritage of Humanity.
Legend also has it that in 1756, a mural of the Virgin Mary miraculously appeared in a mineshaft of the richest silver mine in Oruro. Ever since the Carnival has been observed in honor of the Virgen de la Candelaria (Virgin of the Candlemas) or Virgen del Socavon (Virgin of the Mineshaft). The most important elements of the Carnival now occur in and around the Sanctuaria del Socavon (Church of the Mineshaft).
Similar holidays and events, festivals and interesting facts