Sechseläuten in Zurich
Sechseläuten in Zurich is held on April 15. The third Monday in April. This event in the second decade of the month April is annual.
Help us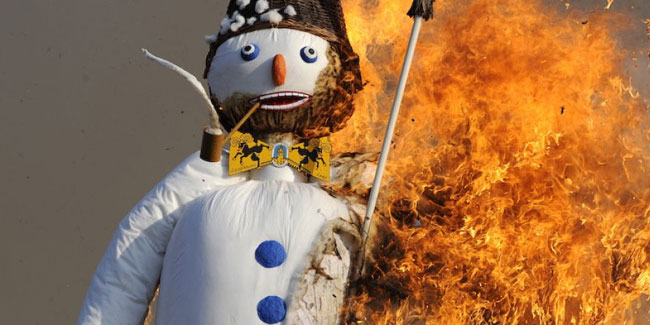 Sechseläuten is not a Switzerland wide custom but a Zurich tradition. It is a festival to celebrate the end of Winter and it was originally related to the introduction of the Summer working hours. The earliest recorded celebration of Sechseläuten dates back to 1525.
In bygone days, every year young boys in Zurich's Kratz quarter – formerly the area between the Fraumünster and Bürkliplatz – would burn a Böögg-like figure on the day of the vernal equinox, the same time as the guilds would commence their Sechseläuten celebrations. The word "Böögg" is probably related to the word "bogeyman" and similar names in other languages for this frightening imaginary figure, such as Bullebeiss, Buhmann or Boesman. In Zurich, the Böögg resembles a snowman and symbolizes the winter. The burning of the Böögg serves to drive out the winter and herald the spring.
In 1944, Sechseläuten was held at Enge Harbor, as its usual site, the Sechseläutenwiese, was being used to grow vegetables. On that occasion, the Böögg tipped over and fell into Lake Zurich.
In 2020 and 2021, Sechseläuten had to be cancelled due to the coronavirus pandemic.
Similar holidays and events, festivals and interesting facts

Näfelser Fahrt in Glarus, Switzerland on April 3
(The Battle of Näfels was fought on 9 April 1388 between Glarus with its allies the Old Swiss Confederation, and the Habsburgs. It was a decisive Glarner victory);

The official spring festival in Switzerland on May 1
;

Christ's Ascension on May 9
(or Kristi Himmelfartsdag in Norway);

Mamertus, the first of the Ice Saints on May 11
;

Mother's Day on May 12
(Anguilla, Antigua and Barbuda, Aruba, Australia, Austria, Bahamas, Bangladesh, Barbados, Belgium, Belize, Bermuda, Bhutan, Bonaire, Botswana, Brazil, Brunei, Canada, Cambodia, Cayman Islands, Central African Republic, Chad, Chile, China, Colombia, Congo, Dem. Rep., Congo, Rep., Cote d'Ivoire, Croatia, Cuba, Curaçao, Cyprus, Czech Republic, Denmark, Dominica, Ecuador, Equatorial Guinea, Estonia, Ethiopia, Faroe Islands, Fiji, Finland, Germany, Gabon, Gambia, Greenland, Ghana, Greece, Grenada, Guyana, Honduras, Hong Kong, Iceland, India, Italy, Jamaica, Japan, Kenya, Latvia, Liberia, Liechtenstein, Macau, Malaysia, Malta, Myanmar, Namibia, Netherlands, New Zealand, Pakistan, Papua New Guinea, Peru, Philippines, Puerto Rico, Saint Kitts and Nevis, Saint Lucia, Saint Vincent and the Grenadines, Samoa, Singapore, Sint Maarten, Slovakia, South Africa, Sri Lanka, Suriname, Switzerland, Taiwan, Tanzania, Tonga, Trinidad and Tobago, Turkey, Uganda, Ukraine, United States, Uruguay, Vietnam, Venezuela, Zambia, Zimbabwe);

Switzerland's Overshoot Day on May 13
(date for 2022);

Whit Monday on May 20
(celebrated on the day after Pentecost)