Ice Music Festival in Finse, Norway
Ice Music Festival in Finse, Norway is held on February 7. They claim to be "the coolest outdoor experience" — and they're probably right. This event in the first decade of the month February is annual.
Help us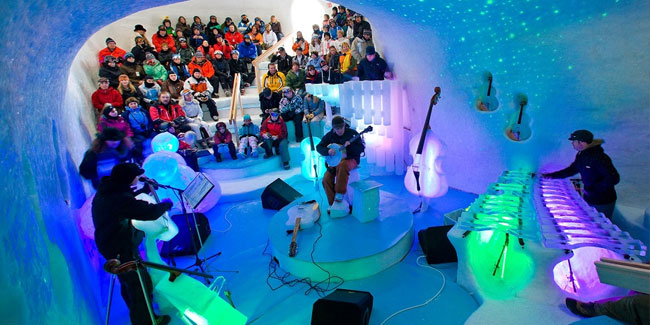 Ice Music Festival Norway, founded by a percussionist and experimental musician Terje Isungset, is a unique annual event in Norway. Throughout three Norwegian winter days and nights, visitors can listen to the sounds of instruments such as drums, the guitar, percussion, horns and an harp, all of which have been beautifully made… of ice. Not only instruments, all, including the venue and art, is made of frozen water and snow. Around 30 volunteers and students work alongside ice carvers, designers, ice cutters, architects and artists for 10 days leading up to the festival to make adequate preparations. The festival takes place on every first full moon of the year.
Participating musicians, recruited from around the globe, cover many different genres, from folk music and jazz to pop and R&B. They have to be very talented and skilled to be able to play ice instruments. Beautifully carved and sculpted by hand with chisels and chainsaws, these instruments are very fragile and melt in their hands. The wind instruments are particularly challenging: just breathing into them causes them to melt, so they change in tone as the performance progresses.
Every year, a new "instrument of the year" is made. Over the years, this has included the ice-kantele, ice-didgeridoo, ice-harp, ice-udu, ice-drum, ice-balafon, ice-hardanger fiddle, tub-ice, ice-leik, ice-bass, ice-ofon, ice-trumpet, ice-horn, ice-marimba and ice-percussion.  
Concerts are performed for warmly dressed audiences at natural amphitheatres dug out of the snow or inside snow igloos. Sitting on rugs draped over the seats, people applaud the musicians wearing thick gloves.
Since 2006, the concert venue has been moved around several times, from Geilo to Finse - and now Ål. The stages are built from scratch every year, which is a major art project completed by the students from UiB.
Isungset is in charge of the record label All Ice Records, and the festival cooperates with this label in producing ice music. AIR distributes their own music on all digital platforms, and are aiming to release at least one album per year, with one release at the first full moon of each year.
Ice Music Festival focuses strongly on music, but the festival is also meant to highlight a focus on the climate crisis, as melting icecaps is one of the clearest signs of global warming. Bjerknes Centre for Climate Research in Bergen is doing research on global warming, and the festival cooperates with scientists, who give lectures during the festival.
Similar holidays and events, festivals and interesting facts

Bob Marley Day in Jamaica on February 6
;

Opera Day on February 8
;

Musikahan Festival on February 21
(Tagum City, the Philippines);

Dancer Day in Argentina on February 28
;

National Music in Our Schools Month in USA on March 1
;

CD Day on March 2
;

International DJ Day on March 9