Monday 6 February 2023 Calendar with holidays, observances and special days
Calendars
:
Health Calendar
,
US Holidays
,
United Nations Holidays
,
Worldwide Holidays
,
Career Holidays (Recognition Holidays)
,
Finland
,
Food holidays
,
France
,
Jamaica
,
New Zealand
,
Norway
,
Panama
,
Sweden
,
Tokelau
,
Unusual Holidays (Weird and Funny Holidays)
Holidays and observances
Events
1996 – Willamette Valley Flood: Floods in the Willamette Valley of Oregon, United States, causes over US$500 million in property damage throughout the Pacific Northwest.
1987 – Justice Mary Gaudron becomes the first woman to be appointed to the High Court of Australia.
1976 – In testimony before a United States Senate subcommittee, Lockheed Corporation president Carl Kotchian admits that the company had paid out approximately $3 million in bribes to the office of Japanese Prime Minister Kakuei Tanaka.
1959 – At Cape Canaveral, Florida, the first successful test firing of a Titan intercontinental ballistic missile is accomplished.
1959 – Jack Kilby of Texas Instruments files the first patent for an integrated circuit.
1951 – The Broker, a Pennsylvania Railroad passenger train derails near Woodbridge Township, New Jersey. The accident kills 85 people and injures over 500 more. The wreck is one of the worst rail disasters in American history.
1922 – The Washington Naval Treaty is signed in Washington, D.C., limiting the naval armaments of United States, Britain, Japan, France, and Italy.
1919 – The American Legion is founded.
1899 – Spanish–American War: The Treaty of Paris, a peace treaty between the United States and Spain, is ratified by the United States Senate.
1862 – American Civil War: Forces under the command of Ulysses S. Grant and Andrew H. Foote give the Union its first victory of the war, capturing Fort Henry, Tennessee in the Battle of Fort Henry.
1843 – The first minstrel show in the United States, The Virginia Minstrels, opens (Bowery Amphitheatre in New York City).
1833 – Otto becomes the first modern King of Greece.
1820 – The first 86 African American immigrants sponsored by the American Colonization Society depart New York to start a settlement in present-day Liberia.
1815 – New Jersey grants the first American railroad charter to John Stevens.
1788 – Massachusetts becomes the sixth state to ratify the United States Constitution.
1778 – American Revolutionary War: In Paris the Treaty of Alliance and the Treaty of Amity and Commerce are signed by the United States and France signaling official recognition of the new republic.
1579 – The Archdiocese of Manila was made a diocese by a papal bull with Domingo de Salazar being its first bishop.
Births
1993 – Tinashe, American singer-songwriter, dancer, and actress. Her notable roles included as a motion-capture model in the animated film The Polar Express (2004), Robin Wheeler in the Cartoon Network television series Out of Jimmy's Head (2007–2008), and a recurring role in the CBS series Two and a Half Men (2008–2009).
1990 – Jermaine Kearse, American football player. Jermaine Levan Kearse (born February 6, 1990) is an American football wide receiver for the Detroit Lions of the National Football League (NFL).
1989 – Jonny Flynn, American basketball player. A three-year National Basketball Association (NBA) veteran, he last played for the Orlandina Basket of the Lega Basket Serie A and played collegiate basketball for the Syracuse Orange.
1988 – Bailey Hanks, American actress, singer, and dancer. Bailey Noel Hanks Weidman (born Bailey Noel Hanks, February 6, 1988) is an American singer, actress, and dancer best known for winning MTV's Legally Blonde: The Musical – The Search for Elle Woods.
1985 – Kris Humphries, American basketball player. Kristopher Nathan Humphries (born February 6, 1985) is an American former professional basketball player who played in the National Basketball Association (NBA).
1983 – Brodie Croyle, American football player. He played college football for the University of Alabama from 2002 to 2005.
1983 – Melrose Bickerstaff, American model and fashion designer. Melissa Rose Bickerstaff (born February 6, 1983), known professionally as Melrose, is an American fashion model and fashion designer based in San Francisco, California, and signed to Leni's Model Management.
1982 – Elise Ray, American gymnast. Mary Elise Ray (born February 6, 1982) is an American gymnast who represented the United States at the 2000 Olympics in Sydney and the 1999 World Championships.
1981 – Alison Haislip, American actress and producer. Alison Fesq Haislip is an American actress and former television personality for Attack of the Show! on the defunct G4 network and the NBC reality singing competition show The Voice.
1981 – Calum Best, American-English model and actor. Calum Milan Best (born February 6, 1981) is a British American television personality.
1981 – Ricky Barnes, American golfer. Richard Kyle Barnes (born February 6, 1981) is an American professional golfer who currently plays on the PGA Tour.
1981 – Ty Warren, American football player. Ty'ron "Ty" Markeith Warren (born February 6, 1981) is a former American football defensive tackle who played ten seasons in the National Football League (NFL).
1980 – Luke Ravenstahl, American politician, 58th Mayor of Pittsburgh. He was among the youngest mayors of a major city in American history.
1977 – Josh Stewart, American actor. Joshua Regnall Stewart (born February 6, 1977) is an American actor best known for his role as Holt McLaren in the FX TV series Dirt and as Detective William LaMontagne, Jr., in Criminal Minds.
1976 – Kim Zmeskal, American gymnast and coach, was a national champion, world champion, and an Olympic bronze medalist. She currently coaches gymnastics and co-owns Texas Dreams Gymnastics in Coppell, Texas, with her husband Chris Burdette.
1972 – David Binn, American football player. David Aaron Binn (born February 6, 1972) is a former American football long snapper who played in the National Football League (NFL) for eighteen seasons.
1970 – Tim Herron, American golfer. Timothy Daniel Herron (born February 6, 1970) is an American professional golfer.
1969 – Bob Wickman, American baseball player. Robert Joe Wickman (born February 6, 1969) is a former Major League Baseball relief pitcher.
1969 – David Hayter, American actor and screenwriter. His works as a screenwriter include X-Men, X2 and Watchmen.
1967 – Anita Cochran, American singer-songwriter, guitarist, and producer. Records Nashville and one for Straybranch Records.
1962 – Axl Rose, American singer-songwriter and producer. Axl Rose (born William Bruce Rose Jr.; raised as William Bruce "Bill" Bailey; born February 6, 1962) is an American singer, songwriter, record producer and musician.
1961 – Bill Lester, American race car driver. William Alexander Lester III (born February 6, 1961) is an American former professional racing driver who last competed in the Grand Touring category in the Rolex Sports Car Series for Autohaus Motorsports.
1961 – Cam Cameron, American football player and coach. Cameron attended Indiana University in Bloomington, Indiana and played quarterback for the school.
1960 – Megan Gallagher, American actress. Having studied at the Juilliard School under the supervision of John Houseman, Gallagher began her career on stage, and has appeared in several Broadway theatre productions, winning a Theatre World Award for her role in A Few Good Men.
1958 – Cecily Adams, American actress and casting director (d. 2004), was an American actress, casting director, and lyricist.
1957 – Kathy Najimy, American actress and comedian. She was first nationally known for her feminist play The Kathy and Mo Show, which she wrote and performed with Mo Gaffney.
1956 – Jerry Marotta, American drummer. Jerome David "Jerry" Marotta (born February 6, 1956 in Cleveland, Ohio) is an American drummer currently residing in Woodstock, New York.
1955 – Michael Pollan, American journalist, author, and academic. Pollan is also professor of journalism at the UC Berkeley Graduate School of Journalism.
1950 – Natalie Cole, American singer-songwriter and actress (d. 2015). Cole was the daughter of American singer and jazz pianist Nat King Cole.
1950 – Punky Meadows, American rock guitarist and songwriter. Punky Meadows (born Edwin Lionel Meadows, Jr. on February 6, 1950) is an American guitarist known for his glam image as a member of the band Angel.
1950 – Timothy M. Dolan, American cardinal. He is the tenth and current Archbishop of New York, having been appointed by Pope Benedict XVI in 2009.
1947 – Bill Staines, American singer-songwriter and guitarist. Bill Staines (born February 6, 1947 in Medford, Massachusetts) is an American folk musician and singer-songwriter from New Hampshire, who writes and performs songs about a wide array of topics.
1946 – Richie Hayward, American drummer and songwriter (d. 2010), was an American drummer best known as a founding member and drummer in the band Little Feat. He performed with several bands and worked as a session player.
1944 – Willie Tee, American singer-songwriter, keyboard player, and producer (d. 2007), was an American keyboardist, songwriter, singer, producer and notable early architect of New Orleans funk and soul, who helped shape the sound of New Orleans for more than four decades.
1943 – Fabian Forte, American pop singer and actor. Fabiano Anthony Forte (born February 6, 1943), professionally known as Fabian, is an American singer and actor.
1943 – Gayle Hunnicutt, American actress. Gayle Hunnicutt, Lady Jenkins, (born February 6, 1943), is an American film, television and stage actress, She has made more than 30 film appearances.
1942 – Charlie Coles, American basketball player and coach (d. 2013), was an American college basketball coach and the former men's basketball head coach at Miami University and Central Michigan University.
1942 – James Loewen, American sociologist and historian, was republished in 2008, and again in 2018.
1942 – Sarah Brady, American activist and author (d. 2015), was a prominent advocate for gun control in the United States. Her husband, James Brady, was press secretary to U.S. president Ronald Reagan and was left permanently disabled as a result of an assassination attempt on Reagan.
1941 – Gigi Perreau, American actress and director. Gigi Perreau (born February 6, 1941) is an American actress.
1941 – Stephen Albert, American pianist and composer (d. 1992), was an American composer.
1940 – Tom Brokaw, American journalist and author. He is the only person to have hosted all three major NBC News programs: The Today Show, NBC Nightly News, and, briefly, Meet the Press.
1939 – Mike Farrell, American actor, director, and producer. He is also an activist and public speaker for various political causes.
1931 – Rip Torn, American actor, was an American actor and voice actor, and had a career that spanned over 60 years.
1929 – Colin Murdoch, New Zealand pharmacist and veterinarian, invented the tranquilliser gun (d. 2008), was a New Zealand pharmacist and veterinarian who made a number of significant inventions, in particular the tranquilliser gun, the disposable hypodermic syringe and the child-proof medicine container. He had a total of 46 patents registered in his name.
1928 – Allan H. Meltzer, American economist and academic (d. 2017). Meltzer Professor of Political Economy at Carnegie Mellon University's Tepper School of Business and Institute for Politics and Strategy in Pittsburgh, Pennsylvania.
1927 – Gerard K. O'Neill, American physicist and astronomer (d. 1992), was an American physicist and space activist. As a faculty member of Princeton University, he invented a device called the particle storage ring for high-energy physics experiments.
1925 – Walker Edmiston, American actor and puppeteer (d. 2007), was an American actor and voice actor.
1924 – Jin Yong, Hong Kong author and publisher, founded Ming Pao, was a Chinese wuxia ("martial arts and chivalry") novelist and essayist who co-founded the Hong Kong daily newspaper Ming Pao in 1959 and served as its first editor-in-chief. He was Hong Kong's most famous writer.
1922 – Haskell Wexler, American director, producer, and cinematographer (d. 2015), was an American cinematographer, film producer and director. Wexler was judged to be one of film history's ten most influential cinematographers in a survey of the members of the International Cinematographers Guild.
1922 – Patrick Macnee, English-American actor and costume designer (d. 2015), was a British-American film and television actor. He played the role of secret agent John Steed in the British television series The Avengers.
1921 – Carl Neumann Degler, American historian and author (d. 2014), was a United States historian and Pulitzer Prize-winning author. He was the Margaret Byrne Professor of American History Emeritus at Stanford University.
1917 – Zsa Zsa Gabor, Hungarian-American actress and socialite (d. 2016). Her sisters were actresses Eva and Magda Gabor.
1914 – Thurl Ravenscroft, American voice actor and singer (d. 2005), was an American voice actor and bass singer known as the booming voice behind Kellogg's Frosted Flakes animated spokesman Tony the Tiger for more than five decades. He was also the uncredited vocalist for the song "You're a Mean One, Mr.
1911 – Ronald Reagan, American actor and politician, 40th President of the United States (d. 2004), was an American politician who served as the 40th president of the United States from 1981 to 1989 and became a highly influential voice of modern conservatism. Prior to his presidency, he was a Hollywood actor and union leader before serving as the 33rd governor of California from 1967 to 1975.
1910 – Carlos Marcello, Tunisian-American gangster (d. 1993), was an American crime boss of the New Orleans crime family from 1947 until the late 1980s. G.
1908 – Edward Lansdale, American general and CIA agent (d. 1987), was a United States Air Force officer until retiring in 1963 as a major general before continuing his work with the Central Intelligence Agency (CIA). Lansdale was a pioneer in clandestine operations and psychological warfare.
1908 – Michael Maltese, American actor, screenwriter, and composer (d. 1981), was an American storyman for classic animated cartoon shorts. He is best known for working in the 1950s on a series of Merrie Melodies cartoons with director Chuck Jones, notably "What's Opera, Doc?" which is widely regarded by industry professionals as the best animated short of all time.
1902 – George Brunies, American trombonist (d. 1974). George Clarence Brunies (February 6, 1902 – November 19, 1974), a.k.a.
1901 – Ben Lyon, American actor (d. 1979), was an American film actor and a studio executive at 20th Century Fox, who later acted in British radio, films and TV.
1899 – Ramon Novarro, Mexican-American actor, singer, and director (d. 1968), was a Mexico-born United States film, stage and television actor who began his career in silent films in 1917 and eventually became a leading man and one of the top box office attractions of the 1920s and early 1930s. Novarro was promoted by MGM as a "Latin lover" and became known as a sex symbol after the death of Rudolph Valentino.
1898 – Harry Haywood, American soldier and politician (d. 1985), was a leading figure in both the Communist Party of the United States (CPUSA) and the Communist Party of the Soviet Union (CPSU). His goal was to connect the political philosophy of the Communist Party with the issues of race.
1895 – Babe Ruth, American baseball player and coach (d. 1948), was an American professional baseball player whose career in Major League Baseball (MLB) spanned 22 seasons, from 1914 through 1935. Nicknamed "The Bambino" and "The Sultan of Swat", he began his MLB career as a star left-handed pitcher for the Boston Red Sox, but achieved his greatest fame as a slugging outfielder for the New York Yankees.
1895 – Robert La Follette Jr., American politician (d. 1953), was a U.S. senator from Wisconsin from 1925 to 1947. As an outspoken son of Representative, Senator, and Wisconsin Governor Robert M.
1892 – William P. Murphy, American physician and academic, Nobel Prize laureate (d. 1987), was an American physician who shared the Nobel Prize in Physiology or Medicine in 1934 with George Richards Minot and George Hoyt Whipple for their combined work in devising and treating macrocytic anemia (specifically, pernicious anemia).
1874 – Bhaktisiddhanta Sarasvati Thakura, Indian religious leader, founded the Gaudiya Math (d. 1937), was a Gaudīya Vaisnava Hindu guru (spiritual master), ācārya (philosophy instructor), and revivalist in early 20th century northeastern India.
1872 – Robert Maillart, Swiss engineer, designed the Salginatobel Bridge and Schwandbach Bridge (d. 1940), was a Swiss civil engineer who revolutionized the use of structural reinforced concrete with such designs as the three-hinged arch and the deck-stiffened arch for bridges, and the beamless floor slab and mushroom ceiling for industrial buildings. His Salginatobel (1929–1930) and Schwandbach (1933) bridges changed the aesthetics and engineering of bridge construction dramatically and influenced decades of architects and engineers after him.
1847 – Henry Janeway Hardenbergh, American architect, designed the Plaza Hotel (d. 1918), was an American architect, best known for his hotels and apartment buildings.
1845 – Isidor Straus, German-American businessman and politician (d. 1912), was a German-born American Jewish businessman, politician and co-owner of Macy's department store with his brother Nathan. He also served for just over a year as a member of the United States House of Representatives.
1843 – Frederic William Henry Myers, English poet and philologist, co-founded the Society for Psychical Research (d. 1901), was a poet, classicist, philologist, and a founder of the Society for Psychical Research. Myers' work on psychical research and his ideas about a "subliminal self" were influential in his time, but have not been accepted by the scientific community.
1833 – J. E. B. Stuart, American general (d. 1864), was a United States Army officer from Virginia who became a Confederate States Army general during the American Civil War. He was known to his friends as "Jeb", from the initials of his given names.
1832 – John Brown Gordon, American general and politician, 53rd Governor of Georgia (d. 1904), was an attorney, a planter, general in the Confederate States Army, and politician in the postwar years. By the end of the Civil War, he had become "one of Robert E.
1829 – Joseph Auguste Émile Vaudremer, French architect, designed the La Santé Prison and Saint-Pierre-de-Montrouge (d. 1914). He won the prix de Rome and designed several public buildings in France, particularly in Paris.
1818 – William M. Evarts, American lawyer and politician, 27th United States Secretary of State (d. 1901), was an American lawyer and statesman from New York who served as U.S. Secretary of State, U.S.
1756 – Aaron Burr, American colonel and politician, 3rd Vice President of the United States (d. 1836), was an American politician and lawyer. He was the third vice president of the United States (1801–1805), serving during President Thomas Jefferson's first term.
1748 – Adam Weishaupt, German philosopher and academic, founded the Illuminati (d. 1830), was a German philosopher, law professor, and founder of the Order of the Illuminati, a secret society.
Deaths
2017 – Irwin Corey, American comedian and actor (b. 1914)
2016 – Dan Gerson, American screenwriter (b. 1966)
2015 – Alan Nunnelee, American lawyer and politician (b. 1958)
2014 – Maxine Kumin, American author and poet (b. 1925)
2014 – Ralph Kiner, American baseball player and sportscaster (b. 1922)
2012 – David Rosenhan, American psychologist and academic (b. 1929)
2012 – Janice E. Voss, American engineer and astronaut (b. 1956)
2009 – James Whitmore, American actor (b. 1921)
2009 – Philip Carey, American actor (b. 1925)
2007 – Frankie Laine, American singer-songwriter and actor (b. 1913)
2007 – Lew Burdette, American baseball player and coach (b. 1926)
2007 – Willye White, American runner and long jumper (b. 1939)
2005 – Karl Haas, German-American pianist, conductor, and radio host (b. 1913)
2000 – Phil Walters, American racing driver (b. 1916)
1999 – Jimmy Roberts, American tenor (b. 1924)
1995 – James Merrill, American poet and playwright (b. 1926)
1994 – Jack Kirby, American author and illustrator (b. 1917)
1994 – Joseph Cotten, American actor (b. 1905)
1993 – Arthur Ashe, American tennis player and sportscaster (b. 1943)
1991 – Danny Thomas, American actor, producer, and humanitarian (b. 1914)
1990 – Jimmy Van Heusen, American pianist and composer (b. 1913)
1989 – Barbara W. Tuchman, American historian and author (b. 1912)
1986 – Minoru Yamasaki, American architect, designed the World Trade Center (b. 1912)
1981 – Hugo Montenegro, American composer and conductor (b. 1925)
1976 – Vince Guaraldi, American singer-songwriter and pianist (b. 1928)
1951 – Gabby Street, American baseball player, coach, and manager (b. 1882)
1515 – Aldus Manutius, Italian publisher, founded the Aldine Press (b. 1449)
International Day of Zero Tolerance to Female Genital Mutilation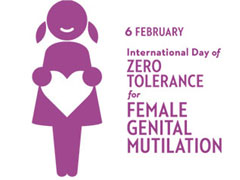 Female genital mutilation (FGM) comprises all procedures that involve altering or injuring the female genitalia for non-medical reasons and is recognized internationally ..→