Wednesday 6 February 2019 Calendar with holidays, observances and special days
Holidays and observances
Bob Marley Day in Jamaica
Constitution Day (Mexico)
Lame Duck Day (Lame Duck is a term used to describe an elected official who is no longer responsible to his constituency, usually due to the fact that he's on his way out of office and reelection is no longer a possibility)
National Chopsticks Day in USA
Ronald Reagan Day (California, United States)
Sami National Day (Russia, Finland, Norway and Sweden)
Statehood Day (Massachusetts, 1788)
Waitangi Day, celebrates the founding of New Zealand in 1840.
Events
1996 – Willamette Valley Flood: Floods in the Willamette Valley of Oregon, United States, causes over US$500 million in property damage throughout the Pacific Northwest.
1987 – Justice Mary Gaudron becomes the first woman to be appointed to the High Court of Australia.
1976 – In testimony before a United States Senate subcommittee, Lockheed Corporation president Carl Kotchian admits that the company had paid out approximately $3 million in bribes to the office of Japanese Prime Minister Kakuei Tanaka.
1959 – At Cape Canaveral, Florida, the first successful test firing of a Titan intercontinental ballistic missile is accomplished.
1959 – Jack Kilby of Texas Instruments files the first patent for an integrated circuit.
1951 – The Broker, a Pennsylvania Railroad passenger train derails near Woodbridge Township, New Jersey. The accident kills 85 people and injures over 500 more. The wreck is one of the worst rail disasters in American history.
1922 – The Washington Naval Treaty is signed in Washington, D.C., limiting the naval armaments of United States, Britain, Japan, France, and Italy.
1919 – The American Legion is founded.
1899 – Spanish–American War: The Treaty of Paris, a peace treaty between the United States and Spain, is ratified by the United States Senate.
1862 – American Civil War: Forces under the command of Ulysses S. Grant and Andrew H. Foote give the Union its first victory of the war, capturing Fort Henry, Tennessee in the Battle of Fort Henry.
1843 – The first minstrel show in the United States, The Virginia Minstrels, opens (Bowery Amphitheatre in New York City).
1833 – Otto becomes the first modern King of Greece.
1820 – The first 86 African American immigrants sponsored by the American Colonization Society depart New York to start a settlement in present-day Liberia.
1815 – New Jersey grants the first American railroad charter to John Stevens.
1788 – Massachusetts becomes the sixth state to ratify the United States Constitution.
1778 – American Revolutionary War: In Paris the Treaty of Alliance and the Treaty of Amity and Commerce are signed by the United States and France signaling official recognition of the new republic.
1579 – The Archdiocese of Manila was made a diocese by a papal bull with Domingo de Salazar being its first bishop.
Births
1993 – Tinashe, American singer-songwriter, dancer, and actress
1990 – Jermaine Kearse, American football player
1989 – Jonny Flynn, American basketball player
1988 – Bailey Hanks, American actress, singer, and dancer
1985 – Kris Humphries, American basketball player
1984 – Antoine Wright, American basketball player
1983 – Brodie Croyle, American football player
1983 – Melrose Bickerstaff, American model and fashion designer
1982 – Elise Ray, American gymnast
1981 – Alison Haislip, American actress and producer
1981 – Calum Best, American-English model and actor
1981 – Ricky Barnes, American golfer
1981 – Ty Warren, American football player
1980 – Luke Ravenstahl, American politician, 58th Mayor of Pittsburgh
1977 – Josh Stewart, American actor
1976 – Kim Zmeskal, American gymnast and coach
1975 – Chad Allen, American baseball player and coach
1972 – David Binn, American football player
1971 – Carlos Rogers, American basketball player
1970 – Tim Herron, American golfer
1969 – Bob Wickman, American baseball player
1969 – David Hayter, American actor and screenwriter
1967 – Anita Cochran, American singer-songwriter, guitarist, and producer
1963 – Scott Gordon, American ice hockey player and coach
1962 – Axl Rose, American singer-songwriter and producer
1961 – Bill Lester, American race car driver
1961 – Cam Cameron, American football player and coach
1960 – Megan Gallagher, American actress
1958 – Cecily Adams, American actress and casting director (d. 2004)
1957 – Kathy Najimy, American actress and comedian
1957 – Robert Townsend, American actor and director
1956 – Jerry Marotta, American drummer
1955 – Michael Pollan, American journalist, author, and academic
1950 – Natalie Cole, American singer-songwriter and actress (d. 2015)
1950 – Punky Meadows, American rock guitarist and songwriter
1950 – Timothy M. Dolan, American cardinal
1947 – Bill Staines, American singer-songwriter and guitarist
1946 – Jim Turner, American captain and politician
1946 – Richie Hayward, American drummer and songwriter (d. 2010)
1944 – Michael Tucker, American actor and producer
1944 – Willie Tee, American singer-songwriter, keyboard player, and producer (d. 2007)
1943 – Fabian Forte, American pop singer and actor
1943 – Gayle Hunnicutt, American actress
1942 – Charlie Coles, American basketball player and coach (d. 2013)
1942 – James Loewen, American sociologist and historian
1942 – Sarah Brady, American activist and author (d. 2015)
1941 – Gigi Perreau, American actress and director
1941 – Stephen Albert, American pianist and composer (d. 1992)
1940 – Tom Brokaw, American journalist and author
1939 – Mike Farrell, American actor, director, and producer
1931 – Rip Torn, American actor
1929 – Colin Murdoch, New Zealand pharmacist and veterinarian, invented the tranquilliser gun (d. 2008)
1928 – Allan H. Meltzer, American economist and academic (d. 2017)
1927 – Gerard K. O'Neill, American physicist and astronomer (d. 1992)
1925 – Walker Edmiston, American actor and puppeteer (d. 2007)
1924 – Jin Yong, Hong Kong author and publisher, founded Ming Pao
1922 – Haskell Wexler, American director, producer, and cinematographer (d. 2015)
1922 – Patrick Macnee, English-American actor and costume designer (d. 2015)
1921 – Carl Neumann Degler, American historian and author (d. 2014)
1917 – Zsa Zsa Gabor, Hungarian-American actress and socialite (d. 2016)
1914 – Thurl Ravenscroft, American voice actor and singer (d. 2005)
1911 – Ronald Reagan, American actor and politician, 40th President of the United States (d. 2004)
1910 – Carlos Marcello, Tunisian-American gangster (d. 1993)
1908 – Edward Lansdale, American general and CIA agent (d. 1987)
1908 – Michael Maltese, American actor, screenwriter, and composer (d. 1981)
1902 – George Brunies, American trombonist (d. 1974)
1901 – Ben Lyon, American actor (d. 1979)
1899 – Ramon Novarro, Mexican-American actor, singer, and director (d. 1968)
1898 – Harry Haywood, American soldier and politician (d. 1985)
1895 – Babe Ruth, American baseball player and coach (d. 1948)
1895 – Robert La Follette Jr., American politician (d. 1953)
1892 – William P. Murphy, American physician and academic, Nobel Prize laureate (d. 1987)
1874 – Bhaktisiddhanta Sarasvati Thakura, Indian religious leader, founded the Gaudiya Math (d. 1937)
1872 – Robert Maillart, Swiss engineer, designed the Salginatobel Bridge and Schwandbach Bridge (d. 1940)
1847 – Henry Janeway Hardenbergh, American architect, designed the Plaza Hotel (d. 1918)
1845 – Isidor Straus, German-American businessman and politician (d. 1912)
1843 – Frederic William Henry Myers, English poet and philologist, co-founded the Society for Psychical Research (d. 1901)
1833 – J. E. B. Stuart, American general (d. 1864)
1832 – John Brown Gordon, American general and politician, 53rd Governor of Georgia (d. 1904)
1829 – Joseph Auguste Émile Vaudremer, French architect, designed the La Santé Prison and Saint-Pierre-de-Montrouge (d. 1914)
1818 – William M. Evarts, American lawyer and politician, 27th United States Secretary of State (d. 1901)
1756 – Aaron Burr, American colonel and politician, 3rd Vice President of the United States (d. 1836)
1748 – Adam Weishaupt, German philosopher and academic, founded the Illuminati (d. 1830)
1732 – Charles Lee, English-American general (d. 1782)
Deaths
2017 – Irwin Corey, American comedian and actor (b. 1914)
2016 – Dan Gerson, American screenwriter (b. 1966)
2016 – Dan Hicks, American singer-songwriter and guitarist (b. 1941)
2015 – Alan Nunnelee, American lawyer and politician (b. 1958)
2014 – Maxine Kumin, American author and poet (b. 1925)
2014 – Ralph Kiner, American baseball player and sportscaster (b. 1922)
2012 – David Rosenhan, American psychologist and academic (b. 1929)
2012 – Janice E. Voss, American engineer and astronaut (b. 1956)
2009 – James Whitmore, American actor (b. 1921)
2009 – Philip Carey, American actor (b. 1925)
2007 – Frankie Laine, American singer-songwriter and actor (b. 1913)
2007 – Lew Burdette, American baseball player and coach (b. 1926)
2007 – Willye White, American runner and long jumper (b. 1939)
2005 – Karl Haas, German-American pianist, conductor, and radio host (b. 1913)
2000 – Phil Walters, American racing driver (b. 1916)
1999 – Jimmy Roberts, American tenor (b. 1924)
1995 – James Merrill, American poet and playwright (b. 1926)
1994 – Jack Kirby, American author and illustrator (b. 1917)
1994 – Joseph Cotten, American actor (b. 1905)
1993 – Arthur Ashe, American tennis player and sportscaster (b. 1943)
1991 – Danny Thomas, American actor, producer, and humanitarian (b. 1914)
1990 – Jimmy Van Heusen, American pianist and composer (b. 1913)
1989 – Barbara W. Tuchman, American historian and author (b. 1912)
1986 – Minoru Yamasaki, American architect, designed the World Trade Center (b. 1912)
1981 – Hugo Montenegro, American composer and conductor (b. 1925)
1976 – Vince Guaraldi, American singer-songwriter and pianist (b. 1928)
1951 – Gabby Street, American baseball player, coach, and manager (b. 1882)
1515 – Aldus Manutius, Italian publisher, founded the Aldine Press (b. 1449)
Wednesday 6 February 2019
International Day of Zero Tolerance to Female Genital Mutilation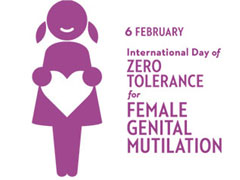 Female genital mutilation (FGM) comprises all procedures that involve altering or injuring the female genitalia for non-medical reasons and is recognized internationally ..→
Wednesday 6 February 2019
Ronald Reagan Day in California and Ohio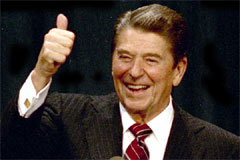 Above all, we remember the man: his irresistible optimism, faith, and good humor. Ronald Wilson Reagan born February 6, 1911 (d. June 5, 2004) was an American politician..→