Latvian Legion Day
Latvian Legion Day is held on March 16. Latvia. This event in the second decade of the month March is annual.
Help us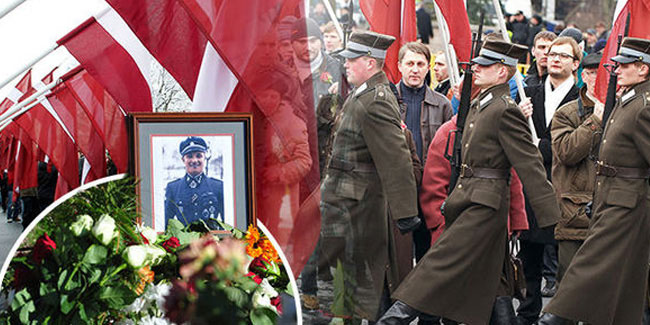 Remembrance Day of the Latvian legionnaires has been publicly observed in Latvia since 1989/90. Remembrance Day of the Latvian Legionnaires, often known simply as Legionnaire Day (Leģionāru diena) or March 16 (16. marts) in Latvia, is a day when soldiers of the Latvian Legion, part of the Waffen-SS, are commemorated. From 1998 until 2000, it was officially recognized as a "Remembrance Day for Latvian soldiers" by the Saeima.
The day has been controversial as the Legion was formally a unit of Nazi Germany and the remembrance day has been seen by Russia as an attempt to glorify Nazism. Others point out that no one has ever been convicted of committing war crimes as a member of the Legion and hold that it was a purely military unit fighting against the Soviet Union that had occupied Latvia in 1940.
In 2000, the Latvian government abolished it as an official commemoration day, however, it was continued to be observed unofficially.
Similar holidays and events, festivals and interesting facts

Porridge Day in Latvia on February 4
(Biezputras Diena);

Remembrance day of the Latvian legionnaires in Latvia on March 16
;

Larks' Day in Latvia on March 17
;

Memorial Day for Victims of the Communist Genocide in Latvia on March 25
;

Constitution Day in Argentina, Latvia and Marshall Islands on May 1
;

Motherís Day on May 12
(Anguilla, Antigua and Barbuda, Aruba, Australia, Austria, Bahamas, Bangladesh, Barbados, Belgium, Belize, Bermuda, Bhutan, Bonaire, Botswana, Brazil, Brunei, Canada, Cambodia, Cayman Islands, Central African Republic, Chad, Chile, China, Colombia, Congo, Dem. Rep., Congo, Rep., Cote d'Ivoire, Croatia, Cuba, Curaçao, Cyprus, Czech Republic, Denmark, Dominica, Ecuador, Equatorial Guinea, Estonia, Ethiopia, Faroe Islands, Fiji, Finland, Germany, Gabon, Gambia, Greenland, Ghana, Greece, Grenada, Guyana, Honduras, Hong Kong, Iceland, India, Italy, Jamaica, Japan, Kenya, Latvia, Liberia, Liechtenstein, Macau, Malaysia, Malta, Myanmar, Namibia, Netherlands, New Zealand, Pakistan, Papua New Guinea, Peru, Philippines, Puerto Rico, Saint Kitts and Nevis, Saint Lucia, Saint Vincent and the Grenadines, Samoa, Singapore, Sint Maarten, Slovakia, South Africa, Sri Lanka, Suriname, Switzerland, Taiwan, Tanzania, Tonga, Trinidad and Tobago, Turkey, Uganda, Ukraine, United States, Uruguay, Vietnam, Venezuela, Zambia, Zimbabwe);

Urbanas Day in Latvia on May 25
(Urbanas diena - an ancient tradition-festival. The date was considered the most successful day for growing oats, barley, flax and cucumbers)