Sunday 17 March 2019 Calendar with holidays, observances and special days
Holidays and observances
Events
1985 – Serial killer Richard Ramirez, aka the "Night Stalker", commits the first two murders in his Los Angeles murder spree.
1973 – The Pulitzer Prize-winning photograph Burst of Joy is taken, depicting a former prisoner of war being reunited with his family, which came to symbolize the end of United States involvement in the Vietnam War.
1970 – My Lai Massacre: The United States Army charges 14 officers with suppressing information related to the incident.
1969 – Golda Meir becomes the first female Prime Minister of Israel.
1966 – Off the coast of Spain in the Mediterranean, the DSV Alvin submarine finds a missing American hydrogen bomb.
1958 – The United States launches the Vanguard 1 satellite.
1947 – First flight of the B-45 Tornado strategic bomber.
1942 – Holocaust: The first Jews from the Lvov Ghetto are gassed at the Belzec death camp in what is today eastern Poland.
1860 – The First Taranaki War begins in Taranaki, New Zealand, a major phase of the New Zealand land wars.
1780 – American Revolution: George Washington grants the Continental Army a holiday "as an act of solidarity with the Irish in their fight for independence".
1776 – American Revolution: British forces evacuate Boston, ending the Siege of Boston, after George Washington and Henry Knox place artillery in positions overlooking the city.
1337 – Edward, the Black Prince is made Duke of Cornwall, the first Duchy in England.
Births
1997 – Katie Ledecky, American swimmer
1987 – Bobby Ryan, American ice hockey player
1986 – Chris Davis, American baseball player
1984 – Ryan Rottman, American actor, producer, and screenwriter
1981 – Aaron Baddeley, American-Australian golfer
1981 – Kyle Korver, American basketball player
1980 – Danny Califf, American soccer player
1979 – Samoa Joe, American professional wrestler
1979 – Stephen Kramer Glickman, Canadian-American actor, director, producer, and fashion designer
1978 – Zachery Kouwe, American journalist
1977 – Tamar Braxton, American singer-songwriter and actress
1976 – Scott Downs, American baseball player
1975 – Natalie Zea, American actress
1975 – Test, Canadian-American wrestler (d. 2009)
1973 – Vance Wilson, American baseball player and manager
1972 – Melissa Auf der Maur, Canadian-American singer-songwriter and bass player
1972 – Mia Hamm, American soccer player
1971 – Bill Mueller, American baseball player and coach
1970 – Gene Ween, American singer-songwriter and guitarist
1969 – Alexander McQueen, English fashion designer, founded own eponymous brand (d. 2010)
1968 – Mathew St. Patrick, American actor and producer
1967 – Barry Minkow, American pastor and businessman
1967 – Billy Corgan, American singer-songwriter, guitarist, and producer
1964 – Rob Lowe, American actor and producer
1962 – Janet Gardner, American singer and guitarist
1961 – Casey Siemaszko, American actor
1961 – Dana Reeve, American actress, singer, and activist (d. 2006)
1961 – Sam Bowie, American basketball player
1960 – Arye Gross, American actor
1960 – Vicki Lewis, American actress and singer
1959 – Danny Ainge, American baseball and basketball player
1959 – Paul Black, American singer-songwriter and drummer
1958 – Christian Clemenson, American actor
1958 – Jorge Ramos, Mexican-American journalist and author
1957 – Michael Kelly, American journalist and author (d. 2003)
1956 – Patrick McDonnell, American author and illustrator
1955 – Cynthia McKinney, American activist and politician
1955 – Gary Sinise, American actor, director, and bass player
1955 – Paul Overstreet, American singer-songwriter and guitarist
1953 – Chuck Muncie, American football player (d. 2013)
1951 – Kurt Russell, American actor and producer
1951 – Scott Gorham, American singer-songwriter and guitarist
1949 – Patrick Duffy, American actor, director, and producer
1948 – William Gibson, American-Canadian author and screenwriter
1947 – Yury Chernavsky, Russian-American songwriter and producer
1945 – Michael Hayden, American general, 20th Director of the Central Intelligence Agency
1944 – Cito Gaston, American baseball player and manager
1944 – John Sebastian, American singer-songwriter and guitarist
1941 – Paul Kantner, American singer-songwriter and guitarist (d. 2016)
1940 – Mark White, American lawyer and politician, 43rd Governor of Texas
1939 – Jim Gary, American sculptor (d. 2006)
1939 – Robin Knox-Johnston, English sailor and first person to perform a single-handed non-stop circumnavigation of the globe
1938 – Zola Taylor, American singer (d. 2007)
1936 – Ken Mattingly, American admiral, pilot, and astronaut
1935 – Adam Wade, American singer, drummer, and actor
1935 – Fred T. Mackenzie, American biologist and academic
1933 – Myrlie Evers-Williams, American journalist and activist
1931 – David Peakall, English-American chemist and toxicologist (d. 2001)
1931 – Patricia Breslin, American actress (d. 2011)
1930 – James Irwin, American colonel, pilot, and astronaut (d. 1991)
1930 – Paul Horn, American-Canadian flute player and saxophonist (d. 2014)
1927 – Betty Allen, American soprano and educator (d. 2009)
1922 – Patrick Suppes, American psychologist and philosopher (d. 2014)
1919 – Nat King Cole, American singer, pianist, and television host (d. 1965)
1914 – Sammy Baugh, American football player and coach (d. 2008)
1912 – Bayard Rustin, American activist (d. 1987)
1910 – Sonny Werblin, American businessman and philanthropist (d. 1991)
1904 – Chaim Gross, Austrian-American sculptor and educator (d. 1991)
1902 – Bobby Jones, American golfer and lawyer (d. 1971)
1901 – Alfred Newman, American composer and conductor (d. 1970)
1894 – Paul Green, American playwright and academic (d. 1981)
1885 – Ralph Rose, American shot putter, discus thrower, and tug of war competitor (d. 1913)
1884 – Alcide Nunez, American clarinet player (d. 1934)
1866 – Pierce Butler, American lawyer and jurist (d. 1939)
1849 – Charles F. Brush, American businessman and philanthropist, co-invented the Arc lamp (d. 1929)
1849 – Cornelia Clapp, American marine biologist (d. 1934)
1834 – Gottlieb Daimler, German engineer and businessman, co-founded Daimler-Motoren-Gesellschaft (d. 1900)
1806 – Norbert Rillieux, African American inventor and chemical engineer (d. 1894)
1804 – Jim Bridger, American fur trader and explorer (d. 1881)
1777 – Roger B. Taney, American politician and jurist, 5th Chief Justice of the United States (d. 1864)
1725 – Lachlan McIntosh, Scottish-American general and politician (d. 1806)
Deaths
2014 – Joseph Kerman, American musicologist and critic (b. 1924)
2014 – Rachel Lambert Mellon, American gardener, philanthropist, art collector and political patron (b. 1910)
2013 – A.B.C. Whipple, American journalist and historian (b. 1918)
2013 – Lawrence Fuchs, American scholar and academic (b. 1927)
2013 – William B. Caldwell III, American general (b. 1925)
2010 – Alex Chilton, American singer-songwriter, guitarist, and producer (b. 1950)
2010 – Sid Fleischman, American author and screenwriter (b. 1920)
2008 – Roland Arnall, French-American businessman and diplomat, 63rd United States Ambassador to the Netherlands (b. 1939)
2007 – John Backus, American mathematician and computer scientist, designed Fortran (b. 1924)
2007 – Roger Bennett, American singer-songwriter and pianist (b. 1959)
2006 – Oleg Cassini, French-American fashion designer (b. 1913)
2006 – Ray Meyer, American basketball player and coach (b. 1913)
2005 – Andre Norton, American author (b. 1912)
2005 – George F. Kennan, American historian and diplomat, United States Ambassador to the Soviet Union (b. 1904)
2002 – Rosetta LeNoire, American actress and producer (b. 1911)
2002 – Sylvester "Pat" Weaver, American television broadcaster and producer (b. 1908)
1999 – Ernest Gold, Austrian-American composer (b. 1921)
1997 – Jermaine Stewart, American singer-songwriter and dancer (b. 1957)
1996 – Terry Stafford, American singer-songwriter (b. 1941)
1993 – Helen Hayes, American actress (b. 1900)
1992 – Grace Stafford, American actress (b. 1903)
1983 – Haldan Keffer Hartline, American physiologist and academic, Nobel Prize laureate (b. 1903)
1983 – Louisa E. Rhine, American botanist and parapsychologist (b. 1891)
1981 – Paul Dean, American baseball player (b. 1913)
1974 – Louis Kahn, American architect and academic, designed Jatiyo Sangsad Bhaban (b. 1901)
1965 – Amos Alonzo Stagg, American football player and coach (b. 1862)
1961 – Susanna M. Salter, American activist and politician (b. 1860)
1956 – Fred Allen, American actor, comedian, screenwriter, and author (b. 1894)
1871 – Robert Chambers, Scottish geologist and publisher, co-founded Chambers Harrap (b. 1802)
Sunday 17 March 2019
«The Great Hunger» in Ireland in Wisconsin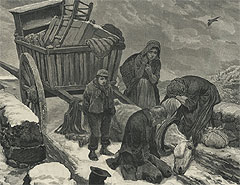 The Irish Famine of 1845 to 1852 was the greatest social calamity, in terms of morality and suffering, that Ireland has ever experienced. Because the potato was easy to g..→