Brazilian Navy Commemorative Day in Brazil
Brazilian Navy Commemorative Day in Brazil is held on June 11. This event in the second decade of the month June is annual.
Help us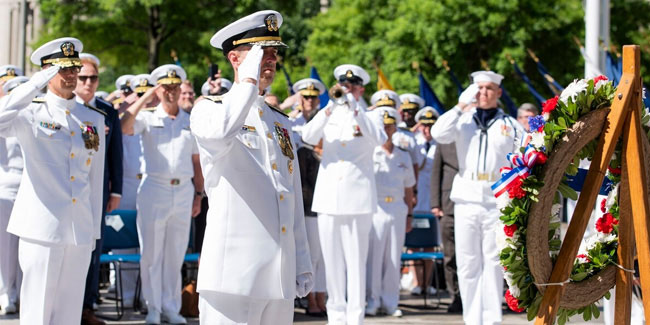 June 11 is Memorial Day for Fallen Soldiers of the Brazilian Navy and Navy Day, one of the three main military institutions that make up the Brazilian Armed Forces, along with the Army and the Air Force. What is special about this date?
The choice of this date has to do with the context of the Paraguayan War, the largest war ever fought in South America, in which Brazil was involved.
On June 11, 1865, the Brazilian Navy fought a battle on the Riachuelo River channel against Paraguayan ships. The chief Brazilian commander in this battle was Francisco Manuel Barroso, better known as Admiral Barroso, who had already participated in other naval battles, such as the war against the Sisplatinas, when Dom Pedro I was emperor.
The Battle of Riachuelo led to a series of unforeseen events and major strategic maneuvers and established the Brazilian Navy as an important force in South America. It was established in the eighteenth century, specifically in 1736, by King João V of Portugal. The influence of this battle became even more popular at the end of the nineteenth century thanks to the paintings done by Victor Meirelles, an artist who, incidentally, depicted in his canvases other episodes of Brazilian history that became iconic, such as the Battle of Avaya (also taking place during the Paraguayan War).
Similar holidays and events, festivals and interesting facts

Army Day in Jordan on June 10
;

Navy Day in Italy on June 10
;

Davis Day on June 11
(Cape Breton, Nova Scotia, Canada);

World Pet Memorial Day on June 11
(Held on the second Tuesday of June);

Baltic Freedom Day on June 14
(a name given to the day when Soviet deportations from the Baltic states started. The term Baltic Freedom Day for the first time was mentioned in Ronald Reagan's proclamation number 4948 on June 14, 1982. Baltic Freedom Day references the Soviet-Nazi Molotov–Ribbentrop Pact which led to the mass deportations of peoples from Estonia, Latvia, and Lithuania);

Day of Memory for Repressed People in Armenia on June 14
;

Occupation of the Latvian Republic Day on June 17
(Latvia. It commemorates the Soviet occupation of Latvia in 1940)