Occupation of the Latvian Republic Day
Occupation of the Latvian Republic Day is held on June 17. Latvia. It commemorates the Soviet occupation of Latvia in 1940. This event in the second decade of the month June is annual.
Help us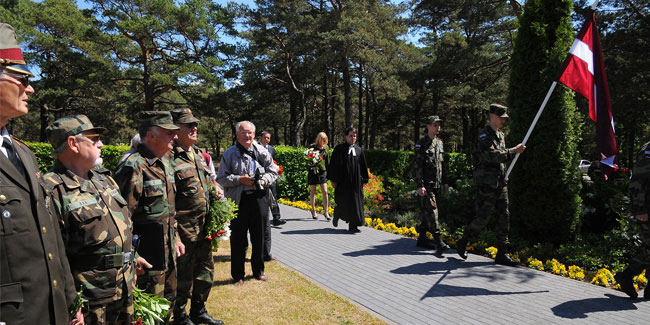 Soviet Occupation Day became an official remembrance day on May 18, 2000. On June 17, 1940 Soviet troops invaded Latvia and occupied bridges, post/telephone, telegraph, and broadcasting offices. On the same day, Andrei Vishinski, Deputy Chairman of the Council of People's Commissars of the Soviet Union, introduced himself to President Kārlis Ulmanis as Soviet special envoy; two days later, Vishinski visited Ulmanis again, this time, to deliver the list, pre-approved by Moscow, of the new members of the cabinet of the Latvian government. Soon after, State administrators were liquidated and replaced by Soviet cadres, in which 34,250 Latvians were deported or killed and Latvia was incorporated into the Soviet Union as The Latvian Soviet Socialist Republic.
Similar holidays and events, festivals and interesting facts

Baltic Freedom Day on June 14
(a name given to the day when Soviet deportations from the Baltic states started. The term Baltic Freedom Day for the first time was mentioned in Ronald Reagan's proclamation number 4948 on June 14, 1982. Baltic Freedom Day references the Soviet-Nazi Molotov–Ribbentrop Pact which led to the mass deportations of peoples from Estonia, Latvia, and Lithuania);

Day of Memory for Repressed People in Armenia on June 14
;

Day of the Independent Hungary on June 19
;

Memorial Day for Victims of Flight and Exile in Germany on June 20
(since 2015);

Day of Remembrance of the Victims of the Great Patriotic War in Belarus on June 22
;

National Day of Remembrance for Victims of Terrorism in Canada on June 23
;

Day of Tribute to the Victims of Terrorism in Spain on June 27