Monday 17 June 2019 Calendar with holidays, observances and special days
Holidays and observances
Father's Day (El Salvador, Guatemala)
Icelandic National Day (celebrates the independence of Iceland from Kingdom of Denmark in 1944)
Occupation of the Latvian Republic Day (Latvia. It commemorates the Soviet occupation of Latvia in 1940)
Events
1985 – STS-51-G Space Shuttle Discovery launches carrying Sultan bin Salman bin Abdulaziz Al Saud, the first Arab and first Muslim in space, as a payload specialist.
1967 – The People's Republic of China announces a successful test of its first thermonuclear weapon.
1963 – The United States Supreme Court rules 8–1 in Abington School District v. Schempp against requiring the reciting of Bible verses and the Lord's Prayer in public schools.
1932 – Bonus Army: Around a thousand World War I veterans amass at the United States Capitol as the U.S. Senate considers a bill that would give them certain benefits.
1922 – Portuguese naval aviators Gago Coutinho and Sacadura Cabral complete the first aerial crossing of the South Atlantic.
1910 – Aurel Vlaicu pilots an A. Vlaicu nr. 1 on its first flight.
1901 – The College Board introduces its first standardized test, the forerunner to the SAT.
1898 – The United States Navy Hospital Corps is established.
1877 – American Indian Wars: Battle of White Bird Canyon: The Nez Perce defeat the U.S. Cavalry at White Bird Canyon in the Idaho Territory.
1876 – American Indian Wars: Battle of the Rosebud: One thousand five hundred Sioux and Cheyenne led by Crazy Horse beat back General George Crook's forces at Rosebud Creek in Montana Territory.
1863 – American Civil War: Battle of Aldie in the Gettysburg Campaign.
1861 – American Civil War: Battle of Vienna, Virginia.
1843 – The Wairau Affray, the first serious clash of arms between Māori and British settlers in the New Zealand Wars, takes place.
1775 – American Revolutionary War: Colonists inflict heavy casualties on British forces while losing the Battle of Bunker Hill.
1773 – Cúcuta, Colombia, is discovered by Juana Rangel de Cuéllar.
1767 – Samuel Wallis, an English sea captain, sights Tahiti and is considered the first European to reach the island.
1673 – French explorers Jacques Marquette and Louis Jolliet reach the Mississippi River and become the first Europeans to make a detailed account of its course.
1596 – The Dutch explorer Willem Barentsz discovers the Arctic archipelago of Spitsbergen.
Births
1994 – Amari Cooper, American football player
1989 – Simone Battle, American singer and actress (d. 2014)
1987 – Kendrick Lamar, American rapper
1981 – Kyle Boller, American football player
1980 – Jeph Jacques, American author and illustrator
1980 – Venus Williams, American tennis player
1979 – Nick Rimando, American soccer player
1979 – Tyson Apostol, American television personality
1979 – Young Maylay, American rapper, producer, and voice actor
1977 – Mark Tauscher, American football player and sportscaster
1975 – Joshua Leonard, American actor, director, and screenwriter
1970 – Jason Hanson, American football player
1970 – Michael Showalter, American actor, director, producer, and screenwriter
1970 – Popeye Jones, American basketball player and coach
1970 – Will Forte, American actor, comedian, and screenwriter
1967 – Eric Stefani, American keyboard player and composer
1966 – Jason Patric, American actor
1966 – Ken Clark, American football player (d. 2013)
1966 – Tory Burch, American fashion designer and philanthropist
1965 – Dan Jansen, American speed skater and sportscaster
1965 – Dermontti Dawson, American football player and coach
1963 – Greg Kinnear, American actor, television presenter, and producer
1960 – Thomas Haden Church, American actor
1958 – Bobby Farrelly, American director, producer, and screenwriter
1958 – Daniel McVicar, American actor
1958 – Jello Biafra, American singer-songwriter and producer
1958 – Jon Leibowitz, American lawyer and politician
1957 – Martin Dillon, American tenor and educator (d. 2005)
1954 – Mark Linn-Baker, American actor and director
1952 – Mike Milbury, American ice hockey player, coach, and manager
1951 – Joe Piscopo, American actor, comedian, and screenwriter
1951 – Starhawk, American author and activist
1949 – Russell Smith, American country singer-songwriter and guitarist
1948 – Jacqueline Jones, American historian and academic
1947 – Christopher Allport, American actor (d. 2008)
1947 – George S. Clinton, American composer and songwriter
1947 – Gregg Rolie, American rock singer-songwriter and keyboard player (Santana, Journey)
1947 – Linda Chavez, American journalist and author
1945 – Tommy Franks, American general
1944 – Randy Johnson, American football player (d. 2009)
1943 – Barry Manilow, American singer-songwriter and producer
1943 – Burt Rutan, American engineer and pilot
1943 – Newt Gingrich, American historian and politician, 58th Speaker of the United States House of Representatives
1942 – Roger Steffens, American actor and producer
1940 – Bobby Bell, American football player
1940 – Chuck Rainey, American bassist
1940 – George Akerlof, American economist and academic, Nobel Prize laureate
1937 – Ted Nelson, American sociologist and philosopher
1933 – Harry Browne, American soldier and politician (d. 2006)
1932 – John Murtha, American colonel and politician (d. 2010)
1931 – John Baldessari, American painter and illustrator
1930 – Cliff Gallup, American rock & roll guitarist (d. 1988)
1929 – Bud Collins, American journalist and sportscaster (d. 2016)
1927 – Wally Wood, American author, illustrator, and publisher (d. 1981)
1925 – Alexander Shulgin, American pharmacologist and chemist (d. 2014)
1923 – Arnold S. Relman, American physician and academic (d. 2014)
1923 – Elroy Hirsch, American football player (d. 2004)
1920 – Jacob H. Gilbert, American lawyer and politician (d. 1981)
1919 – William Kaye Estes, American psychologist and academic (d. 2011)
1916 – Terry Gilkyson, American singer-songwriter and guitarist (d. 1999)
1915 – David "Stringbean" Akeman, American singer and banjo player (d. 1973)
1915 – Marcel Cadieux, Canadian civil servant and diplomat, Canadian Ambassador to the United States (d. 1981)
1914 – John Hersey, American journalist and author (d. 1993)
1910 – Red Foley, American singer-songwriter and guitarist (d. 1968)
1909 – Elmer L. Andersen, American businessman and politician, 30th Governor of Minnesota (d. 2004)
1909 – Ralph E. Winters, Canadian-American film editor (d. 2004)
1904 – J. Vernon McGee, American pastor and theologian (d. 1988)
1904 – Ralph Bellamy, American actor (d. 1991)
1903 – Ruth Graves Wakefield, American chef, created the chocolate chip cookie (d. 1977)
1902 – Sammy Fain, American pianist and composer (d. 1989)
1880 – Carl Van Vechten, American author and photographer (d. 1964)
1876 – Edward Anthony Spitzka, American anatomist and author (d. 1922)
1876 – William Carr, American rower (d. 1942)
1871 – James Weldon Johnson, American author, journalist, and activist (d. 1938)
1867 – Flora Finch, English-American actress (d. 1940)
1867 – John Robert Gregg, Irish-born American educator, publisher, and humanitarian (d. 1948)
1865 – Susan La Flesche Picotte, Native American physician (d. 1915)
1861 – Omar Bundy, American general (d. 1940)
1861 – Pete Browning, American baseball player (d. 1905)
1858 – Eben Sumner Draper, American businessman and politician, 44th Governor of Massachusetts (d. 1914)
1821 – E. G. Squier, American archaeologist and journalist (d. 1888)
1704 – John Kay, English engineer, invented the Flying shuttle (d. 1780)
Deaths
2015 – Clementa C. Pinckney, American minister and politician (b. 1973)
2015 – John David Crow, American football player and coach (b. 1935)
2014 – Arnold S. Relman, American physician and academic (b. 1923)
2014 – Larry Zeidel, Canadian-American ice hockey player and sportscaster (b. 1928)
2014 – Stanley Marsh 3, American businessman and philanthropist (b. 1938)
2013 – Bulbs Ehlers, American basketball player (b. 1923)
2013 – James Holshouser, American politician, 68th Governor of North Carolina (b. 1934)
2012 – Patricia Brown, American baseball player (b. 1931)
2012 – Rodney King, American victim of police brutality (b. 1965)
2009 – Darrell Powers, American sergeant (b. 1923)
2008 – Cyd Charisse, American actress and dancer (b. 1922)
2007 – Serena Wilson, American dancer and choreographer (b. 1933)
2002 – Willie Davenport, American sprinter and hurdler (b. 1943)
2001 – Donald J. Cram, American chemist and academic, Nobel Prize laureate (b. 1919)
1996 – Curt Swan, American illustrator (b. 1920)
1996 – Thomas Kuhn, American historian and philosopher (b. 1922)
1987 – Dick Howser, American baseball player, coach, and manager (b. 1936)
1986 – Kate Smith, American singer (b. 1907)
1983 – Peter Mennin, American composer and educator (b. 1923)
1981 – Zerna Sharp, American author and educator (b. 1889)
1979 – Duffy Lewis, American baseball player and manager (b. 1888)
1975 – James Phinney Baxter III, American historian and academic (b. 1893)
1961 – Jeff Chandler, American actor (b. 1918)
1957 – J. R. Williams, Canadian-American cartoonist (b. 1888)
1956 – Bob Sweikert, American race car driver (b. 1926)
1954 – Danny Cedrone, American guitarist and bandleader (b. 1920)
1952 – Jack Parsons, American chemist and engineer (b. 1914)
1939 – Allen Sothoron, American baseball player, coach, and manager (b. 1893)
Monday 17 June 2019
World Day to Combat Desertification and Drought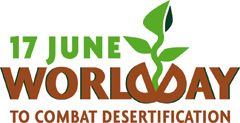 The World Day to Combat Desertification (WDCD) is observed worldwide on 17 June every year (UN: A/RES/49/115). Tackling hunger requires a multi-faceted approach Ė from e..→