Friday 17 June 2022 Calendar with holidays, observances and special days
Calendars
:
Environmental Dates
,
US Holidays
,
United Nations Holidays
,
Worldwide Holidays
,
Armenia
,
Botswana
,
El Salvador
,
Father's Days
,
Food holidays
,
Greece
,
Guatemala
,
Iceland
,
Latvia
,
Unusual Holidays (Weird and Funny Holidays)
Holidays and observances
Events
1985 – STS-51-G Space Shuttle Discovery launches carrying Sultan bin Salman bin Abdulaziz Al Saud, the first Arab and first Muslim in space, as a payload specialist.
1967 – The People's Republic of China announces a successful test of its first thermonuclear weapon.
1963 – The United States Supreme Court rules 8–1 in Abington School District v. Schempp against requiring the reciting of Bible verses and the Lord's Prayer in public schools.
1932 – Bonus Army: Around a thousand World War I veterans amass at the United States Capitol as the U.S. Senate considers a bill that would give them certain benefits.
1922 – Portuguese naval aviators Gago Coutinho and Sacadura Cabral complete the first aerial crossing of the South Atlantic.
1910 – Aurel Vlaicu pilots an A. Vlaicu nr. 1 on its first flight.
1901 – The College Board introduces its first standardized test, the forerunner to the SAT.
1898 – The United States Navy Hospital Corps is established.
1877 – American Indian Wars: Battle of White Bird Canyon: The Nez Perce defeat the U.S. Cavalry at White Bird Canyon in the Idaho Territory.
1876 – American Indian Wars: Battle of the Rosebud: One thousand five hundred Sioux and Cheyenne led by Crazy Horse beat back General George Crook's forces at Rosebud Creek in Montana Territory.
1863 – American Civil War: Battle of Aldie in the Gettysburg Campaign.
1861 – American Civil War: Battle of Vienna, Virginia.
1843 – The Wairau Affray, the first serious clash of arms between Māori and British settlers in the New Zealand Wars, takes place.
1775 – American Revolutionary War: Colonists inflict heavy casualties on British forces while losing the Battle of Bunker Hill.
1773 – Cúcuta, Colombia, is discovered by Juana Rangel de Cuéllar.
1767 – Samuel Wallis, an English sea captain, sights Tahiti and is considered the first European to reach the island.
1673 – French explorers Jacques Marquette and Louis Jolliet reach the Mississippi River and become the first Europeans to make a detailed account of its course.
1596 – The Dutch explorer Willem Barentsz discovers the Arctic archipelago of Spitsbergen.
Births
1994 – Amari Cooper, American football player. Amari Cooper (born June 17, 1994) is an American football wide receiver for the Dallas Cowboys of the National Football League (NFL).
1989 – Simone Battle, American singer and actress (d. 2014), was an American singer, dancer and actress from Los Ángeles, California. She was a finalist on The X Factor U.S. in 2011 and a member of the girl group G.R.L..
1987 – Kendrick Lamar, American rapper. He is regarded by many critics and contemporaries as one of the most important and influential rappers of his generation, and as one of the greatest rappers of all time.
1981 – Kyle Boller, American football player. He played for the Ravens from 2003 to 2008, the St.
1980 – Jeph Jacques, American author and illustrator. Jeffrey Paul "Jeph" Jacques (/ˈdʒɛf ˈdʒæks/ JEF JAKS) (born June 17, 1980) is an American cartoonist who writes and draws the webcomics Questionable Content, Alice Grove, and DORD (and formerly "Indietits").
1980 – Venus Williams, American tennis player. A former world No. 1, Williams is generally credited with ushering in a new era of power on the women's professional tennis tour.
1979 – Nick Rimando, American soccer player. Nicholas Paul Rimando (born June 17, 1979) is a retired American soccer player who last played as a goalkeeper for Real Salt Lake in Major League Soccer and the United States national team.
1979 – Tyson Apostol, American television personality. Tyson Apostol (born June 17, 1979) is an American reality television personality, best known for his appearances on multiple seasons of the CBS reality television show Survivor.
1979 – Young Maylay, American rapper, producer, and voice actor. Christopher "Chris" Bellard (born June 17, 1979) also known by his stage name, Young Maylay, is an American rapper, record producer and actor from Los Angeles, California.
1977 – Mark Tauscher, American football player and sportscaster. Mark Tauscher (/ˈtaʊʃər/; born June 17, 1977) is a former American football offensive tackle in the National Football League (NFL).
1975 – Joshua Leonard, American actor, director, and screenwriter. He has since starred in films such as Madhouse (2004), The Shaggy Dog (2006), Higher Ground (2011), The Motel Life (2012), Snake and Mongoose (2013), If I Stay (2014), The Town That Dreaded Sundown (2014), 6 Years (2015), and Unsane (2018).
1970 – Jason Hanson, American football player, was a placekicker that spent his entire 21-year career with the Detroit Lions of the National Football League (NFL). After playing college football with the Washington State Cougars, he was selected by the Lions in the second round of the 1992 NFL Draft with the 56th overall pick.
1970 – Michael Showalter, American actor, director, producer, and screenwriter. He and David Wain created the Wet Hot American Summer franchise, with Showalter co-writing and starring in Wet Hot American Summer (2001), and the Netflix series.
1970 – Popeye Jones, American basketball player and coach. He is currently an assistant coach for the Indiana Pacers of the National Basketball Association (NBA).
1970 – Will Forte, American actor, comedian, and screenwriter. After obtaining a history degree at the University of California, Los Angeles, and becoming a financial broker like his father, Forte changed his career path to comedy and took classes with the improvisational comedy group The Groundlings.
1967 – Eric Stefani, American keyboard player and composer. Eric Matthew Stefani (born June 17, 1967) is an American musician, composer, writer, and animator best known as the founder and former member of the ska punk band No Doubt.
1966 – Jason Patric, American actor. His father was actor/playwright Jason Miller and his maternal grandfather was actor Jackie Gleason.
1966 – Ken Clark, American football player (d. 2013), was an English art historian and TV presenter.
1966 – Tory Burch, American fashion designer and philanthropist. She was listed as the 73rd most powerful woman in the world by Forbes in 2015.
1965 – Dan Jansen, American speed skater and sportscaster. A multiple world champion in sprint and perennial favorite at the Winter Olympics, he broke a ten-year Olympic jinx when he won a gold medal in his final race, which was the 1,000 meters in the 1994 Winter Games.
1965 – Dermontti Dawson, American football player and coach. He played his entire career with the Pittsburgh Steelers in the National Football League (NFL), and was elected to the Pro Football Hall of Fame in 2012.
1963 – Greg Kinnear, American actor, television presenter, and producer. He was nominated for an Academy Award for Best Supporting Actor for his role in As Good as It Gets (1997).
1960 – Thomas Haden Church, American actor. He also made his directorial debut with Rolling Kansas.
1958 – Bobby Farrelly, American director, producer, and screenwriter. He is one of the Farrelly brothers, alongside his brother Peter, and together are known directing and producing quirky, slightly offensive comedy films such as Dumb and Dumber, Shallow Hal, Me, Myself and Irene, There's Something About Mary, and the 2007 remake of The Heartbreak Kid.
1958 – Daniel McVicar, American actor. He is known for his work on American and Italian television and film.
1958 – Jello Biafra, American singer-songwriter and producer. Eric Reed Boucher (born June 17, 1958), better known by his professional name Jello Biafra, is an American singer, musician, and spoken word artist.
1958 – Jon Leibowitz, American lawyer and politician. Jonathan David Leibowitz (born June 17, 1958) is an American lawyer who served as the Chairman of the Federal Trade Commission (FTC).
1957 – Martin Dillon, American tenor and educator (d. 2005). Dillon's bestselling trilogy, The Shankill Butchers, The Dirty War & God and the Gun, is considered the definitive account of the Troubles in Northern Ireland.
1954 – Mark Linn-Baker, American actor and director. Mark Linn-Baker (born June 17, 1954) is an American actor and director who played Benjy Stone in the film My Favorite Year and Larry Appleton in the television sitcom Perfect Strangers.
1952 – Mike Milbury, American ice hockey player, coach, and manager. He later served as assistant general manager under Harry Sinden and head coach for Boston, as well as general manager and head coach for the New York Islanders.
1951 – Joe Piscopo, American actor, comedian, and screenwriter. Joseph Charles John Piscopo (pronounced PIS-co-po; born June 17, 1951) is an American comedian, actor, musician, writer and a radio talk show host.
1951 – Starhawk, American author and activist. She is a columnist for Beliefnet.com and for On Faith, the Newsweek/Washington Post online forum on religion.
1948 – Jacqueline Jones, American historian and academic. Her expertise is in American social history in addition to writing on economics (including feminist economics), race, slavery, and class.
1947 – Christopher Allport, American actor (d. 2008). Alexander Wise Allport Jr. was born in Boston.
1947 – George S. Clinton, American composer and songwriter. George Stanley Clinton (born June 17, 1947) is an American composer, songwriter, arranger, and session musician.
1947 – Gregg Rolie, American rock singer-songwriter and keyboard player (Santana, Journey). He also helmed rock group The Storm, and currently performs with his Gregg Rolie Band and with Ringo Starr & His All-Starr Band.
1947 – Linda Chavez, American journalist and author. Linda Lou Chavez (born June 17, 1947) is an American author, commentator, and radio talk show host.
1945 – Tommy Franks, American general. Tommy Ray Franks (born June 17, 1945) is a retired general in the United States Army.
1943 – Barry Manilow, American singer-songwriter and producer. His hit recordings include "Could It Be Magic", "Mandy", "I Write the Songs", "Can't Smile Without You" and "Copacabana (At the Copa)".
1943 – Burt Rutan, American engineer and pilot. Elbert Leander "Burt" Rutan (/ˈruːtən/; born June 17, 1943) is a retired American aerospace engineer and entrepreneur noted for his originality in designing light, strong, unusual-looking, energy-efficient aircraft.
1943 – Newt Gingrich, American historian and politician, 58th Speaker of the United States House of Representatives. Representative for Georgia's 6th congressional district from 1979 until his resignation in 1999.
1942 – Roger Steffens, American actor and producer. Roger Steffens (born June 17, 1942) is a Brooklyn, New York-born American actor, author, lecturer, editor, reggae archivist, photographer and, producer.
1940 – Bobby Bell, American football player. He is a member of the Pro Football Hall of Fame, the College Football Hall of Fame, and was a member of the Chiefs' team that won Super Bowl IV against the Minnesota Vikings.
1940 – Chuck Rainey, American bassist. Charles Walter Rainey III (born June 17, 1940 in Cleveland, Ohio, United States) is an American bass guitarist who has performed and recorded with many well-known acts, including Aretha Franklin, Steely Dan, and Quincy Jones.
1940 – George Akerlof, American economist and academic, Nobel Prize laureate. George Arthur Akerlof (born June 17, 1940) is an American economist who is a university professor at the McCourt School of Public Policy at Georgetown University and Koshland Professor of Economics Emeritus at the University of California, Berkeley.
1937 – Ted Nelson, American sociologist and philosopher. Theodor Holm Nelson (born June 17, 1937) is an American pioneer of information technology, philosopher and sociologist.
1933 – Harry Browne, American soldier and politician (d. 2006), was an American writer, politician, and investment advisor. He was the Libertarian Party's Presidential nominee in the U.S. elections of 1996 and 2000.
1932 – John Murtha, American colonel and politician (d. 2010), was an American politician from the Commonwealth of Pennsylvania. Murtha, a Democrat, represented Pennsylvania's 12th congressional district in the United States House of Representatives from 1974 until his death in 2010.
1931 – John Baldessari, American painter and illustrator, was an American conceptual artist known for his work featuring found photography and appropriated images. He lived and worked in Santa Monica and Venice, California.
1930 – Cliff Gallup, American rock & roll guitarist (d. 1988), was an American electric guitarist, who played rock and roll in the band Gene Vincent and His Blue Caps in the 1950s.
1929 – Bud Collins, American journalist and sportscaster (d. 2016), was an American journalist and television sportscaster, best known for his tennis commentary. Collins was married to photographer Anita Ruthling Klaussen.
1927 – Wally Wood, American author, illustrator, and publisher (d. 1981), was an American comic book writer, artist and independent publisher, best known for his work on EC Comics's Mad and Marvel's Daredevil. He was one of Mad's founding cartoonists in 1952.
1925 – Alexander Shulgin, American pharmacologist and chemist (d. 2014), was an American medicinal chemist, biochemist, organic chemist, pharmacologist, psychopharmacologist, and author. He is credited with introducing MDMA ("ecstasy", "mandy" or "molly") to psychologists in the late 1970s for psychopharmaceutical use and for the discovery, synthesis and personal bioassay of over 230 psychoactive compounds for their psychedelic and entactogenic potential.
1923 – Arnold S. Relman, American physician and academic (d. 2014), was an American internist and professor of medicine and social medicine. He was editor of The New England Journal of Medicine (NEJM) from 1977 to 1991, where he instituted two important policies: one asking the popular press not to report on articles before publication and another requiring authors to disclose conflicts of interest.
1923 – Elroy Hirsch, American football player (d. 2004), was an American professional football player, sport executive and actor. He was inducted into the Pro Football Hall of Fame in 1967 and the College Football Hall of Fame in 1974.
1920 – Jacob H. Gilbert, American lawyer and politician (d. 1981). Gilbert (June 17, 1920 – February 27, 1981) was a United States Representative from New York between 1960 and 1971.
1919 – William Kaye Estes, American psychologist and academic (d. 2011). A Review of General Psychology survey, published in 2002, ranked Estes as the 77th most cited psychologist of the 20th century.
1916 – Terry Gilkyson, American singer-songwriter and guitarist (d. 1999), was an American folk singer, composer, and lyricist.
1915 – David "Stringbean" Akeman, American singer and banjo player (d. 1973), was an American singer-songwriter, musician, comedian, actor and semi-professional baseball player best known for his role as a main cast member on the hit television show, Hee Haw, and as a member of the Grand Ole Opry. Akeman was well-known for his "old-fashioned" banjo picking style, careful mix of comedy and music, and his memorable stage wardrobe (which consisted of a long nightshirt tucked into a pair of short blue jeans belted around his knees—an early form of sagging— giving him the comical appearance of a very tall man with stubby legs).
1915 – Marcel Cadieux, Canadian civil servant and diplomat, Canadian Ambassador to the United States (d. 1981). Cadieux was born in Montreal, Quebec.
1914 – John Hersey, American journalist and author (d. 1993), was an American writer and journalist. He is considered one of the earliest practitioners of the so-called New Journalism, in which storytelling techniques of fiction are adapted to non-fiction reportage.
1910 – Red Foley, American singer-songwriter and guitarist (d. 1968), was an American singer, musician, and radio and TV personality who made a major contribution to the growth of country music after World War II.
1909 – Elmer L. Andersen, American businessman and politician, 30th Governor of Minnesota (d. 2004), was an American businessman, philanthropist, and the 30th Governor of Minnesota, serving a single term from January 2, 1961, to March 25, 1963, as a Republican.
1909 – Ralph E. Winters, Canadian-American film editor (d. 2004). Winters (June 17, 1909 – February 26, 2004) was a Canadian-born film editor who became one of the leading figures of this field in the American industry.
1904 – J. Vernon McGee, American pastor and theologian (d. 1988), was an American ordained Presbyterian minister, pastor, Bible teacher, theologian, and radio minister.
1904 – Ralph Bellamy, American actor (d. 1991), was an American actor whose career spanned 62 years on stage, film, and television. During his career, he played leading roles as well as supporting roles, garnering acclaim and awards, including an Oscar nomination for Best Supporting Actor for The Awful Truth (1937).
1903 – Ruth Graves Wakefield, American chef, created the chocolate chip cookie (d. 1977), was an American chef, best known as the inventor of the Toll House Cookie, the first chocolate chip cookie, which she created. She was also a college graduate, dietitian, educator, business owner, and author.
1902 – Sammy Fain, American pianist and composer (d. 1989). In the 1920s and early 1930s, he contributed numerous songs that form part of The Great American Songbook, and to Broadway theatre.
1880 – Carl Van Vechten, American author and photographer (d. 1964), was an American writer and artistic photographer who was a patron of the Harlem Renaissance and the literary executor of Gertrude Stein. He gained fame as a writer, and notoriety as well, for his 1926 novel Nigger Heaven.
1876 – Edward Anthony Spitzka, American anatomist and author (d. 1922), was an American anatomist who autopsied (29 Oct 1901) the brain of Leon Czolgosz, the assassin of president William McKinley. (In 1881, his father Edward Charles Spitzka, a famous neurologist and medical specialist in mental diseases, testified to the insanity of Charles Guiteau, the assassin of President James A. Garfield, at Guiteau's murder trial.)
1871 – James Weldon Johnson, American author, journalist, and activist (d. 1938), was an American author and civil rights activist. He was married to civil rights activist Grace Nail Johnson.
1867 – Flora Finch, English-American actress (d. 1940), was an English-born vaudevillian, stage and film actress who starred in over 300 silent films, including over 200 for the Vitagraph Studios film company.
1867 – John Robert Gregg, Irish-born American educator, publisher, and humanitarian (d. 1948), was an educator, publisher, humanitarian, and the inventor of the eponymous shorthand system Gregg Shorthand.
1865 – Susan La Flesche Picotte, Native American physician (d. 1915), was a Native American doctor and reformer in the late 19th century. She is widely acknowledged as the first Native American to earn a medical degree.
1861 – Omar Bundy, American general (d. 1940), was a U.S. Army general who participated in the Indian Wars and the Spanish–American War in Cuba, fought in the Philippine Insurrection and the Moro Expedition, and commanded a regiment on the Mexican border.
1861 – Pete Browning, American baseball player (d. 1905), was an American professional baseball center fielder and left fielder. He played in Major League Baseball (MLB) from 1882 to 1894.
1858 – Eben Sumner Draper, American businessman and politician, 44th Governor of Massachusetts (d. 1914), was an American businessman and politician from Massachusetts. He was for many years a leading figure in what later became the Draper Corporation, the dominant manufacturer of cotton textile process machinery in the world during the late 19th and early 20th centuries.
1821 – E. G. Squier, American archaeologist and journalist (d. 1888). Ephraim George Squier (June 17, 1821 – April 17, 1888), usually cited as E.
Deaths
2015 – Clementa C. Pinckney, American minister and politician (b. 1973)
2015 – John David Crow, American football player and coach (b. 1935)
2014 – Arnold S. Relman, American physician and academic (b. 1923)
2014 – Larry Zeidel, Canadian-American ice hockey player and sportscaster (b. 1928)
2014 – Stanley Marsh 3, American businessman and philanthropist (b. 1938)
2013 – Bulbs Ehlers, American basketball player (b. 1923)
2013 – James Holshouser, American politician, 68th Governor of North Carolina (b. 1934)
2012 – Patricia Brown, American baseball player (b. 1931)
2012 – Rodney King, American victim of police brutality (b. 1965)
2009 – Darrell Powers, American sergeant (b. 1923)
2008 – Cyd Charisse, American actress and dancer (b. 1922)
2007 – Serena Wilson, American dancer and choreographer (b. 1933)
2002 – Willie Davenport, American sprinter and hurdler (b. 1943)
2001 – Donald J. Cram, American chemist and academic, Nobel Prize laureate (b. 1919)
1996 – Curt Swan, American illustrator (b. 1920)
1996 – Thomas Kuhn, American historian and philosopher (b. 1922)
1987 – Dick Howser, American baseball player, coach, and manager (b. 1936)
1986 – Kate Smith, American singer (b. 1907)
1983 – Peter Mennin, American composer and educator (b. 1923)
1981 – Zerna Sharp, American author and educator (b. 1889)
1979 – Duffy Lewis, American baseball player and manager (b. 1888)
1975 – James Phinney Baxter III, American historian and academic (b. 1893)
1961 – Jeff Chandler, American actor (b. 1918)
1957 – J. R. Williams, Canadian-American cartoonist (b. 1888)
1956 – Bob Sweikert, American race car driver (b. 1926)
1954 – Danny Cedrone, American guitarist and bandleader (b. 1920)
1952 – Jack Parsons, American chemist and engineer (b. 1914)
1939 – Allen Sothoron, American baseball player, coach, and manager (b. 1893)
World Day to Combat Desertification and Drought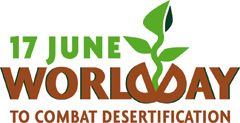 The World Day to Combat Desertification (WDCD) is observed worldwide on 17 June every year (UN: A/RES/49/115). Tackling hunger requires a multi-faceted approach – from e..→