Emancipation Day on Saint Kitts and Nevis
Emancipation Day on Saint Kitts and Nevis is held on August 7. This event in the first decade of the month August is annual.
Help us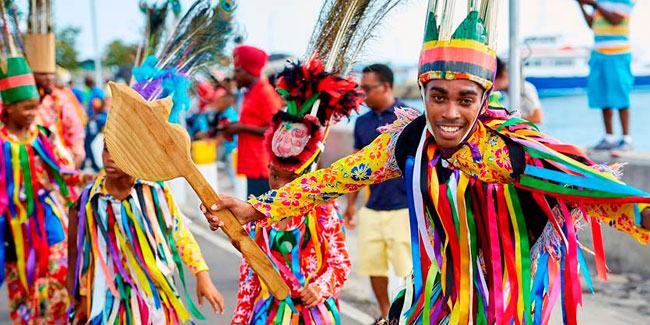 To the uninitiated, Emancipation Day is a public holiday, one of the many that fill St. Kitts' summer calendar. However, that first Monday in August serves as more than a day off; it links nations across the Caribbean, marking the end of centuries of oppression.
The proliferation of slavery ranks among humanity's darkest deeds. By the time the British enacted the Slavery Abolition Act in 1833, millions of Africans had died aboard ships on the Atlantic Ocean, bound for the New World. Scores more perished upon arrival. Those who survived the grueling journey were sold into a life of forced labor, tilling strange lands for cruel men.
Overdue as it was, the Slavery Abolition Act ushered in a new era.
Similar holidays and events, festivals and interesting facts

Emancipation Day in Grenada on August 5
(on the first monday of august);

Emancipation Day in Anguilla, the Bahamas, British Virgin Islands on August 5
(celebrated on the first Monday of August. Celebration of the Slavery Abolition Act 1833 which ended the slavery in the British Empire, generally celebrated as a part of Carnival, as the Caribbean Carnival takes place at this time);

National Heroes Day in Saint Kitts and Nevis on September 16
;

Carnival Day in Saint Kitts and Nevis on January 2
;

Abolition of Slavery Day in Mauritius on February 1
;

Emancipation Day or Día de la Abolición de la Esclavitud on March 22
(Puerto Rico);

Serfs Emancipation Day in Tibet on March 28
(Day of the liberation of Tibetans from serfdom in China, Tibet)