Saturday 29 April 2023 Calendar with holidays, observances and special days
Calendars
:
Career Holidays (Recognition Holidays)
,
Smart events
,
US Holidays
,
United Nations Holidays
,
Worldwide Holidays
,
Argentina
,
Bolivia
,
Children's Days
,
Denmark
,
Environmental Dates
,
Food holidays
,
Japan
,
Pet and Animal Holidays
,
Spain
,
Sports and Fitness Special Days
,
Ukraine
,
United Kingdom
,
Unusual Holidays (Weird and Funny Holidays)
Holidays and observances
Events
1986 – Chernobyl disaster: American and European spy satellites capture the ruins of the 4th Reactor at the Chernobyl Power Plant
1974 – Watergate scandal: United States President Richard Nixon announces the release of edited transcripts of White House tape recordings relating to the scandal.
1970 – Vietnam War: United States and South Vietnamese forces invade Cambodia to hunt Viet Cong.
1967 – After refusing induction into the United States Army the previous day, Muhammad Ali is stripped of his boxing title.
1953 – The first U.S. experimental 3D television broadcast showed an episode of Space Patrol on Los Angeles ABC affiliate KECA-TV.
1945 – Dachau concentration camp is liberated by United States troops.
1911 – Tsinghua University, one of mainland China's leading universities, is founded.
1910 – The Parliament of the United Kingdom passes the People's Budget, the first budget in British history with the expressed intent of redistributing wealth among the British public.
1864 – Theta Xi fraternity is founded at Rensselaer Polytechnic Institute, the only fraternity to be founded during the American Civil War.
1862 – American Civil War: The Capture of New Orleans by Union forces under David Farragut.
1861 – American Civil War: Maryland's House of Delegates votes not to secede from the Union.
1781 – American Revolutionary War: British and French ships clash in the Battle of Fort Royal off the coast of Martinique.
Births
1992 – Emilio Orozco, American soccer player. Emilio Orozco Plascencia (born April 29, 1992) is an American soccer player who currently plays for Oxnard Guerreros FC in the National Premier Soccer League.
1988 – Jovan Leacock, American football player. Former standout at Bowling Green State University for the Bowling Green Falcons football team.
1983 – Jay Cutler, American football player. Jay Christopher Cutler (born April 29, 1983) is a former American football quarterback who played in the National Football League for 12 seasons, primarily with the Chicago Bears.
1983 – Tommie Harris, American football player. Tommie Harris, Jr. (born April 29, 1983) is a former American football defensive tackle who played eight seasons in the National Football League (NFL).
1980 – Kelly Shoppach, American baseball player. He played in Major League Baseball (MLB) for the Boston Red Sox, Cleveland Indians, Tampa Bay Rays, New York Mets, Seattle Mariners and Pittsburgh Pirates.
1978 – Bob Bryan, American tennis player. He turned professional in 1998.
1978 – Javier Colon, American singer-songwriter and musician. From 2002 to 2006, he was signed to Capitol Records, known as artist Javier.
1978 – Mike Bryan, American tennis player. With his twin brother Bob, he has been world No. 1 doubles player for more than nine years, first achieving the top ranking in September 2003, and they became the second men's doubles team to complete the career Golden Slam by winning the 2012 Summer Olympics.
1977 – Titus O'Neil, American football player and wrestler. Thaddeus Michael Bullard Sr. (born April 29, 1977) is an American professional wrestler and former American football player.
1972 – Dustin McDaniel, American lawyer and politician, 55th Arkansas Attorney General. McDaniel's practice focuses on administrative law, regulatory affairs, government relations, business litigation, and criminal law.
1970 – Andre Agassi, American tennis player. Andre Kirk Agassi (/ˈæɡəsi/ AG-ə-see; born April 29, 1970) is an American retired professional tennis player and former world No. 1 whose career spanned from the late 1980s to the early 2000s.
1970 – Uma Thurman, American actress. Following her appearances on the December 1985 and May 1986 covers of British Vogue, Thurman starred in Dangerous Liaisons (1988).
1969 – Jack Mackenroth, American swimmer, model, and fashion designer. Mackenroth was the first openly HIV-positive contestant in the show's history.
1968 – Carnie Wilson, American singer-songwriter. Carnie Wilson (born April 29, 1968) is an American singer and television host, perhaps best known as a member of the pop music group Wilson Phillips.
1965 – Peter Rauhofer, Austrian-American disc jockey and producer (d. 2013), was an Austrian-American disc jockey (DJ), remixer and producer who formerly went under the moniker Club 69 as well as Size Queen. A native of Vienna, Austria, he was famous for a variety of his remixes including Cher's "Believe" and a number of Madonna's songs including "Nothing Really Matters", "American Life", "Nothing Fails", "Nobody Knows Me", "Get Together", "Impressive Instant" and "4 Minutes", as well as her collaboration with Britney Spears, "Me Against the Music" and various collaborations with Janet Jackson ("Throb" and "Just A Little While" to name a few).
1964 – Federico Castelluccio, Italian-American actor, director, producer, and screenwriter. Federico Castelluccio (Italian pronunciation: ; born April 29, 1964) is an Italian-American actor and professional visual artist, who is known for his role as Furio Giunta on the HBO series, The Sopranos.
1960 – Bill Glasson, American golfer. William Lee Glasson, Jr. (born April 29, 1960) is an American professional golfer who won several tournaments on the PGA Tour.
1958 – Eve Plumb, American actress. She is known for her portrayal of middle daughter Jan Brady on the sitcom The Brady Bunch.
1958 – Michelle Pfeiffer, American actress. She has received many accolades, including a Golden Globe Award, and three nominations for Academy Award.
1956 – Karen Barad, American physicist and philosopher. Karen Michelle Barad (/bəˈrɑːd/; born 29 April 1956) is an American feminist theorist, known particularly for her theory of agential realism.
1955 – Kate Mulgrew, American actress. She first came to attention in the role of Mary Ryan on the daytime soap opera Ryan's Hope.
1954 – Jake Burton Carpenter, American snowboarder and businessman, founded Burton Snowboards, was an American snowboarder and founder of Burton Snowboards and one of the inventors of the modern day snowboard. He grew up in Cedarhurst, New York.
1954 – Jerry Seinfeld, American comedian, actor, and producer. The show aired on NBC from 1989 until 1998, becoming one of the most acclaimed and popular sitcoms of all time.
1952 – Bob McClure, American baseball player and coach. Robert Craig McClure (born April 29, 1952) is an American professional baseball coach and a former Major League pitcher.
1952 – Nora Dunn, American actress and comedian, was a cast member on the NBC sketch variety TV series Saturday Night Live from 1985 to 1990.
1952 – Ron Washington, American baseball player and manager. He played Major League Baseball (MLB) for the Los Angeles Dodgers, Minnesota Twins, Baltimore Orioles, Cleveland Indians, and Houston Astros.
1951 – Dale Earnhardt, American race car driver (d. 2001), was an American professional auto racing driver and team owner, best known for his involvement in stock car racing for NASCAR. The third child of racing driver Ralph Earnhardt and Martha Earnhardt, he began his career in 1975 in the World 600 as part of the Winston Cup Series.
1951 – Rick Burleson, American baseball player, was nicknamed, was a famously intense ballplayer. Former Boston Red Sox teammate Bill Lee once said of Burleson, "Some guys didn't like to lose, but Rick got angry if the score was even tied."
1950 – Debbie Stabenow, American social worker and politician. Deborah Ann Greer Stabenow /ˈstæbəˌnaʊ/ (born April 29, 1950) is an American politician who is the senior United States Senator from Michigan.
1948 – Bruce Cutler, American lawyer. Bruce Cutler (born April 29, 1948) is an American criminal defense lawyer best known for having defended John Gotti, and for media appearances as a legal commentator.
1947 – Jim Ryun, American runner and politician, was widely considered the world's top middle-distance runner. He won a silver medal in the 1500 m at the 1968 Summer Olympics, and was the first high school athlete to run a mile in under four minutes.
1947 – Johnny Miller, American golfer and sportscaster. John Laurence Miller (born April 29, 1947) is an American former professional golfer.
1947 – Tommy James, American singer-songwriter, guitarist, and producer. Tommy James (born Thomas Gregory Jackson; April 29, 1947) also known as Tommy Tadger, is an American pop rock musician, singer, songwriter, and record producer, widely known as leader of the 1960s rock band Tommy James and the Shondells.
1945 – Tammi Terrell, American soul singer-songwriter (d. 1970), was an American recording artist, best known as a star singer for Motown Records during the 1960s, most notably for a series of duets with singer Marvin Gaye.
1943 – Duane Allen, American country singer (The Oak Ridge Boys). Duane David Allen (born April 29, 1943) had formal training in both operatic and quartet singing before becoming a member of The Oak Ridge Boys in 1966.
1938 – Bernard Madoff, American businessman and financier. Bernard Lawrence Madoff (/ˈmeɪdɔːf/; born April 29, 1938) is an American former market maker, investment advisor and financier who is currently serving a federal prison sentence for offenses related to a massive Ponzi scheme.
1936 – April Stevens, American pop singer. April Stevens (born Caroline Vincinette LoTempio; April 29, 1929) is an American singer.
1935 – Otis Rush, American blues singer-songwriter and guitarist, was an American blues guitarist and singer-songwriter. His distinctive guitar style featured a slow-burning sound and long bent notes.
1934 – Luis Aparicio, Venezuelan-American baseball player. Luis Ernesto Aparicio Montiel (born April 29, 1934), nicknamed "Little Louie", is a Venezuelan former professional baseball player who is notable for being the first player from Venezuela to be inducted into the National Baseball Hall of Fame.
1933 – Ed Charles, African-American baseball player and coach, was an American professional baseball third baseman in Major League Baseball. A right-handed hitter, Charles played for the Kansas City Athletics (1962–67) and New York Mets (1967–69).
1933 – Rod McKuen, American singer-songwriter and poet (d. 2015), was an American poet, singer-songwriter, and actor. He was one of the best-selling poets in the United States during the late 1960s.
1933 – Willie Nelson, American singer-songwriter, guitarist, producer, and actor. Willie Hugh Nelson (born April 29, 1933) is an American musician, actor, and activist.
1932 – Joy Clements, American soprano and actress (d. 2005), was an American lyric coloratura soprano who had a substantial opera and concert career from 1956 through the late 1970s. She notably sang regularly with both the New York City Opera and the Metropolitan Opera during the 1960s through the early 1970s.
1929 – Mickey McDermott, American baseball player and coach (d. 2003), was an American left-handed pitcher in Major League Baseball.
1928 – Carl Gardner, American R&B/rock & roll singer (The Robins, The Coasters) (d. 2011), was an American singer, best known as the foremost member and founder of The Coasters. Known for the 1958 song "Yakety Yak", which spent a week as number one on the Hot 100 pop list, he was inducted into the Rock and Roll Hall of Fame in 1987.
1926 – Elmer Kelton, American journalist and author (d. 2009), was an American journalist and writer, known particularly for his Western novels. His pseudonyms are: Tom Early, Alex Hawk, Lee McElroy
1925 – Iwao Takamoto, American animator, director, and producer (d. 2007), was an American animator, television producer, and film director. He began his career as a production and character designer for Walt Disney Animation Studios films such as Cinderella (1950), Lady and the Tramp (1955), and Sleeping Beauty (1959).
1923 – Irvin Kershner, American actor, director, and producer (d. 2010), was an American director, actor, and producer of film and television.
1920 – Harold Shapero, American composer (d. 2013). Shapero was born in Lynn, Massachusetts on April 29, 1920.
1917 – Celeste Holm, American actress and singer (d. 2012), was an American stage, film and television actress.
1917 – Maya Deren, Ukrainian-American director, poet, and photographer (d. 1961), was a Ukrainian-born American experimental filmmaker and important promoter of the avant-garde in the 1940s and 1950s. Deren was also a choreographer, dancer, film theorist, poet, lecturer, writer, and photographer.
1915 – Henry H. Barschall, German-American physicist and academic (d. 1997). Barschall was born as Heinrich Hermann Barschall in Berlin, Germany; his father was a patent attorney who had received a Ph.D. in chemistry after studying with Nobel Laureates Emil Fischer and Fritz Haber.
1909 – Tom Ewell, American actor (d. 1994), was an American film, stage and television actor, and producer.
1908 – Jack Williamson, American author and academic (d. 2006), was an American science fiction writer, often called the "Dean of Science Fiction". (especially after the death of Robert Heinlein in 1988). He is also credited with one of the first uses of the term "Genetic Engineering".
1907 – Fred Zinnemann, Austrian-American director and producer (d. 1997), was an Austrian-born American film director. He won four Academy Awards for directing films in various genres, including thrillers, westerns, film noir and play adaptations.
1900 – Amelia Best, Australian politician, one of the first women elected to the Tasmanian House of Assembly (d. 1979). Best was born in Lower Barrington, Tasmania, Australia.
1899 – Duke Ellington, American pianist, composer, and bandleader (d. 1974), was an American composer, pianist, and leader of a jazz orchestra, which he led from 1923 until his death over a career spanning more than six decades.
1899 – Mary Petty, American illustrator (d. 1976), was an illustrator of books and magazines best remembered for a series of covers done for The New Yorker featuring her invented Peabody family.
1893 – Harold Urey, American chemist and astronomer, Nobel Prize laureate (d. 1981), was an American physical chemist whose pioneering work on isotopes earned him the Nobel Prize in Chemistry in 1934 for the discovery of deuterium. He played a significant role in the development of the atom bomb, as well as contributing to theories on the development of organic life from non-living matter.
1887 – Raymond Thorne, American swimmer (d. 1921), was an American competition swimmer who represented the United States at the 1904 Summer Olympics in St. Louis, Missouri.
1872 – Forest Ray Moulton, American astronomer and academic (d. 1952). He was born in Le Roy, Michigan, and was educated at Albion College.
1872 – Harry Payne Whitney, American businessman and lawyer (d. 1930), was an American businessman, thoroughbred horse breeder, and member of the prominent Whitney family.
1863 – William Randolph Hearst, American publisher and politician, founded the Hearst Corporation (d. 1951), was an American businessman, newspaper publisher, and politician known for developing the nation's largest newspaper chain and media company, Hearst Communications. His flamboyant methods of yellow journalism influenced the nation's popular media by emphasizing sensationalism and human interest stories.
1784 – Samuel Turell Armstrong, American publisher and politician, 14th Lieutenant Governor of Massachusetts (d. 1850), was a U.S. political figure. Born in 1784 in Dorchester, Massachusetts, he was a printer and bookseller in Boston, specializing in religious materials.
1745 – Oliver Ellsworth, American lawyer and politician, 3rd Chief Justice of the United States (d. 1807), was an American lawyer, judge, politician, and diplomat. He was a framer of the United States Constitution, a United States Senator from Connecticut, and the third Chief Justice of the United States.
Deaths
2015 – Calvin Peete, American golfer (b. 1943)
2015 – Jean Nidetch, American businesswoman, co-founded Weight Watchers (b. 1923)
2014 – Al Feldstein, American author and illustrator (b. 1925)
2013 – Ernest Michael, American mathematician and scholar (b. 1925)
2013 – John La Montaine, American pianist and composer (b. 1920)
2012 – Joel Goldsmith, American composer and conductor (b. 1957)
2012 – Kenny Roberts, American singer-songwriter (b. 1926)
2012 – Roland Moreno. French engineer, invented the smart card (b. 1945)
2010 – Sandy Douglas, English computer scientist and academic, designed OXO (b. 1921)
2008 – Chuck Daigh, American racing driver (b. 1923)
2007 – Josh Hancock, American baseball player (b. 1978)
2007 – Milt Bocek, American baseball player and soldier (b. 1912)
2006 – John Kenneth Galbraith, Canadian-American economist and diplomat, United States Ambassador to India (b. 1908)
2005 – Louis Leithold, American mathematician and academic (b. 1924)
2005 – William J. Bell, American screenwriter and producer (b. 1927)
2002 – Bob Akin, American race car driver and journalist (b. 1936)
2001 – Arthur B. C. Walker, Jr., American physicist and academic (b. 1936)
1997 – Mike Royko, American journalist and author (b. 1932)
1992 – Mae Clarke, American actress (b. 1910)
1980 – Alfred Hitchcock, English-American director and producer (b. 1899)
1979 – Hardie Gramatky, American author and illustrator (b. 1907)
1967 – J. B. Lenoir, American singer-songwriter and guitarist (b. 1929)
1966 – Paula Strasberg, American actress, acting coach, and member of the Communist Party (b. 1909)
1947 – Irving Fisher, American economist and statistician (b. 1867)
1937 – William Gillette, American actor and playwright (b. 1853)
1920 – William H. Seward Jr., American general and banker (b. 1839)
1903 – Paul Du Chaillu, French-American anthropologist and zoologist (b. 1835)
1771 – Francesco Bartolomeo Rastrelli, French-Italian architect, designed Winter Palace and Catherine Palace (b. 1700)
Heritage and Freedom Flag of the Former Republic of Vietnam Day in Ohio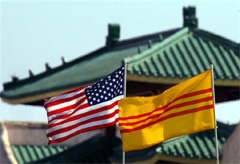 Ohio Revised Code - GENERAL PROVISIONS - Chapter 5: STATE INSIGNIA; SEALS; HOLIDAYS: 5.2238 Heritage and freedom flag of the former republic of Vietnam day. The twenty-n..→
OPCW Day (Day of Remembrance for all Victims of Chemical Warfare)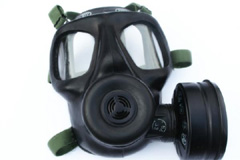 The Day of Remembrance for all Victims of Chemical Warfare is an annual event held on April 29 as a "tribute to the victims of chemical warfare, as well as to reaffi..→