Monday 25 November 2019 Calendar with holidays, observances and special days
Holidays and observances
Evacuation Day (New York) (New York City, New York, United States)
National Parfait Day and National "Eat with a Friend" Day in USA
Shopping Reminder Day
Events
2015 – Pope Francis makes his first official visit to Africa.
1966 – First television link between Australia and the UK.
1952 – Korean War: After 42 days of fighting, the Battle of Triangle Hill ends with Chinese victory, American and South Korean units abandon their attempt to capture the "Iron Triangle".
1950 – The Great Appalachian Storm of November 1950 impacts 22 American states, killing 353 people, injuring over 160, and causing US$66.7 million in damages (1950 dollars).
1940 – World War II: First flight of the de Havilland Mosquito and Martin B-26 Marauder.
1876 – American Indian Wars: In retaliation for the American defeat at the Battle of the Little Bighorn, United States Army troops sack the sleeping village of Cheyenne Chief Dull Knife at the headwaters of the Powder River.
1874 – The United States Greenback Party is established as a political party consisting primarily of farmers affected by the Panic of 1873.
1864 – American Civil War: A group of Confederate operatives calling themselves the Confederate Army of Manhattan starts fires in more than 20 locations in an unsuccessful attempt to burn down New York City.
1863 – American Civil War: Battle of Missionary Ridge: At Missionary Ridge in Tennessee, Union forces led by General Ulysses S. Grant break the Siege of Chattanooga by routing Confederate troops under General Braxton Bragg.
1826 – The Greek frigate Hellas arrives in Nafplion to become the first flagship of the Hellenic Navy.
1783 – American Revolutionary War: The last British troops leave New York City three months after the signing of the Treaty of Paris.
Births
1991 – Jamie Grace, American singer-songwriter, guitarist, and actress
1991 – Kevin Woo, American-South Korean singer and dancer
1991 – Kyler Fackrell, American football player
1990 – Rye Rye, American rapper, dancer, and actress
1986 – Katie Cassidy, American actress
1981 – Barbara Pierce Bush, American activist
1981 – Chevon Troutman, American basketball player
1981 – Jared Jeffries, American basketball player
1980 – John-Michael Liles, American ice hockey player
1980 – Josh Mathews, American wrestler and sportscaster
1980 – Nick Swisher, American baseball player
1979 – Michael Lehan, American football player
1976 – Clint Mathis, American soccer player and coach
1976 – Donovan McNabb, American football player and sportscaster
1973 – Eddie Steeples, American actor, producer, and screenwriter
1973 – Erick Strickland, American basketball player
1971 – Christina Applegate, American actress, singer, dancer, and producer
1968 – Erick Sermon, American rapper and producer
1966 – Stacy Lattisaw, American R&B singer
1965 – Cris Carter, American football player, coach, and sportscaster
1965 – Tim Armstrong, American singer-songwriter, guitarist, and producer
1964 – Mark Lanegan, American singer-songwriter
1963 – Bernie Kosar, American football player and sportscaster
1963 – Chip Kelly, American football player and coach
1963 – Kevin Chamberlin, American actor and director
1962 – Hironobu Sakaguchi, Japanese game designer, founded Mistwalker
1960 – Amy Grant, American singer-songwriter
1960 – John F. Kennedy Jr., American lawyer, journalist, and publisher (d. 1999)
1958 – Naomi Oreskes, American historian of science
1957 – Bob Ehrlich, American lawyer and politician, 60th Governor of Maryland
1955 – Don Hahn, American director and producer
1953 – Jeffrey Skilling, American businessman
1953 – Mark Frost, American author, screenwriter, and producer
1952 – Crescent Dragonwagon, American author and educator
1952 – John Lynch, American businessman and politician, 80th Governor of New Hampshire
1951 – Bill Morrissey, American singer-songwriter (d. 2011)
1951 – Bucky Dent, American baseball player and manager
1951 – Charlaine Harris, American author and poet
1950 – Chris Claremont, English-American author
1948 – Lars Eighner, American author
1947 – John Larroquette, American actor
1947 – Jonathan Kaplan, French-American director and producer
1946 – Marc Brown, American author and illustrator
1945 – Gail Collins, American journalist and author
1945 – George Webster, American football player (d. 2007)
1945 – Patrick Nagel, American painter and illustrator (d. 1984)
1944 – Ben Stein, American actor, television personality, game show host, lawyer, and author
1943 – Jerry Portnoy, American singer-songwriter and harmonica player
1942 – Bob Lind, American singer-songwriter and guitarist
1940 – Joe Gibbs, American football player and coach
1940 – Percy Sledge, American singer (d. 2015)
1939 – Martin Feldstein, American economist and academic
1936 – Phoebe S. Leboy, American biochemist
1936 – Trisha Brown, American dancer and choreographer
1935 – Robert Berner, American geologist and academic (d. 2015)
1933 – Kathryn Crosby, American actress and singer
1932 – Takayo Fischer, American actress and singer
1931 – Nat Adderley, American cornet and trumpet player (d. 2000)
1929 – Judy Crichton, American director and producer (d. 2007)
1927 – John K. Cooley, American journalist and author (d. 2008)
1926 – Jeffrey Hunter, American actor and producer (d. 1969)
1926 – Poul Anderson, American author (d. 2001)
1924 – Paul Desmond, American saxophonist and composer (d. 1977)
1924 – Sybil Stockdale, American activist, co-founded the National League of Families (d. 2015)
1923 – Art Wall Jr., American golfer (d. 2001)
1922 – Fernance B. Perry, Portuguese-American businessman and philanthropist (d. 2014)
1920 – Noel Neill, American actress (d. 2016)
1920 – Ricardo Montalbán, Mexican-American actor, singer, and director (d. 2009)
1919 – Norman Tokar, American director, producer, and screenwriter (d. 1979)
1916 – Peg Lynch, American actress and screenwriter (d. 2015)
1914 – Joe DiMaggio, American baseball player and coach (d. 1999)
1913 – Lewis Thomas, American physician, etymologist, and educator (d. 1993)
1909 – P. D. Eastman, American author and illustrator (d. 1986)
1906 – Alice Ambrose, American philosopher and logician (d. 2001)
1904 – Lillian Copeland, American discus thrower and shot putter (d. 1964)
1902 – Eddie Shore, Canadian-American ice hockey player and coach (d. 1985)
1900 - Helen Gahagan Douglas, American actress and politician (d. 1980)
1896 – Virgil Thomson, American composer and critic (d. 1989)
1895 – Helen Hooven Santmyer, American poet and author (d. 1986)
1893 – Joseph Wood Krutch, American author and critic (d. 1970)
1883 – Harvey Spencer Lewis, American mystic and author (d. 1939)
1880 – John Flynn, Australian minister and pilot, founded the Royal Flying Doctor Service of Australia (d. 1951)
1874 – Joe Gans, American boxer (d. 1910)
1873 – Albert Henry Krehbiel, American painter and illustrator (d. 1945)
1872 – Robert Maysack, American gymnast and triathlete (d. 1960)
1870 – Winthrop Ames, American director, producer, and playwright (d. 1937)
1869 – Ben Lindsey, American lawyer and judge (d. 1934)
1867 – Talaat Harb, Egyptian economist, founded the Banque Misr (d. 1941)
1865 – Kate Gleason, American engineer, businesswoman, and philanthropist (d. 1933)
1862 – Ethelbert Nevin, American pianist and composer (d. 1901)
1846 – Carrie Nation, American activist (d. 1911)
1844 – Karl Benz, German engineer and businessman, founded Mercedes-Benz (d. 1929)
1843 – Henry Ware Eliot, American businessman and philanthropist (d. 1919)
1835 – Andrew Carnegie, Scottish-American businessman and philanthropist (d. 1919)
1817 – John Bigelow, American lawyer and politician, United States Ambassador to France (d. 1911)
1758 – John Armstrong, Jr., American general and politician, 7th United States Secretary of War (d. 1843)
1753 – Robert Townsend, American spy (d. 1838)
Deaths
2016 – Ron Glass, American actor (b. 1945)
2015 – Elmo Williams, American director, producer, and editor (b. 1913)
2014 – Denham Harman, American biogerontologist and academic (b. 1916)
2014 – Irvin J. Borowsky, American publisher and philanthropist (b. 1924)
2013 – Al Plastino, American author and illustrator (b. 1921)
2013 – Chico Hamilton, American drummer and bandleader (b. 1921)
2013 – Lou Brissie, American baseball player (b. 1924)
2012 – Earl Carroll, American singer (b. 1937)
2012 – Jim Temp, American football player and businessman (b. 1933)
2011 – Coco Robicheaux, American singer-songwriter and guitarist (b. 1947)
2010 – Alfred Balk, American journalist and author (b. 1930)
2010 – Bernard Matthews, English businessman, founded Bernard Matthews Farms (b. 1930)
2010 – C. Scott Littleton, American anthropologist and academic (b. 1933)
2007 – Peter Lipton, American philosopher and academic (b. 1954)
2006 – Kenneth M. Taylor, American lieutenant and pilot (b. 1919)
2006 – Phyllis Fraser, American actress and publisher, co-founded Beginner Books (b. 1916)
2004 – Ed Paschke, American painter and academic (b. 1939)
2001 – Harry Devlin, American painter and illustrator (b. 1918)
2000 – Hugh Alexander, American baseball player and scout (b. 1917)
1998 – Flip Wilson, American comedian, actor, and screenwriter (b. 1933)
1998 – Nelson Goodman, American philosopher and academic (b. 1906)
1991 – Eleanor Audley, American actress and voice artist (b. 1905)
1989 – Alva R. Fitch, American general (b. 1907)
1987 – Harold Washington, American lawyer and politician, 51st Mayor of Chicago (b. 1922)
1981 – Jack Albertson, American actor and singer (b. 1907)
1972 – Henri Coandă, Romanian engineer, designed the Coandă-1910 (b. 1886)
1968 – Paul Siple, American geographer and explorer (b. 1908)
1968 – Upton Sinclair, American novelist, critic, and essayist (b. 1878)
1949 – Bill Robinson, American actor and dancer (b. 1878)
1948 – Kanbun Uechi, Japanese martial artist, founded Uechi-ryū (b. 1877)
1944 – Kenesaw Mountain Landis, American lawyer and judge (b. 1866)
1920 – Gaston Chevrolet, French-American race car driver and businessman (b. 1892)
1909 – Edward P. Allen, American lawyer and politician (b. 1839)
1885 – Thomas A. Hendricks, American lawyer and politician, 21st Vice President of the United States (b. 1819)
1700 – Stephanus Van Cortlandt, American lawyer and politician, 10th Mayor of New York City (b. 1643)
1626 – Edward Alleyn, English actor, founded Dulwich College (b. 1566)
Monday 25 November 2019
International Day for the Elimination of Violence against Women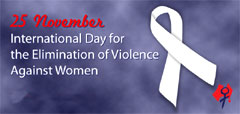 By resolution 54/134 of 17 December 1999, the United Nations General Assembly designated 25 November as the International Day for the Elimination of Violence against Wome..→