Wednesday 27 November 2019 Calendar with holidays, observances and special days
Holidays and observances
Events
2015 – United States: An active shooter inside a Planned Parenthood facility in Colorado Springs, Colorado, shoots at least four police officers. One officer later dies. Two civilians were also killed, and six injured. The shooter later surrendered.
2001 – A hydrogen atmosphere is discovered on the extrasolar planet Osiris by the Hubble Space Telescope, the first atmosphere detected on an extrasolar planet.
1999 – The centre-left Labour Party takes control of the New Zealand government with leader Helen Clark becoming the first elected female Prime Minister in New Zealand's history.
1978 – The Kurdistan Workers' Party (PKK) is founded in the city of Riha (Urfa) in Turkey.
1973 – Twenty-fifth Amendment: The United States Senate votes 92–3 to confirm Gerald Ford as Vice President of the United States. (On December 6, the House will confirm him 387–35).
1971 – The Soviet space program's Mars 2 orbiter releases a descent module. It malfunctions and crashes, but it is the first man-made object to reach the surface of Mars.
1968 – Penny Ann Early became the first woman to play major professional basketball, for the Kentucky Colonels in an ABA game against the Los Angeles Stars.
1965 – Vietnam War: The Pentagon tells U.S. President Lyndon B. Johnson that if planned operations are to succeed, the number of American troops in Vietnam has to be increased from 120,000 to 400,000.
1954 – Alger Hiss is released from prison after serving 44 months for perjury.
1945 – CARE (then the Cooperative for American Remittances to Europe) was founded to a send CARE Packages of food relief to Europe after World War II.
1924 – In New York City, the first Macy's Thanksgiving Day Parade is held.
1896 – Also sprach Zarathustra by Richard Strauss is first performed.
1868 – American Indian Wars: Battle of Washita River: United States Army Lieutenant Colonel George Armstrong Custer leads an attack on Cheyenne living on reservation land.
1863 – American Civil War: Battle of Mine Run: Union forces under General George Meade take up positions against troops led by Confederate General Robert E. Lee.
1863 – American Civil War: Confederate cavalry leader John Hunt Morgan and several of his men escape the Ohio Penitentiary and return safely to the South.
1839 – In Boston, Massachusetts, the American Statistical Association is founded.
1703 – The first Eddystone Lighthouse is destroyed in the Great Storm of 1703.
1095 – Pope Urban II declares the First Crusade at the Council of Clermont.
Births
1989 – Michael Floyd, American football player
1986 – Steven Silva, American-Filipino footballer
1984 – Domata Peko, American football player
1984 – Leslie Dewan, American entrepreneur
1982 – Tommy Robinson, English activist, co-founded the English Defence League
1980 – Jackie Greene, American singer-songwriter and guitarist
1979 – Hilary Hahn, American violinist
1979 – Ricky Carmichael, American motocross racer
1978 – Jimmy Rollins, American baseball player
1977 – Willie Bloomquist, American baseball player
1976 – Jaleel White, American actor and screenwriter
1976 – Jean Grae, South African-American rapper and producer
1975 – Bad Azz, American rapper
1975 – Martín Gramática, Argentinian-American football player
1973 – Evan Karagias, American wrestler and actor
1973 – Samantha Harris, American model and television host
1973 – Twista, American rapper and producer
1972 – Shane Salerno, American screenwriter and producer
1971 – Iván Rodríguez, Puerto Rican-American baseball player
1971 – Kirk Acevedo, American actor
1971 – Larry Allen, American football player
1971 – Nick Van Exel, American basketball player and coach
1969 – Myles Kennedy, American singer-songwriter
1968 – Michael Vartan, French-American actor
1965 – Danielle Ammaccapane, American golfer
1964 – Robin Givens, American actress
1963 – Fisher Stevens, American actor, director, and producer
1962 – Charlie Benante, American drummer and songwriter
1962 – Mike Bordin, American drummer
1961 – Steve Oedekerk, American actor, director, and screenwriter
1960 – Ken O'Brien, American football player and coach
1960 – Kevin Henkes, American author and illustrator
1960 – Tim Pawlenty, American lawyer and politician, 39th Governor of Minnesota
1958 – Mike Scioscia, American baseball player and manager
1957 – Callie Khouri, American director, producer, and screenwriter
1957 – Caroline Kennedy, American lawyer and diplomat, 29th United States Ambassador to Japan
1957 – Michael A. Stackpole, American game designer and author
1956 – William Fichtner, American actor
1955 – Bill Nye, American engineer, educator, and television host
1953 – Curtis Armstrong, American actor, singer, and producer
1953 – Lyle Mays, American keyboardist and composer
1953 – Richard Stone, American composer (d. 2001)
1952 – Jim Wetherbee, American captain, engineer, and astronaut
1951 – Kathryn Bigelow, American director, producer, and screenwriter
1947 – Don Adams, American basketball player (d. 2013)
1947 – Neil Rosenshein, American tenor and actor
1946 – Richard Codey, American politician, 53rd Governor of New Jersey
1945 – James Avery, American actor (d. 2013)
1945 – Randy Brecker, American trumpeter and flugelhornist
1944 – Mickey Leland, American activist and politician (d. 1989)
1943 – Jil Sander, German fashion designer, founded Jil Sander AG
1942 – Henry Carr, American football player and sprinter (d. 2015)
1942 – Jimi Hendrix, American singer-songwriter, guitarist, and producer (d. 1970)
1942 – Marilyn Hacker, American poet and critic
1941 – Eddie Rabbitt, American singer-songwriter and guitarist (d. 1998)
1940 – Bruce Lee, American-Chinese actor, martial artist, and screenwriter (d. 1973)
1939 – Dave Giusti, American baseball player and manager
1937 – Gail Sheehy, American journalist and author
1935 – Les Blank, American director and producer (d. 2013)
1935 – Willie Pastrano, American boxer (d. 1997)
1934 – Al Jackson, Jr., American drummer, songwriter, and producer (d. 1975)
1934 – Gilbert Strang, American mathematician and academic
1933 – Gordon S. Wood, American historian and academic
1930 – Joe DeNardo, American meteorologist
1927 – William E. Simon, American soldier and politician, 63rd United States Secretary of the Treasury (d. 2000)
1925 – Marshall Thompson, American actor, director, and screenwriter (d. 1992)
1923 – J. Ernest Wilkins Jr., American nuclear scientist, mechanical engineer and mathematician (d. 2011)
1922 – Hall Bartlett, American director, producer, and screenwriter (d. 1993)
1921 – Dora Dougherty Strother, American pilot and academic (d. 2013)
1920 – Cal Worthington, American captain and car dealer (d. 2013)
1918 – Stephen Elliott, American actor (d. 2005)
1917 – Buffalo Bob Smith, American actor and television host (d. 1998)
1916 – Chick Hearn, American sportscaster and actor (d. 2002)
1911 – David Merrick, American director and producer (d. 2000)
1909 – James Agee, American novelist, screenwriter, and critic (d. 1955)
1907 – L. Sprague de Camp, American historian and author (d. 2000)
1903 – Lars Onsager, Norwegian-American chemist and physicist, Nobel Prize laureate (d. 1976)
1901 – Ted Husing, American sportscaster (d. 1962)
1897 – Vito Genovese, Italian-American mob boss (d. 1969)
1894 – Katherine Milhous, American author and illustrator (d. 1977)
1894 – Konosuke Matsushita, Japanese businessman, founded Panasonic (d. 1989)
1878 – Charles Dvorak, American pole vaulter and coach (d. 1969)
1874 – Charles A. Beard, American historian, author, and educator, co-founded The New School (d. 1948)
1859 – William Bliss Baker, American painter (d. 1886)
1845 – Frederic Crowninshield, American artist and author (d. 1918)
1843 – Cornelius Vanderbilt II, American businessman (d. 1899)
1814 – Charles-François-Frédéric, marquis de Montholon-Sémonville, French politician and diplomat, French ambassador to the United States (d. 1886)
1746 – Increase Sumner, American lawyer, jurist, and politician, 5th Governor of Massachusetts (d. 1799)
1746 – Robert R. Livingston, American lawyer and politician, 1st United States Secretary for Foreign Affairs (d. 1813)
Deaths
2015 – Garrett Swasey, American figure skater and coach (b. 1971)
2014 – Fernance B. Perry, Portuguese-American businessman and philanthropist (b. 1922)
2013 – Herbert F. DeSimone, American lawyer and politician, Attorney General of Rhode Island (b. 1929)
2013 – Lewis Collins, English-American actor (b. 1946)
2012 – Jack Wishna, American photographer and businessman, co-founded Rockcityclub (b. 1958)
2012 – Marvin Miller, American businessman and union leader (b. 1917)
2012 – Mickey Baker, American guitarist (b. 1925)
2010 – Irvin Kershner, American actor, director, and producer (b. 1923)
2009 – Al Alberts, American singer-songwriter (b. 1922)
2007 – Bill Willis, American football player and coach (b. 1921)
2007 – Robert Cade, American physician and academic, co-invented Gatorade (b. 1927)
2007 – Sean Taylor, American football player (b. 1983)
2006 – Bebe Moore Campbell, American author and educator (b. 1950)
2006 – Casey Coleman, American sportscaster (b. 1951)
2006 – Don Butterfield, American tuba player (b. 1923)
2005 – Jocelyn Brando, American actress (b. 1919)
2005 – Joe Jones, American singer-songwriter (b. 1926)
2002 – Billie Bird, American actress (b. 1908)
1999 – Elizabeth Gray Vining, American author and librarian (b. 1902)
1999 – Yasuhiro Kojima, Japanese-American wrestler and trainer (b. 1937)
1998 – Barbara Acklin, American singer-songwriter (b. 1943)
1997 – Buck Leonard, American baseball player and educator (b. 1907)
1990 – David White, American actor (b. 1916)
1988 – John Carradine, American actor (b. 1906)
1980 – F. Burrall Hoffman, American architect, designed the Villa Vizcaya (b. 1882)
1978 – George Moscone, American lawyer and politician, 37th Mayor of San Francisco (b. 1929)
1978 – Harvey Milk, American lieutenant and politician (b. 1930)
1975 – Ross McWhirter, English author and activist, co-founded the Guinness Book of Records (b. 1925)
1973 – Frank Christian, American trumpet player (b. 1887)
1970 – Helene Madison, American swimmer and nurse (b. 1913)
1958 – Artur Rodziński, Polish-American conductor (b. 1892)
1953 – Eugene O'Neill, American playwright, Nobel Prize laureate (b. 1888)
1934 – Baby Face Nelson, American criminal (b. 1908)
1931 – Lya De Putti, Slovak-American actress (b. 1899)
1901 – Clement Studebaker, American businessman, co-founded Studebaker (b. 1831)
1830 – André Parmentier, Belgian-American architect (b. 1780)
1811 – Andrew Meikle, Scottish engineer, designed the threshing machine (b. 1719)
Wednesday 27 November 2019
Day before Thanksgiving in Virginia (noon)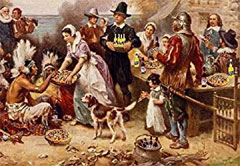 The first documented thanksgiving services in territory currently belonging to the United States were conducted by Spaniards and the French in the 16th century. Thanksgi..→