Sunday 1 December 2019 Calendar with holidays, observances and special days
Holidays and observances
Decembeaver begins (In 'Decembeaver', Women Will Stop Shaving Their Lady Parts For Charity)
Good Neighborliness Day in Turkmenistan (Date for 2019; celebrated on the first Sunday in December)
Military Abolition Day in Costa Rica
National Fried Pie Day and Eat a Red Apple Day in USA
Rosa Parks Day (Ohio and Oregon, United States)
Sindhi Cultural Day (Date for 2019; celebrated on the first Sunday in December. Sindhi diaspora)
Events
1969 – Vietnam War: The first draft lottery in the United States is held since World War II.
1955 – American Civil Rights Movement: In Montgomery, Alabama, seamstress Rosa Parks refuses to give up her bus seat to a white man and is arrested for violating the city's racial segregation laws, an incident which leads to that city's bus boycott.
1952 – The New York Daily News reports the news of Christine Jorgensen, the first notable case of sex reassignment surgery.
1941 – World War II: Emperor Hirohito of Japan gives the final approval to initiate war against the United States.
1924 – The National Hockey League's first United States-based franchise, the Boston Bruins, played their first game in league play at home, at the still-extant Boston Arena indoor hockey facility.
1919 – Lady Astor becomes the first female Member of Parliament to take her seat in the House of Commons of the United Kingdom. (She had been elected to that position on November 28.)
1913 – Crete, having obtained self rule from Turkey after the First Balkan War, is annexed by Greece.
1913 – Ford Motor Company introduces the first moving assembly line.
1913 – The Buenos Aires Metro, the first underground railway system in the Southern Hemisphere and in Latin America, begins operation.
1865 – Shaw University, the first historically black university in the southern United States, is founded in Raleigh, North Carolina.
1824 – United States presidential election, 1824: Since no candidate received a majority of the total electoral college votes in the election, the United States House of Representatives is given the task of deciding the winner in accordance with the Twelfth Amendment to the United States Constitution.
Births
1988 – Dan Mavraides, Greek-American basketball player
1988 – Tyler Joseph, American musician and singer
1988 – Zoë Kravitz, American actress, singer, and model
1986 – DeSean Jackson, American football player
1985 – Chanel Preston, American porn actress and director
1985 – Janelle Monáe, American singer-songwriter and producer
1985 – John Coughlin, American figure skater
1979 – Ryan Malone, American ice hockey player
1979 – Stephanie Brown Trafton, American discus thrower
1977 – Brad Delson, American guitarist and producer
1976 – Laura Ling, American journalist and author
1975 – Isaiah "Ikey" Owens, American keyboard player and producer (d. 2014)
1975 – Matt Fraction, American author
1973 – Steve Gibb, American singer-songwriter and guitarist
1972 – Bart Millard, American singer-songwriter
1971 – John Schlimm, American author and educator
1971 – Mika Pohjola, Finnish-American pianist and composer
1970 – Jonathan Coulton, American singer-songwriter and guitarist
1970 – Kirk Rueter, American baseball player
1970 – Sarah Silverman, American comedian, actress, and singer
1970 – Tisha Waller, American high jumper and educator
1969 – Richard Carrier, American author and blogger
1967 – Nestor Carbonell, American actor
1967 – Reggie Sanders, American baseball player
1966 – Katherine LaNasa, American actress, ballet dancer, and choreographer
1962 – Pamela McGee, American basketball player and coach
1961 – Raymond E. Goldstein, American biophysicist and academic
1961 – Safra A. Catz, Israeli-American businesswoman
1960 – Carol Alt, American model and actress
1958 – Candace Bushnell, American journalist and author
1958 – Gary Peters, American lieutenant and politician
1957 – Chris Poland, American guitarist and songwriter
1957 – Vesta Williams, American singer-songwriter and actress (d. 2011)
1956 – Julee Cruise, American singer-songwriter, musician, and actress
1955 – Karen Tumulty, American journalist
1951 – Jaco Pastorius, American bass player, songwriter, and producer (d. 1987)
1951 – Obba Babatundé, American actor, director, and producer
1951 – Treat Williams, American actor
1950 – Gary Panter, American illustrator and painter
1950 – Richard Keith, American actor and drummer
1949 – Jan Brett, American author and illustrator
1948 – George Foster, American baseball player and radio host
1948 – John Roskelley, American mountaineer and author
1946 – Jonathan Katz, American comedian and actor
1945 – Bette Midler, American singer-songwriter, actress and producer
1944 – Eric Bloom, American singer-songwriter and guitarist
1944 – John Densmore, American drummer and songwriter
1944 – Michael Hagee, American general
1943 – Kenny Moore, American runner and journalist
1942 – John Crowley, American author and academic
1940 – Jerry Lawson, American electronic engineer and inventor (d. 2011)
1940 – Richard Pryor, American comedian, actor, producer, and screenwriter (d. 2005)
1939 – Lee Trevino, American golfer and sportscaster
1938 – Sandy Nelson, American rock & roll drummer
1937 – Muriel Costa-Greenspon, American soprano and actress (d. 2005)
1935 – Woody Allen, American actor, director, and screenwriter
1933 – Lou Rawls, American singer-songwriter, producer, and actor (d. 2006)
1931 – Jim Nesbitt, American singer-songwriter and guitarist (d. 2007)
1931 – Jimmy Lyons, American saxophonist (d. 1986)
1929 – David Doyle, American actor (d. 1997)
1928 – Emily McLaughlin, American actress (d. 1991)
1928 – Malachi Throne, American actor (d. 2013)
1926 – Allyn Ann McLerie, Canadian-American actress, singer, and dancer
1926 – Mother Antonia, American-Mexican nun and activist (d. 2013)
1926 – Robert Symonds, American actor (d. 2007)
1925 – Martin Rodbell, American biochemist and endocrinologist, Nobel Prize laureate (d. 1998)
1924 – Masao Horiba, Japanese businessman, founded Horiba (d. 2015)
1923 – Dick Shawn, American actor (d. 1987)
1923 – Stansfield Turner, American admiral and academic, 12th Director of Central Intelligence
1921 – Vernon McGarity, American sergeant, Medal of Honor recipient (d. 2013)
1917 – Marty Marion, American baseball player and manager (d. 2011)
1917 – Thomas Hayward, American tenor and actor (d. 1995)
1913 – Mary Martin, American actress and singer (d. 1990)
1912 – Minoru Yamasaki, American architect, designed the World Trade Center (d. 1986)
1911 – Calvin Griffith, Canadian-American businessman (d. 1999)
1911 – Walter Alston, American baseball player and manager (d. 1984)
1897 – Cyril Ritchard, Australian-American actor and singer (d. 1977)
1886 – Rex Stout, American detective novelist (d. 1975)
1883 – Henry Cadbury, American historian, scholar, and academic (d. 1974)
1847 – Julia A. Moore, American poet (d. 1920)
1761 – Marie Tussaud, French-English sculptor, founded Madame Tussauds Wax Museum (d. 1850)
Deaths
2015 – Jim Loscutoff, American basketball player (b. 1930)
2015 – John F. Kurtzke, American neurologist and academic (b. 1926)
2015 – Joseph Engelberger, American physicist and engineer (b. 1925)
2013 – Edward Heffron, American soldier (b. 1923)
2013 – Stirling Colgate, American physicist and academic (b. 1925)
2012 – Ed Price, American soldier, pilot, and politician (b. 1918)
2012 – Jovan Belcher, American football player (b. 1987)
2012 – Rick Majerus, American basketball player and coach (b. 1948)
2010 – Hillard Elkins, American actor and producer (b. 1929)
2008 – Joseph B. Wirthlin, American businessman and religious leader (b. 1917)
2008 – Paul Benedict, American actor (b. 1938)
2005 – Freeman V. Horner, American soldier, Medal of Honor recipient (b. 1922)
2005 – Gust Avrakotos, American CIA officer (b. 1938)
2003 – Clark Kerr, American economist and academic (b. 1911)
2002 – Dave McNally, American baseball player (b. 1942)
2002 – Edward L. Beach Jr., American captain and author (b. 1918)
2001 – Ellis R. Dungan, American director and producer (b. 1909)
1997 – Endicott Peabody, American lieutenant, lawyer, and politician, 62nd Governor of Massachusetts (b. 1920)
1995 – Maxwell R. Thurman, American general (b. 1931)
1993 – Ray Gillen, American singer-songwriter (b. 1959)
1991 – George Stigler, American economist and academic, Nobel Prize laureate (b. 1911)
1989 – Alvin Ailey, American dancer and choreographer (b. 1931)
1988 – J. Vernon McGee, American pastor and theologian (b. 1904)
1987 – James Baldwin, American novelist, poet, and critic (b. 1924)
1986 – Frank McCarthy, American general and film producer (b. 1912)
1981 – Russ Manning, American author and illustrator (b. 1929)
1975 – Anna Roosevelt Halsted, American journalist (b. 1906)
1975 – Nellie Fox, American baseball player and coach (b. 1927)
1954 – Fred Rose, American pianist, composer, and publisher (b. 1898)
1935 – Bernhard Schmidt, Estonian-German optician, invented the Schmidt camera (b. 1879)
1928 – José Eustasio Rivera, Colombian-American lawyer and poet (b. 1888)
1914 – Alfred Thayer Mahan, American captain and historian (b. 1840)
Sunday 1 December 2019
Rosa Parks Day in Ohio and Oregon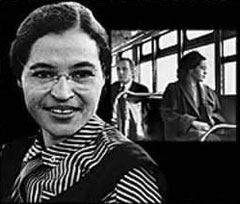 Rosa Parks was born Rosa Louise McCauley on February 4th, 1913. Her husband Raymond Parks was a member of the NAACP(the National Association for the Advancement of Colore..→