Cuenca Independence Day
Cuenca Independence Day is held on November 3. Ecuador. This event in the first decade of the month November is annual.
Help us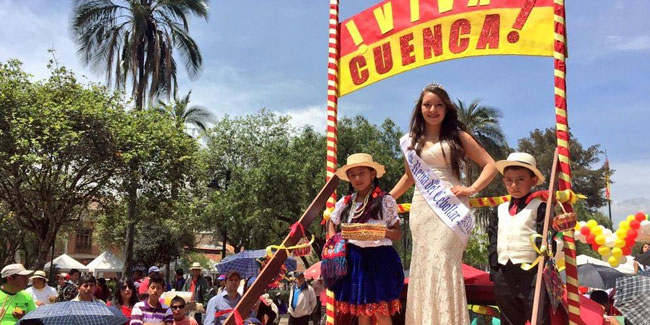 This city has a rich and diverse culture that is reflected in its gastronomy, whose dishes and preparations revolve mostly around corn, such as chicha, tamales, mote de pata, among others.
On November 3, 1820, the desire of a group of revolutionary patriots triumphed, who, through intense fighting and with the support of Creoles and indigenous people, achieved the Independence of Cuenca by taking the Central Plaza and the headquarters of the retreating army.
This desire for independence had been brewing since 1795, through writings and posters that exposed the desire for emancipation, by those who wanted to break free from the Spanish Crown and gain access to political power. This event is attributed to Lieutenant Tomás Ordoñez, who together with other Basin citizens proclaimed independence.
Similar holidays and events, festivals and interesting facts

National Emblem Day of Ecuador on October 31
(Día del Escudo Nacional del Ecuador);

Ambato Independence Day in Ecuador on November 12
;

National Education Day in Ecuador on November 13
(established by National Decree No. 3290 of November 7, 2002);

Public Accountants Day in Ecuador on November 13
(Día Clásico del Contador Público - in honor of the first National Congress of Accountants in 1945 and the founding of the first Center for Higher Education in Accounting in 1959);

Ecuador National Anthem Day on November 26
;

Pan American Pharmacy Day on December 1
;

Anniversary of the Founding of Quito in Ecuador on December 6