Finnish Language Day or Mikael Agricola Day in Finland
Finnish Language Day or Mikael Agricola Day in Finland is held on April 9. Mikael Agricola - April 1510 - April 9, 1557 - Bishop, Finnish leader of the Reformation, "A Man of a New Era." No other book has had such a profound and significant impact on the development of Finnish culture, thinking and system values, like the Bible. "The Bible 350. The Finnish Bible and culture". This event in the first decade of the month April is annual.
Help us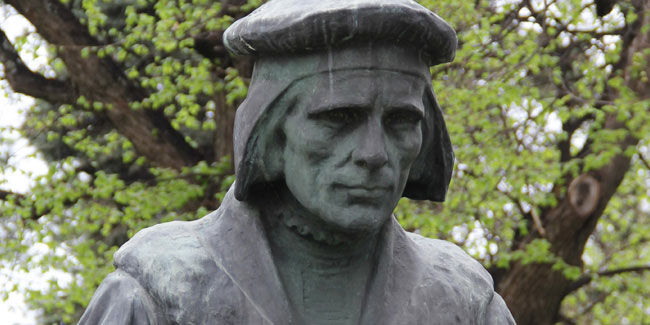 It's unlike other European languages. The Finnish language uses a lot of compound words, (two or more words joined together to create a new word with an entirely new meaning). The biggest compound word with a whopping 61 letters, is 'lentokonesuihkuturbiinimoottoriapumekaanikkoaliupseerioppilas', which translates as 'airplane jet turbine engine auxiliary mechanic non-commissioned officer student'.
The Finnish grammar and most Finnish words are very different from those in other European languages, because Finnish is not an Indo-European language. The two other national languages that are Uralic languages as Finnish are Estonian and Hungarian.
One of the few Finnish words to make it into everyday English language is 'sauna'. In fact, the word is spelled the same in most languages. The Finns are mad about saunas. They're in the usual places like people's houses, offices, factories, and sports centres. But you'll also find saunas in some rather surprising places such as a Burger King in Helsinki, a gondola at the Ylläs ski resort, and even the Finnish parliament.
Similar holidays and events, festivals and interesting facts

Rea Day in Finland on April 8
;

National Veterans' Day in Finland on April 27
;

Wappu Spring Festival in Finland on May 1
(Vappu or Vapunaatto - Spring Sowing Festival);

No Pants Day on May 3
(It is held on the first Friday in May);

Day of the Finnish Identity on May 12
(Finland);

Mother's Day on May 12
(Anguilla, Antigua and Barbuda, Aruba, Australia, Austria, Bahamas, Bangladesh, Barbados, Belgium, Belize, Bermuda, Bhutan, Bonaire, Botswana, Brazil, Brunei, Canada, Cambodia, Cayman Islands, Central African Republic, Chad, Chile, China, Colombia, Congo, Dem. Rep., Congo, Rep., Cote d'Ivoire, Croatia, Cuba, Curaçao, Cyprus, Czech Republic, Denmark, Dominica, Ecuador, Equatorial Guinea, Estonia, Ethiopia, Faroe Islands, Fiji, Finland, Germany, Gabon, Gambia, Greenland, Ghana, Greece, Grenada, Guyana, Honduras, Hong Kong, Iceland, India, Italy, Jamaica, Japan, Kenya, Latvia, Liberia, Liechtenstein, Macau, Malaysia, Malta, Myanmar, Namibia, Netherlands, New Zealand, Pakistan, Papua New Guinea, Peru, Philippines, Puerto Rico, Saint Kitts and Nevis, Saint Lucia, Saint Vincent and the Grenadines, Samoa, Singapore, Sint Maarten, Slovakia, South Africa, Sri Lanka, Suriname, Switzerland, Taiwan, Tanzania, Tonga, Trinidad and Tobago, Turkey, Uganda, Ukraine, United States, Uruguay, Vietnam, Venezuela, Zambia, Zimbabwe);

Finland Military Flag Day on May 19