National Anthem Japan - Kimi Ga Yo
National Anthem Japan - Kimi Ga Yo is held on August 12. This event in the second decade of the month August is annual.
Help us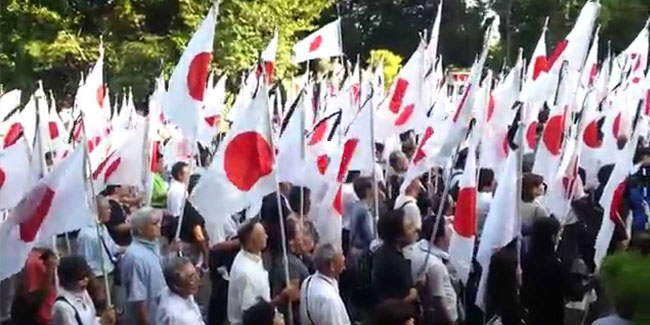 The most memorable thing about the Japanese national anthem is the fact that it is the shortest in the world lasting only 56 seconds. "Kimigayo (The Emperor's Reign)" became Japan's national anthem in 1888. The word "kimi" refers to the Emperor and the words contain the prayer: "May the Emperor's reign last forever." The poem was composed in the era when the Emperor reigned over the people.
The anthem content is based on a long time poem which has never been associated with the writer, meaning, the author is not known. However, about two hundred years ago, the song was written again giving it a more recent lyrics. Basically, this was because the original tune was very very unpopular. In short, the House of Representatives passed the bill on July 22, 1999 by a majority vote of 403 out of 86. Hence, Kimi Ga Yo was declared an official national anthem in 1999. The flag Hinomaru, also became the official national symbol.
Similar holidays and events, festivals and interesting facts

Mountain Day in Japan on August 11
(山の日 - The legislation states that the holiday is to provide "opportunities to get familiar with mountains and appreciate blessings from mountains.");

Mushroom Day in Japan on August 11
;

Obon in the east in Japan on August 13
(celebrated until August 15);

Barefoot Anniversary Day or Hadashi no Kinbi in Japan on August 14
;

Happy Summer Valentines Day on August 14
;

Bon Festival or Awa Dance Festival in Japan on August 15
(阿波踊り observances: Tokushima Prefecture);

End-of-war Memorial Day in Japan on August 15
(when the National Memorial Service for War Dead is held)