Bubble Bath Day
Bubble Bath Day is held on January 8. Bubble Baths have been popular for as long as baths with surfactant-based soap have been a thing. This event in the first decade of the month January is annual.
Help us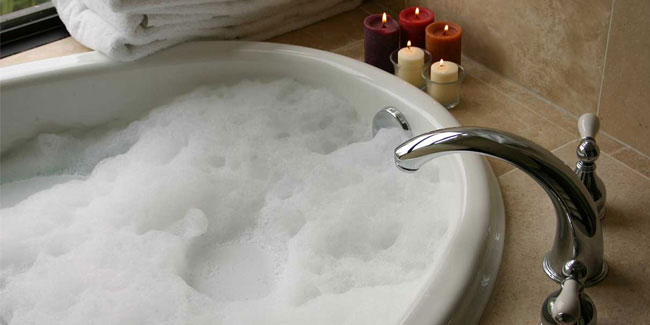 The foam that is formed in a bubble bath acts as an insulator and keeps the water warm for a longer period. Chicago is credited to the origin of bubble solutions during the 1940s.
The first form of bubble bath was actually the mechanically-aerated tub. These were common in spas for therapeutic reasons. However, they really only achieved mass-market popularity when Candido Jacuzzi and his brothers used their airplane-manufacturing experience to make a therapeutic bath for Candido's son.
Submergence in water helps to reduce pain and inflammation in the muscles and body, making bubble baths a great way to help our bodies heal. Whether we're tense from a long day behind a desk or an active workout, relaxing in a sumptuous bubble bath helps us to wind down.
Similar holidays and events, festivals and interesting facts

Distaff Day on January 7
(medieval Europe);

I'm Not Going To Take It Anymore Day on January 7
;

Old Rock Day on January 7
(This day is completely dedicated to collect different rocks);

Argyle Day on January 8
(The argyle pattern comes from the tartan of Clan Campbell, which originated in Argyll in western Scotland);

Earth's Rotation Day on January 8
(In 1851, the French physicist Léon Foucault demonstrated how the earth rotates by suspending a lead-filled brass ball from the top of the Panthéon in Paris);

Joy Germ Day on January 8
(Back in 1981, Joan White of Syracuse, New York thought of the idea of holding joy germ Day);

Male Watchers Day on January 8
;

Show & Tell Day At Work Day on January 8
;

Coming of Age Day or Seijin Shiki or 成人式 in Japan on January 8
(celebrated on the second Monday of January);

Poetry At Work Day on January 9
(finding the beauty in your job and putting it into some form of artful prose);

Static Electricity Day on January 9
;

Play God Day on January 9
(What we do know ,is that God is good. Therefore, we believe that Play God Day is a day to do something good and extra special)