Monday 9 January 2023 Calendar with holidays, observances and special days
Holidays and observances
Events
In 2018 - à new study by researchers at Stanford University indicates the genetic engineering method known as CRISPR may trigger an immune response in humans, thus rendering it potentially ineffective in them.
In 2017 researchers at King's College London report a way of using an Alzheimer's drug to stimulate the renewal of living stem cells in tooth pulp.
2007 – Apple CEO Steve Jobs introduces the original iPhone at a Macworld keynote in San Francisco.
1996 – First Chechen War: Chechen separatists launch a raid against the helicopter airfield and later a civilian hospital in the city of Kizlyar in the neighboring Dagestan, which turns into a massive hostage crisis involving thousands of civilians.
1991 – Representatives from the United States and Iraq meet at the Geneva Peace Conference to try to find a peaceful resolution to the Iraqi invasion of Kuwait.
1945 – World War II: The Sixth United States Army begins the invasion of Lingayen Gulf.
1941 – World War II: First flight of the Avro Lancaster.
1923 – Juan de la Cierva makes the first autogyro flight.
1921 – Greco-Turkish War: The First Battle of İnönü, the first battle of the war, begins near Eskişehir in Anatolia.
1918 – Battle of Bear Valley: The last battle of the American Indian Wars.
1914 – Phi Beta Sigma Fraternity Inc., the first historically black intercollegiate Greek-letter fraternity to be officially recognized at Howard University, is founded.
1909 – Ernest Shackleton, leading the Nimrod Expedition to the South Pole, plants the British flag 97 nautical miles (180 km; 112 mi) from the South Pole, the farthest anyone had ever reached at that time.
1894 – New England Telephone and Telegraph installs the first battery-operated telephone switchboard in Lexington, Massachusetts.
1861 – American Civil War: "Star of the West" incident occurs near Charleston, South Carolina.
1861 – Mississippi becomes the second state to secede from the Union before the outbreak of the American Civil War.
1857 – The 7.9 Mw Fort Tejon earthquake shakes Central and Southern California with a maximum Mercalli intensity of IX (Violent).
1839 – The French Academy of Sciences announces the Daguerreotype photography process.
1816 – Sir Humphry Davy tests his safety lamp for miners at Hebburn Colliery.
1793 – Jean-Pierre Blanchard becomes the first person to fly in a balloon in the United States.
1788 – Connecticut becomes the fifth state to ratify the Constitution.
1349 – The Jewish population of Basel, believed by the residents to be the cause of the ongoing Black Death, is rounded up and incinerated.
681 – Twelfth Council of Toledo: King Erwig of the Visigoths initiates a council in which he implements diverse measures against the Jews in Spain.
Births
1993 – Marcus Peters, American Football Player Kansas City Chiefs. Marcus Peters (born January 9, 1993) is an American football cornerback for the Baltimore Ravens of the National Football League (NFL).
1990 – Justin Blackmon, American football player. Justin Carl Blackmon (born January 9, 1990) is an American football wide receiver for the Jacksonville Jaguars of the National Football League (NFL).
1989 – Michael Beasley, American basketball player. He is regarded as one of the best freshman college basketball players of the 2000s.
1988 – Katherine Copely, American ice dancer. Katherine Leigh Copely, M.D. (born January 9, 1988) is a former American Ice Dancer who competed internationally for Lithuania.
1978 – AJ McLean, American singer. Alexander James McLean (born January 9, 1978) is an American singer, songwriter, actor, dancer, and model.
1978 – Chad Johnson, American football player and actor. Chad Javon Johnson (born January 9, 1978), known from 2008 to 2012 as Chad Ochocinco, is a former American football wide receiver.
1976 – Hayes Carll, American singer-songwriter and guitarist. A native of The Woodlands, Texas, his style of roots-oriented songwriting has been noted for its plainspoken poetry and sarcastic humor.
1972 – Jay Powell, American baseball player. James Willard "Jay" Powell (born January 9, 1972) is a former American baseball pitcher who last played for the Atlanta Braves.
1972 – Rawson Stovall, American video game producer and author. Rawson Law Stovall (born January 9, 1972) is a video game producer, and the first nationally syndicated reviewer of video games in the United States.
1971 – Angie Martinez, American rapper, actress, and radio host. Nicknamed "The Voice of New York", her afternoon radio show has consistently been ranked #1 with more young listeners than any other radio program in the country.
1967 – Dave Matthews, South African-American singer-songwriter, guitarist, and actor. Matthews started playing acoustic guitar at the age of nine.
1967 – Matt Bevin, American politician, 62nd governor of Kentucky. He was the third Republican elected Kentucky governor since World War II, after Ernie Fletcher (2003–2007) and Louie Nunn (1967–1971).
1965 – Eric Erlandson, American guitarist, songwriter, and producer. Eric Theodore Erlandson (born January 9, 1963) is an American musician, guitarist, and writer, primarily known as founding member, songwriter and lead guitarist of alternative rock band Hole from 1989 to 2002.
1961 – Oliver Goldstick, American screenwriter and producer. Oliver Goldstick (born January 9, 1961) is an American television screenwriter and producer.
1960 – David Peoples, American golfer. David Webb Peoples (born February 9, 1940) is an American screenwriter who wrote Blade Runner (1982), Unforgiven (1992), and 12 Monkeys (1995).
1959 – Mark Martin, American race car driver and coach. He has the second most wins all time in what is now the Xfinity Series with 49.
1959 – Otis Nixon, American baseball player. Otis Junior Nixon (born January 9, 1959) is an American former professional baseball center fielder.
1955 – J.K. Simmons, American actor. Emil Skoda on the NBC series Law & Order, Vernon Schillinger on the HBO series Oz, and Assistant Police Chief Will Pope on TNT's The Closer.
1955 – Michiko Kakutani, American journalist and critic. Her awards include a Pulitzer Prize for Criticism.
1952 – Mike Capuano, American lawyer and politician. A Democrat, his district included the northern three-fourths of Boston, as well as parts of Cambridge, his hometown of Somerville, and other communities immediately north and south of Boston.
1951 – Crystal Gayle, American singer-songwriter and producer. This new musical direction made her one of the most successful crossover artists of the 1970s and 80s.
1950 – David Johansen, American musician and actor. David Roger Johansen (sometimes spelled David Jo Hansen; born January 9, 1950) is an American singer, songwriter and actor.
1948 – Bill Cowsill, American singer-songwriter and guitarist (d. 2006), was an American singer, musician, songwriter and producer. He is particularly notable as the lead singer and guitarist of The Cowsills, who had three top 10 singles in the late 1960s.
1947 – Ronnie Landfield, American painter and educator. During his early career from the mid-1960s through the 1970s his paintings were associated with Lyrical Abstraction, (related to Postminimalism, Color Field painting, and Abstract expressionism), and he was represented by the David Whitney Gallery and the André Emmerich Gallery.
1942 – Judy Malloy, American poet and author. Judy Malloy (born Judith Ann Powers January 9, 1942) is a poet whose works embrace the intersection of hypernarrative, magic realism, and information art.
1941 – Joan Baez, American singer-songwriter, guitarist and activist. Baez has performed publicly for over 60 years, releasing over 30 albums.
1941 – Roy Head, American singer-songwriter and guitarist. Roy Kent Head (born January 9, 1941 in Three Rivers, Texas, United States) is an American singer, best known for his hit record "Treat Her Right".
1938 – Peter Edelman, American lawyer and educator. Peter Benjamin Edelman (born January 9, 1938) is an American lawyer, policy maker, and law professor at Georgetown University Law Center, specializing in the fields of poverty, welfare, juvenile justice, and constitutional law.
1938 – Stuart Woods, American author and critic. Stuart Woods (born January 9, 1938) is an American novelist.
1936 – Anne Rivers Siddons, American author, was an American novelist who wrote stories set in the southern United States.
1935 – Bob Denver, American actor (d. 2005), was an American comedic actor, widely known for portraying Gilligan on the 1964-1967 television series Gilligan's Island and beatnik Maynard G. Krebs on the 1959–1963 series The Many Loves of Dobie Gillis.
1934 – Bart Starr, American football player and coach, was a professional American football quarterback and coach. Starr played college football at the University of Alabama, and was selected by the Green Bay Packers in the 17th round of the 1956 NFL draft, where he played for them until 1971.
1931 – Algis Budrys, Lithuanian-American author and critic (d. 2008), was a Lithuanian-American science fiction author, editor, and critic. He was also known under the pen names Frank Mason, Alger Rome (in collaboration with Jerome Bixby), John A.
1928 – Judith Krantz, American novelist, was a magazine writer and fashion editor who turned to fiction as she approached the age of 50. Her first novel Scruples (1978) quickly became a New York Times best-seller and went on to be a worldwide publishing success, translated into 50 languages.
1925 – Lee Van Cleef, American actor (d. 1989), was an American actor best known for his roles in Spaghetti Westerns such as For A Few Dollars More and The Good, the Bad and the Ugly. He declined to have his nose altered to play a sympathetic character in his film debut, High Noon, and was relegated to a non-speaking outlaw as a result.
1922 – Har Gobind Khorana, Indian-American biochemist and academic, Nobel laureate (d. 2011). While on the faculty of the University of Wisconsin–Madison, he shared the 1968 Nobel Prize for Physiology or Medicine with Marshall W.
1921 – John Sperling, American businessman, founded the University of Phoenix (d. 2014), was an American businessman who is credited with having led the contemporary for-profit education movement in the United States. The fortune he amassed was based on his founding of the for-profit University of Phoenix for working adults in 1976, which is now part of the publicly traded Apollo Group.
1919 – William Morris Meredith, Jr., American poet and academic (d. 2007), was an American lawyer and politician from Philadelphia, Pennsylvania. He served as the United States Secretary of the Treasury, during President Zachary Taylor's Administration.
1918 – Alma Ziegler, American baseball player and golfer (d. 2005), was an infielder and pitcher who played from 1944 through 1954 in the All-American Girls Professional Baseball League. Listed at 5 ft 3 in (1.60 m), 125 lb., Ziegler batted and threw right-handed.
1916 – Vic Mizzy, American soldier, pianist, and composer (d. 2009), was an American composer for television and movies whose best-known works are the themes to the 1960s television sitcoms Green Acres and The Addams Family. Mizzy also wrote top-20 songs from the 1930s to 1940s.
1915 – Anita Louise, American actress (d. 1970), was an American film and television actress best known for her performances in A Midsummer Night's Dream (1935), The Story of Louis Pasteur (1935), Anthony Adverse (1936), Marie Antoinette (1938) and The Little Princess (1939). She was named as a WAMPAS Baby Star, and frequently described as one of the cinema's more fashionable and stylish women.
1915 – Fernando Lamas, Argentinian-American actor, singer, and director (d. 1982), was an Argentine-American actor and director, and the father of actor Lorenzo Lamas.
1913 – Richard Nixon, American commander, lawyer, and politician, 37th President of the United States (d. 1994), was the 37th president of the United States, serving from 1969 until 1974. The nation's 36th vice president from 1953 to 1961, he came to national prominence as a representative and senator from California.
1912 – Ralph Tubbs, English architect, designed the Dome of Discovery (d. 1996), was a British architect. Well known amongst the buildings he designed was the Dome of Discovery at the successful Festival of Britain on the South Bank in London in 1951.
1909 – Patrick Peyton, Irish-American priest, television personality, and activist (d. 1992), was an Irish Roman Catholic priest and promoter of the Rosary.
1907 – Earl W. Renfroe, African American orthodontist, educator, and activist (d. 2000), was a history-maker in the field of orthodontics and in breaking down the barriers of racism.
1907 – Eldred G. Smith, American patriarch (d. 2013), was the patriarch emeritus of The Church of Jesus Christ of Latter-day Saints (LDS Church) and held the calling of Patriarch to the Church from 1947 to 1979, the last to hold the office. He was the oldest and longest-serving general authority of the church at his death, although he had not been active in that capacity for many years.
1902 – Josemaría Escrivá, Spanish priest and saint, founded Opus Dei (d. 1975), was a Spanish Roman Catholic priest who founded Opus Dei, an organization of laypeople and priests dedicated to the teaching that everyone is called to holiness by God and that ordinary life can result in sanctity. He was canonized during 2002 by Pope John Paul II, who declared Saint Josemaría should be "counted among the great witnesses of Christianity."
1902 – Rudolf Bing, American impresario and businessman (d. 1997), was an Austrian-born opera impresario who worked in Germany, the United Kingdom and the United States, most notably being General Manager of the Metropolitan Opera in New York City from 1950 to 1972. He was naturalized as a British subject in 1946 and was knighted in 1971.
1901 – Chic Young, American cartoonist (d. 1973), was an American cartoonist who created the comic strip Blondie. His 1919 William McKinley High School Yearbook cites his nickname as Chicken, source of his familiar pen name and signature.
1901 – Vilma Bánky, Hungarian-American actress (d. 1991), was a Hungarian-American silent film actress, although the early part of her acting career began in Budapest, spreading to France, Austria, and Germany. Bánky was best known for her roles in The Eagle and The Son of the Sheik with Rudolph Valentino and several romantic teamings with Ronald Colman.
1900 – Richard Halliburton, American journalist and author (d. 1939), was an American traveler, adventurer, and author. Halliburton was headline news for most of his brief career and is best known today for having swum the length of the Panama Canal and paying the lowest toll in its history—36 cents in 1928.
1892 – Eva Bowring, American lawyer and politician (d. 1985), was a U.S. Senator from Nebraska.
1886 – Lloyd Loar, American sound engineer and instrument designer (d. 1943). Lloyd Allayre Loar (1886 – 1943) was a designer for the Gibson Mandolin-Guitar Mfg.
1885 – Charles Bacon, American runner and hurdler (d. 1968), was an American athlete and a member of the Irish American Athletic Club and the New York City Police Department. He won the 400 metres hurdles at the 1908 Summer Olympics.
1879 – John B. Watson, American psychologist and academic (d. 1958), was an American psychologist who established the psychological school of behaviorism. Watson promoted a change in psychology through his address Psychology as the Behaviorist Views it, which was given at Columbia University in 1913.
1875 – Gertrude Vanderbilt Whitney, American sculptor and art collector, founded the Whitney Museum of American Art (d. 1942), was an American sculptor, art patron and collector, and founder in 1931 of the Whitney Museum of American Art in New York City. She was a prominent social figure and hostess, who was born into the wealthy Vanderbilt family and married into the Whitney family.
1873 – Thomas Curtis, American sprinter and hurdler (d. 1944), was an American athlete and the winner of the 110 metres hurdles at the 1896 Summer Olympics.
1859 – Carrie Chapman Catt, American activist, founded the League of Women Voters and International Alliance of Women (d. 1947), was an American women's suffrage leader who campaigned for the Nineteenth Amendment to the United States Constitution, which gave U.S. women the right to vote in 1920. Catt served as president of the National American Woman Suffrage Association and was the founder of the League of Women Voters and the International Alliance of Women.
1854 – Lady Randolph Churchill, American-born wife of Lord Randolph Churchill, mother of Sir Winston Churchill (d. 1921), was an American-born British socialite, the wife of Lord Randolph Churchill and the mother of British prime minister Sir Winston Churchill.
1839 – John Knowles Paine, American composer and academic (d. 1906), was the first American-born composer to achieve fame for large-scale orchestral music. The senior member of a group of composers collectively known as the Boston Six, Paine was one of those responsible for the first significant body of concert music by composers from the United States.
1822 – Carol Benesch, Czech-Romanian architect, designed the Peleș Castle (d. 1896), was a Silesian architect of Historicism and Eclecticism orientation established in the Kingdom of Romania.
1745 – Caleb Strong, American lawyer and politician, 6th Governor of Massachusetts (d. 1819), was a Massachusetts lawyer and politician who served as the sixth and tenth Governor of Massachusetts between 1800 and 1807, and again from 1812 until 1816. He assisted in drafting the Massachusetts State Constitution in 1779 and served as a state senator and on the Massachusetts Governor's Council before being elected to the inaugural United States Senate.
Deaths
2016 – Angus Scrimm, American actor and author (b. 1926)
2015 – Bud Paxson, American broadcaster and businessman, founded the Home Shopping Network and Pax TV (b. 1935)
2015 – Robert V. Keeley, Lebanese-American soldier and diplomat, United States Ambassador to Greece (b. 1929)
2015 – Roy Tarpley, American basketball player (b. 1964)
2014 – Amiri Baraka, American poet, playwright, and academic (b. 1934)
2014 – Dale T. Mortensen, American economist and academic, Nobel Prize laureate (b. 1939)
2014 – Paul du Toit, South African painter and sculptor (b. 1965)
2013 – James M. Buchanan, American economist and academic, Nobel Prize laureate (b. 1919)
2013 – Robert L. Rock, American businessman and politician, 42nd Lieutenant Governor of Indiana (b. 1927)
2012 – William G. Roll, German-American psychologist and parapsychologist (b. 1926)
2011 – Makinti Napanangka, Australian painter (b. 1930)
2006 – W. Cleon Skousen, American author and academic (b. 1913)
2003 – Will McDonough, American journalist (b. 1935)
2001 – Maurice Prather, American photographer and director (b. 1926)
1998 – Imi Lichtenfeld, Slovakian-Israeli martial artist, founded Krav Maga (b. 1910)
1997 – Jesse White, American actor (b. 1917)
1996 – Walter M. Miller, Jr., American soldier and author (b. 1923)
1994 – Johnny Temple, American baseball player and sportscaster (b. 1927)
1992 – Steve Brodie, American actor (b. 1919)
1990 – Spud Chandler, American baseball player, coach, and manager (b. 1907)
1989 – Bill Terry, American baseball player and manager (b. 1898)
1984 – Bob Dyer, American-Australian radio and television host (b. 1909)
1981 – Kazimierz Serocki, Polish pianist and composer (b. 1922)
1979 – Pier Luigi Nervi, Italian engineer and architect, designed the Tour de la Bourse and Pirelli Tower (b. 1891)
1972 – Ted Shawn, American dancer and choreographer (b. 1891)
1971 – Elmer Flick, American baseball player and scout (b. 1876)
1961 – Emily Greene Balch, American economist and academic, Nobel Prize laureate (b. 1867)
1946 – Countee Cullen, American poet and playwright (b. 1903)
1939 – Johann Strauss III, Austrian violinist, composer, and conductor (b. 1866)
1931 – Wayne Munn, American football player and wrestler (b. 1896)
1930 – Edward Bok, Dutch-American journalist and author (b. 1863)
1918 – Charles-Émile Reynaud, French scientist and educator, invented the Praxinoscope (b. 1844)
1917 – Luther D. Bradley, American cartoonist (b. 1853)
1911 – Edwin Arthur Jones, American violinist and composer (b. 1853)
1895 – Aaron Lufkin Dennison, American-English businessman (b. 1812)
1876 – Samuel Gridley Howe, American physician and activist (b. 1801)
1858 – Anson Jones, American physician and politician; 4th President of the Republic of Texas (b. 1798)
1805 – Noble Wimberly Jones, American physician and politician (b. 1723)
1324 – Marco Polo, Italian merchant and explorer (b. 1254)
Eugenio Maria De Hostos' Birthday in Puerto Rico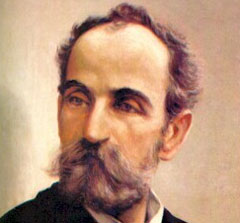 Eugenio Maria de Hostos (January 11, 1839 – August 11, 1903), known as "The Great Citizen of the Americas", was a Puerto Rican educator, philosopher, intellectu..→