U.S. Presidential Oath Day
U.S. Presidential Oath Day is held on January 20. 1934. This event in the second decade of the month January is annual.
Help us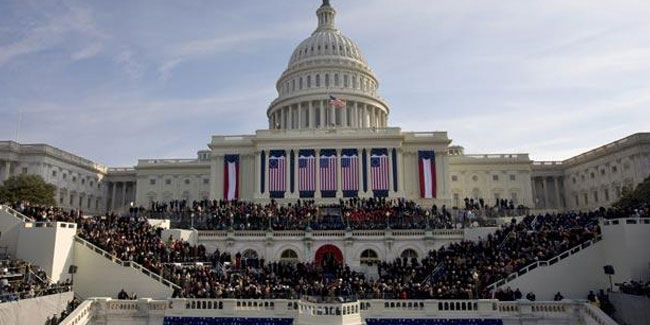 "I do solemnly swear (or affirm) that I will faithfully execute the Office of President of the United States, and will to the best of my ability, preserve, protect and defend the Constitution of the United States."
Theodore Roosevelt did not use the Bible when taking the oath in 1901, nor did John Quincy Adams, who swore on a book of law, with the intention that he was swearing on the constitution. Lyndon B. Johnson was sworn in on a Roman Catholic missal on Air Force One.
At 2:30 on the morning of August 3, 1923, while visiting in Vermont, Calvin Coolidge received word that he was President. By the light of a kerosene lamp, his father, who was a notary public, administered the oath of office as Coolidge placed his hand on the family Bible.
Similar holidays and events, festivals and interesting facts

National Popcorn Day in USA on January 19
;

Birthday of Edgar Allan Poe on January 19
(commemorated by the Poe Toaster at his grave in Baltimore);

National Disc Jockey Day in USA on January 20
(DJ Day is celebrated in remembrance of the death of Albert James Freed. Freed, also known as Moondog, was an influential disc jockey in the 1950s. He is credited with introducing the term "rock 'n' roll" to the world);

Cheese Lovers Day in USA and UK on January 20
;

National Buttercrunch Day in USA on January 20
;

National Granola Bar Day and National New England Clam Chowder Day in USA on January 21
;

Squirrel Appreciation Day in North Carolina on January 21
(It is an unofficial holiday started by North Carolina wildlife rehabilitator Christy McKeown in 2001, as a way to encourage people to put out seeds and nuts for these cute rodents)