Saturday 19 January 2019 Calendar with holidays, observances and special days
Holidays and observances
Events
In 2017 researchers at Northwestern University develop an AI system that performs at human levels on a standard visual intelligence test.
1986 – The first IBM PC computer virus is released into the wild. A boot sector virus dubbed (c)Brain, it was created by the Farooq Alvi Brothers in Lahore, Pakistan, reportedly to deter unauthorized copying of the software they had written.
1983 – The Apple Lisa, the first commercial personal computer from Apple Inc. to have a graphical user interface and a computer mouse, is announced.
1981 – Iran hostage crisis: United States and Iranian officials sign an agreement to release 52 American hostages after 14 months of captivity.
1960 – Japan and the United States sign the US–Japan Mutual Security Treaty
1953 – Almost 72% of all television sets in the United States are tuned into I Love Lucy to watch Lucy give birth.
1940 – You Nazty Spy!, the very first Hollywood film of any kind to satirize Adolf Hitler and the Nazis premieres, starring The Three Stooges, with Moe Howard as the character "Moe Hailstone" satirizing Hitler.
1920 – The United States Senate votes against joining the League of Nations.
1915 – Georges Claude patents the neon discharge tube for use in advertising.
1915 – World War I: German zeppelins bomb the towns of Great Yarmouth and King's Lynn in the United Kingdom killing at least 20 people, in the first major aerial bombardment of a civilian target.
1883 – The first electric lighting system employing overhead wires, built by Thomas Edison, begins service at Roselle, New Jersey.
1862 – American Civil War: Battle of Mill Springs: The Confederacy suffers its first significant defeat in the conflict.
1861 – American Civil War: Georgia joins South Carolina, Florida, Mississippi, and Alabama in declaring secession from the United States.
1829 – Johann Wolfgang von Goethe's Faust: The First Part of the Tragedy receives its premiere performance.
1788 – The second group of ships of the First Fleet arrive at Botany Bay.
Births
1992 – Logan Lerman, American actor
1992 – Shawn Johnson, American gymnast
1988 – JaVale McGee, American basketball player
1985 – Benny Feilhaber, American soccer player
1985 – Jake Allen, American football player
1983 – Hikaru Utada, American-Japanese singer-songwriter and producer
1982 – Jodie Sweetin, American actress and singer
1982 – Mike Komisarek, American ice hockey player
1980 – Luke Macfarlane, Canadian-American actor and singer
1980 – Pasha Kovalev, Russian-American dancer and choreographer
1975 – Noah Georgeson, American singer-songwriter, guitarist, and producer
1974 – Frank Caliendo, American comedian, actor, and screenwriter
1972 – Jon Fisher, American businessman and author
1972 – Ron Killings, American wrestler and rapper
1972 – Tyrone Wheatley, American football player and college football coach
1971 – John Wozniak, American singer-songwriter and guitarist
1971 – Phil Nevin, American baseball player
1971 – Shawn Wayans, American actor, producer, and screenwriter
1969 – Casey Sherman, American journalist and author
1969 – Edwidge Danticat, Haitian-American novelist and short story writer.
1969 – Junior Seau, American football player (d. 2012)
1968 – Whitfield Crane, American singer-songwriter
1963 – Michael Adams, American basketball player and coach
1962 – Chris Sabo, American baseball player and coach
1962 – Jeff Van Gundy, American basketball player and coach
1961 – Wayne Hemingway, English fashion designer, co-founded Red or Dead
1961 – William Ragsdale, American actor
1959 – Danese Cooper, American computer scientist and programmer
1959 – Jeff Pilson, American bass player, songwriter, and actor
1958 – Thomas Kinkade, American painter (d. 2012)
1957 – Ottis Anderson, American football player and sportscaster
1956 – Carman, American singer-songwriter, actor, and television host
1956 – Susan Solomon, American atmospheric chemist
1955 – Paul Rodriguez, Mexican-American comedian and actor
1954 – Cindy Sherman, American photographer and director
1954 – Clifford Tabin, American geneticist and academic
1954 – Katey Sagal, American actress and singer
1953 – Desi Arnaz, Jr., American actor and singer
1952 – Beau Weaver, American male voice actor
1952 – Bruce Jay Nelson, American computer scientist (d. 1999)
1952 – Dewey Bunnell, British-American singer-songwriter and guitarist
1950 – Jon Matlack, American baseball player and coach
1948 – Nancy Lynch, American computer scientist and academic
1947 – Paula Deen, American chef and author
1946 – Dolly Parton, American singer-songwriter and actress
1944 – Dan Reeves, American football player and coach
1944 – Shelley Fabares, American actress and singer
1944 – Thom Mayne, American architect and academic, designed the San Francisco Federal Building and Phare Tower
1943 – Janis Joplin, American singer-songwriter (d. 1970)
1943 – Larry Clark, American director, producer, and screenwriter
1939 – Phil Everly, American singer-songwriter and guitarist (The Everly Brothers) (d. 2014)
1936 – Fred J. Lincoln, American actor, director, producer, and screenwriter (d. 2013)
1936 – Willie "Big Eyes" Smith, American singer, harmonica player, and drummer (d. 2011)
1933 – George Coyne, American priest, astronomer, and theologian
1932 – Harry Lonsdale, American chemist, businessman, and politician (d. 2014)
1932 – Richard Lester, American-English director, producer, and screenwriter
1931 – Robert MacNeil, Canadian-American journalist and author
1930 – Tippi Hedren, American model, actress, and animal rights-welfare activist
1926 – Fritz Weaver, American actor (d. 2016)
1926 – Hans Massaquoi, German-American journalist and author (d. 2013)
1924 – Nicholas Colasanto, American actor and director (d. 1985)
1923 – Jean Stapleton, American actress and singer (d. 2013)
1921 – Patricia Highsmith, American novelist and short story writer (d. 1995)
1918 – John H. Johnson, American publisher, founded the Johnson Publishing Company (d. 2005)
1914 – Lester Flatt, American bluegrass singer-songwriter, guitarist, and mandolin player (d. 1979)
1913 – Rudolf Wanderone, American professional pocket billiards player (d. 1996)
1908 – Ish Kabibble, American comedian and cornet player (d. 1994)
1907 – Briggs Cunningham, American race car driver, sailor, and businessman (d. 2003)
1887 – Alexander Woollcott, American actor, playwright, and critic (d. 1943)
1871 – Dame Gruev, Bulgarian educator and activist, co-founded the Internal Macedonian Revolutionary Organization (d. 1906)
1809 – Edgar Allan Poe, American short story witer, poet, and critic (d. 1849)
1808 – Lysander Spooner, American philosopher and author (d. 1887)
1807 – Robert E. Lee, American general and academic (d. 1870)
1752 – James Morris III, American captain (d. 1820)
1739 – Joseph Bonomi the Elder, Italian architect, designed Longford Hall and Barrells Hall (d. 1808)
Deaths
2017 – Miguel Ferrer, American actor (b. 1955)
2016 – Richard Levins, American ecologist and geneticist (b. 1930)
2015 – Ward Swingle, American-French singer-songwriter and conductor (b. 1927)
2014 – Al Lerner, American pianist, composer, and conductor (b. 1919)
2014 – Azaria Alon, Ukrainian-Israeli environmentalist, co-founded the Society for the Protection of Nature in Israel (b. 1918)
2014 – Ben Starr, American playwright, screenwriter, and producer (b. 1921)
2014 – Stanley Jeyaraja Tambiah, Sri Lankan-American anthropologist and academic (b. 1929)
2014 – Steven Fromholz, American singer-songwriter, producer, and poet (b. 1945)
2013 – Earl Weaver, American baseball player and manager (b. 1930)
2013 – Frank Pooler, American conductor and composer (b. 1926)
2013 – Milt Bolling, American baseball player and scout (b. 1930)
2013 – Stan Musial, American baseball player and manager (b. 1920)
2012 – Gene Methvin, American pilot and journalist (b. 1934)
2010 – Ida Mae Martinez, American wrestler (b. 1931)
2008 – John Stewart, American singer-songwriter and guitarist (b. 1939)
2008 – Suzanne Pleshette, American actress (b. 1937)
2006 – Anthony Franciosa, American actor (b. 1928)
2006 – Wilson Pickett, American singer-songwriter (b. 1941)
2004 – Harry E. Claiborne, American lawyer and judge (b. 1917)
2000 – Hedy Lamarr, Austrian-American actress, singer, and mathematician (b. 1913)
1998 – Carl Perkins, American singer-songwriter and guitarist (b. 1932)
1997 – James Dickey, American poet and novelist (b. 1923)
1996 – Don Simpson, American actor, producer, and screenwriter (b. 1943)
1987 – Lawrence Kohlberg, American psychologist and academic (b. 1927)
1981 – Francesca Woodman, American photographer (b. 1958)
1980 – William O. Douglas, American lawyer and jurist (b. 1898)
1975 – Thomas Hart Benton, American painter and educator (b. 1889)
1972 – Michael Rabin, American violinist (b. 1936)
1968 – Ray Harroun, American race car driver and engineer (b. 1879)
1963 – Clement Smoot, American golfer (b. 1884)
1948 – Tony Garnier, French architect and urban planner, designed the Stade de Gerland (b. 1869)
1847 – Charles Bent, American soldier and politician, 1st Governor of New Mexico (b. 1799)
Saturday 19 January 2019
Birthday of Robert E. Lee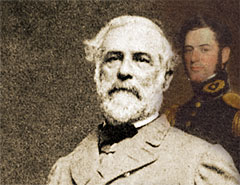 Born to Revolutionary War hero Henry "Light-Horse Harry" Lee in Stratford Hall, Virginia, Robert Edward Lee seemed destined for military greatness. Birthday of..→