Feast of St. Willibrord in Luxembourg
Feast of St. Willibrord in Luxembourg is held on November 7. Patron saint of the Grand Duchy. This event in the first decade of the month November is annual.
Help us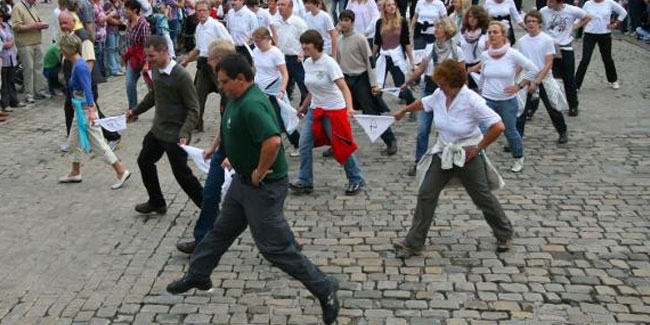 St. Willibrord was born near York, Northumbria, England in 658AD. He died in 739AD aged 81 in Echternach, Luxembourg. His Feast Day is the 7th of November.
He is the Patron Saint of Luxembourg and he is the only Saint buried in Luxembourg. He was trained and ordained at a religious site located in the townland of Garryhundon, Co Carlow commonly referred to as Killogan, Rath Melsigi (Rathmelsh) or Clonmelsh.
In 690AD Willibrord led a successful mission from Carlow, made up of Irishmen and Englishmen to the continent. He was consecrated as a Bishop by Pope Sergius 1 in Rome in 695AD. He built a Cathedral in Utrecht, Holland and became the first Bishop of Utrecht.
In 698AD he established his monastery in Echternach, said to be the oldest town in Luxembourg.
Similar holidays and events, festivals and interesting facts

All Saints' Day a holy day of obligation on November 1
(a national holiday in many historically Catholic countries. And its related observance: Day of the Innocents, The first day of Day of the Dead or El Dia de los Muertos celebration. - Mexico, Haiti);

St. Stephen's Day on December 26
(public holiday in Alsace, Austria, Andorra, Catalonia, Croatia, the Czech Republic, Germany, Hong Kong, Italy, Ireland, Luxembourg, Poland, Slovakia and Switzerland);

Boxing Day on December 26
(Belgium, Fiji, The Bahamas, Guyana, Trinidad and Tobago, Samoa...);

Engineer's Day in Luxembourg on February 8
;

Pretzel Sunday or Bretzelsonndeg in Luxembourg on March 10
(Fourth Sunday in Lent);

Easter Monday on April 1
(Påskedag in Norway);

Europe Day on May 9
(is the name of two annual observance days, 5 May by the Council of Europe and 9 May by the European Union, which recognize the peace and prosperity within Europe that both have achieved since their formation)