Innocent Saints Day
Innocent Saints Day is held on December 28. This event in the third decade of the month December is annual.
Help us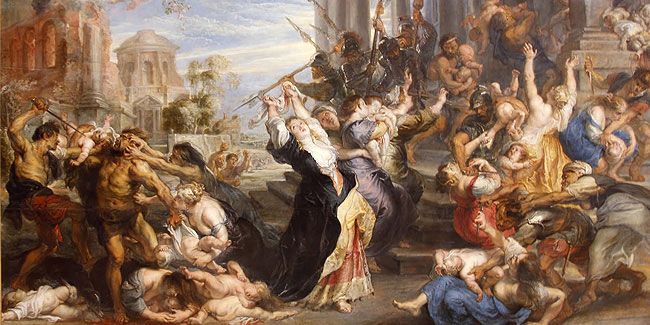 It is one of the most popular and funny traditions of Spanish Christmas. It is celebrated on December 28 and, during that day, it is allowed to play jokes and it is common to buy funny items in well-known Christmas markets such as the one in Madrid's Plaza Mayor.
It seems that this celebration recalls a biblical episode related to King Herod, although over the centuries it has evolved into a lively day in which the media themselves often report some crazy and false news.
One of the most widespread pranks on this day is to place on someone's back (without them noticing) a small white paper monkey. It is then said that a prank has been played on them. However, in many Christmas markets (usually located in the big squares of the cities) you can find all kinds of fun items (wigs, spiked powder, fake ink ...).
Many areas of Spain also have their own celebrations on December 28th. Examples are the festival of Los Locos de Jalance (in Valencia, the mayor of Los Locos governs the town for 24 hours), the Festival of the Holy Innocents of Nogalte (in Murcia, with folk dances and singing of "cuadrillas"), the Dance of "Los Locos" of Fuente Carreteros (in Cordoba), El "Obispillo" (celebrated in places like Burgos, Palencia and Murcia. A child is chosen to perform the functions of a bishop for a day) or the "Festa dels Enfarinats" of Ibi (in Alicante, where a "battle" of eggs, flour and firecrackers takes place).
Similar holidays and events, festivals and interesting facts

Second day of Christmas in Spain on December 26
;

St. Stephen's Day on December 26
(public holiday in Alsace, Austria, Andorra, Catalonia, Croatia, the Czech Republic, Germany, Hong Kong, Italy, Ireland, Luxembourg, Poland, Slovakia and Switzerland);

Feast of the Holy Innocents or Childermas in Spain and Latin American countries on December 28
(and Els Enfarinats in Ibi, Spain. Christian feast day - the festival is celebrated with pranks, similar to April Fools' Day);

International Indian Film Day on December 30
;

Doce uvas on December 31
(the Spanish New Year's tradition of eating twelve grape varieties, one for each of the twelve clock strokes by midnight, subsequently spread in such Spanish-speaking countries as Mexico, Bolivia, Venezuela, Ecuador, El Salvador, Peru, Colombia, Puerto Rico, Nicaragua, Costa Rica et al);

Public Domain Day on January 1
(multiple countries);

Granada Day in Spain on January 2
(marks the end of the Reconquista in 1492);

Day of the Coming of the Virgin Mary to Saragossa on January 2