Sinterklaas in the Netherlands
Sinterklaas in the Netherlands is held on December 5. It is celebrated on the evening before Sinterklaas' birthday on December 5, especially in families with little children. This event in the first decade of the month December is annual.
Help us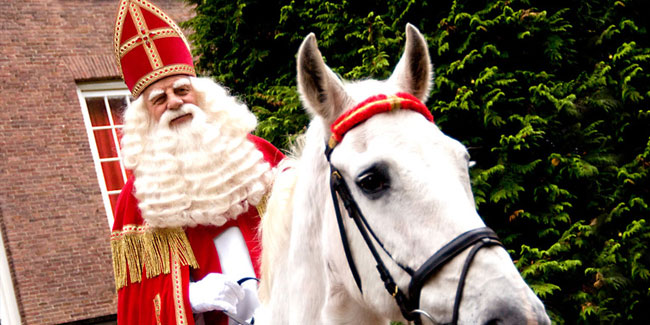 Sinterklaas or Saint Nicolas arrives in the Netherlands in the middle of November, but the celebration is on the 5th of December. He traditionally rides a white horse. In the Netherlands, the last horse was called Amerigo, but he was "pensioned" (i.e., died) in 2019 and replaced with a new horse called Oh zo snel ("oh so fast"), after a passage in a well-known Sinterklaas song.
Families celebrate Sinterklaas' Feast by singing songs and indulging in a feast of their own, which consists mainly of sweets like marzipan, chocolate initials, pepernoten (ginger biscuits) and hot chocolate with whipped cream. On Saint Nicholas Day on 6 December, Sint departs from the Netherlands.
Similar holidays and events, festivals and interesting facts

Statia Day, Sint Eustatius on November 16
(Caribbean Netherlands);

St Nicholas Day on December 6
(International. The St. Nicholas/Santa Claus leaves little presents in children's shoesl);

Koninkrijksdag or Kingdom Day on December 15
(Aruba, Netherlands);

Second day of Christmas on December 26
(Western Christianity. Public holiday in the Netherlands, Poland, Norway);

National Tulip Day in Netherlands on January 20
(The third Saturday of January);

National Pancake Day in Netherlands on February 13
(Nationale Pannenkoekdag - Tuesday before Ash Wednesday);

World Compliment Day on March 1
(appeared after many successful editions of "National Compliment Day" in the Netherlands)