King Bhumibol Adulyadej Memorial Day in Thailand
King Bhumibol Adulyadej Memorial Day in Thailand is held on October 13. This event in the second decade of the month October is annual.
Help us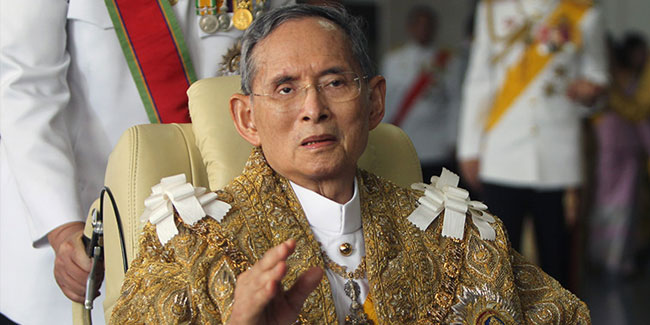 Commemorates the passing of King Bhumibol Adulyadej in 2016.
Bhumibol Adulyadej, also called Rama IX, (born December 5, 1927, Cambridge, Massachusetts, U.S.—died October 13, 2016, Bangkok, Thailand), ninth king of the Chakkri dynasty (1950–2016), which has ruled or reigned in Thailand from 1782, and Thailand's longest-serving monarch.
He sat at the pinnacle of His society, but constitutional ruler King Bhumibol Adulyadej of Thailand was a monarch and a man who was down to earth. For much of His 70 years on the throne – the longest reign of any monarch at the time of His passing – King Bhumibol traveled to the poorest and most remote corners of His Kingdom, sitting on the ground with farmers and villagers, listening to their problems and responding with over 4,000 sustainable development projects to better their lives. Many dealt with improving water, agriculture, livelihoods and health.
Similar holidays and events, festivals and interesting facts