Andean Song Day in Peru
Andean Song Day in Peru is held on June 15. This event in the second decade of the month June is annual.
Help us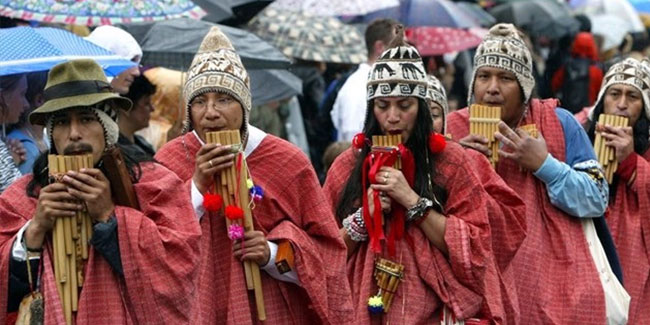 Currently, Peruvians commemorate every June 15 (officially since 2006) the Day of the Andean Song, with the purpose of recognizing the music of the Andes as an ancestral and genuine testimony of the artistic richness that exists in the highlands.
Along with musical works that marked history - most of the pieces are heard and danced to this day - the use of pre-Columbian instruments such as the "antara" (a flute more than 7000 years old), cane flutes, zampoña, siku, quena, charango and Andean harp is highlighted.
Similar holidays and events, festivals and interesting facts

Computer Day in Peru on June 12
(Día del Informático or Fiesta de los informáticos);

National Day of the Troubadour and Poet of the Panamanian Décima in Panama on June 16
;

Father's Day on June 16
(Ñelebrated on the third Sunday of June øò Argentina, Aruba, Canada, Costa Rica, France, Greece, Hong Kong, Hungary, India, Ireland, Kenya, Japan, Macao, Malaysia, Malta, Mexico, Netherlands, Pakistan, Peru, Puerto Rico, Singapore, Slovakia, South Africa, Sri Lanka, Trinidad and Tobago, Turkey, Venezuela, United Kingdom);

Ica Day in Peru on June 17
;

Music Festival in France on June 21
;

Make Music Day on June 21
(Launched in 1982 in France as the Fête de la Musique, it is now held on the same day in more than 1,000 cities in 120 countries);

Inti Raymi and Indian Day on June 21
(Peru, Bolivia, Ecuador)