Friday 14 June 2019 Calendar with holidays, observances and special days
Holidays and observances
Baltic Freedom Day (a name given to the day when Soviet deportations from the Baltic states started. The term Baltic Freedom Day for the first time was mentioned in Ronald Reagan's proclamation number 4948 on June 14, 1982. Baltic Freedom Day references the Soviet-Nazi Molotov–Ribbentrop Pact which led to the mass deportations of peoples from Estonia, Latvia, and Lithuania)
Father's Day in Austria and Belgium (celebrated on the second Sunday of June and it is not a public holiday)
Flag Day (United States)
Liberation Day (Falkland Islands and South Georgia and the South Sandwich Islands)
Mourning and Hope Day (Lithuania)
National Strawberry Shortcake Day and Bourbon Day in USA
World Wide Knit in Public Day
Events
1967 – China tests its first hydrogen bomb.
1959 – Disneyland Monorail System, the first daily operating monorail system in the Western Hemisphere, opens to the public in Anaheim, California.
1954 – U.S. President Dwight D. Eisenhower signs a bill into law that places the words "under God" into the United States Pledge of Allegiance.
1949 – Albert II, a rhesus monkey, rides a V-2 rocket to an altitude of 134 km (83 mi), thereby becoming the first monkey in space.
1941 – June deportation: the first major wave of Soviet mass deportations and murder of Estonians, Latvians and Lithuanians, begins.
1940 – Seven hundred twenty-eight Polish political prisoners from Tarnów become the first inmates of the Auschwitz concentration camp.
1937 – Pennsylvania becomes the first (and only) state of the United States to celebrate Flag Day officially as a state holiday.
1919 – John Alcock and Arthur Whitten Brown depart from St. John's, Newfoundland on the first nonstop transatlantic flight.
1900 – Hawaii becomes a United States territory.
1863 – American Civil War: Second Battle of Winchester: A Union garrison is defeated by the Army of Northern Virginia in the Shenandoah Valley town of Winchester, Virginia.
1863 – Second Assault on the Confederate works at the Siege of Port Hudson during the American Civil War.
1839 – Henley Royal Regatta: the village of Henley-on-Thames, on the River Thames in Oxfordshire, stages its first regatta.
1800 – The French Army of First Consul Napoleon Bonaparte defeats the Austrians at the Battle of Marengo in Northern Italy and re-conquers Italy.
1777 – The Stars and Stripes is adopted by Congress as the Flag of the United States.
1775 – American Revolutionary War: the Continental Army is established by the Continental Congress, marking the birth of the United States Army.
1618 – Joris Veseler prints the first Dutch newspaper Courante uyt Italien, Duytslandt, &c. in Amsterdam (approximate date).
1216 – First Barons' War: Prince Louis of France captures the city of Winchester and soon conquers over half of the Kingdom of England.
1158 – Munich is founded by Henry the Lion on the banks of the river Isar.
Births
1993 – Sammy Watkins, American football player
1992 – Joel Crouse, American singer-songwriter
1989 – Lucy Hale, American actress and singer-songwriter
1984 – Lorenzo Booker, American football player
1978 – Annia Hatch, Cuban-American gymnast and coach
1978 – Diablo Cody, American director, producer, and screenwriter
1977 – Chris McAlister, American football player
1973 – Sami Kapanen, Finnish-American ice hockey player and manager
1972 – Matthias Ettrich, German computer scientist and engineer, founded KDE
1972 – Rick Brunson, American basketball player and coach
1971 – Bruce Bowen, American basketball player and sportscaster
1970 – Heather McDonald, American comedian, actress, and author
1968 – Campbell Brown, American journalist
1968 – Faizon Love, Cuban-American actor and screenwriter
1967 – Dedrick Dodge, American football player and coach
1961 – Sam Perkins, American basketball player
1960 – Mike Laga, American baseball player
1960 – Tonie Campbell, American hurdler
1959 – Marcus Miller, American bass player, composer, and producer
1958 – Pamela Geller, American activist and blogger
1957 – Mona Simpson, American novelist
1957 – Suzanne Nora Johnson, American lawyer and businesswoman
1956 – Fred Funk, American golfer and coach
1955 – Michael D. Duvall, American businessman and politician
1954 – Will Patton, American actor
1952 – Leon Wieseltier, American philosopher, journalist, and critic
1952 – Pat Summitt, American basketball player and coach (d. 2016)
1951 – Danny Edwards, American golfer
1949 – Harry Turtledove, American historian and author
1948 – Laurence Yep, American author and playwright
1947 – Barry Melton, American singer-songwriter and guitarist
1946 – Donald Trump, American businessman, television personality and 45th President of the United States
1945 – Richard Stebbins, American sprinter and educator
1944 – Laurie Colwin, American novelist and short story writer (d. 1992)
1943 – Harold Wheeler, American composer, conductor, and producer
1939 – Steny Hoyer, American lawyer and politician
1938 – Julie Felix, American-English singer-songwriter and guitarist
1936 – Renaldo Benson, American singer-songwriter (d. 2005)
1933 – Jerzy Kosiński, Polish-American novelist and screenwriter (d. 1991)
1932 – Joe Arpaio, American police officer and sheriff
1931 – Junior Walker, American saxophonist (d. 1995)
1931 – Marla Gibbs, American actress and comedian
1929 – Cy Coleman, American pianist and composer (d. 2004)
1929 – Johnny Wilson, Canadian-American ice hockey player and coach (d. 2011)
1926 – Don Newcombe, American baseball player
1925 – Pierre Salinger, American journalist and politician, 11th White House Press Secretary (d. 2004)
1923 – Green Wix Unthank, American soldier, lawyer, and judge (d. 2013)
1921 – Martha Greenhouse, American actress (d. 2013)
1919 – Gene Barry, American actor (d. 2009)
1919 – Sam Wanamaker, American actor and director (d. 1993)
1917 – Atle Selberg, Norwegian-American mathematician and academic (d. 2007)
1916 – Dorothy McGuire, American actress (d. 2001)
1909 – Burl Ives, American actor and singer (d. 1995)
1905 – Arthur Davis, American animator and director (d. 2000)
1905 – Steve Broidy, American businessman (d. 1991)
1904 – Margaret Bourke-White, American photographer and journalist (d. 1971)
1903 – Alonzo Church, American mathematician and logician (d. 1995)
1903 – Rose Rand, Austrian-American logician and philosopher from the Vienna Circle (d. 1980)
1900 – Ruth Nanda Anshen, American writer, editor, and philosopher (d. 2003)
1895 – Jack Adams, Canadian-American ice hockey player, coach, and manager (d. 1968)
1890 – May Allison, American actress (d. 1989)
1879 – Arthur Duffey, American sprinter and coach (d. 1955)
1862 – John Ulric Nef, Swiss-American chemist and academic (d. 1915)
1855 – Robert M. La Follette Sr., American lawyer and politician, 20th Governor of Wisconsin (d. 1925)
1840 – William F. Nast, American businessman (d. 1893)
1820 – John Bartlett, American author and publisher (d. 1905)
1819 – Henry Gardner, American merchant and politician, 23rd Governor of Massachusetts (d. 1892)
1812 – Fernando Wood, American merchant and politician, 73rd Mayor of New York City (d. 1881)
1811 – Harriet Beecher Stowe, American author and activist (d. 1896)
1801 – Heber C. Kimball, American religious leader (d. 1868)
Deaths
2016 – Ann Morgan Guilbert, American actress and singer (b. 1928)
2015 – Anne Nicol Gaylor, American activist, co-founded the Freedom From Religion Foundation (b. 1926)
2014 – James E. Rogers, American lawyer, businessman, and academic (b. 1938)
2013 – Elroy Schwartz, American screenwriter and producer (b. 1923)
2012 – Bob Chappuis, American football player and soldier (b. 1923)
2012 – Margie Hyams, American pianist and vibraphone player (b. 1920)
2009 – Bob Bogle, American musician (The Ventures) (b. 1934)
2007 – Robin Olds, American general and pilot (b. 1922)
2007 – Ruth Graham, Chinese-American author, poet, and painter (b. 1920)
2003 – Dale Whittington, American race car driver (b. 1959)
2002 – June Jordan, American author and activist (b. 1936)
1999 – Bernie Faloney, American-Canadian football player and sportscaster (b. 1932)
1997 – Richard Jaeckel, American actor (b. 1926)
1995 – Roger Zelazny, American author and poet (b. 1937)
1994 – Henry Mancini, American composer and conductor (b. 1924)
1986 – Alan Jay Lerner, American composer and songwriter (b. 1918)
1980 – Charles Miller, American saxophonist and flute player (b. 1939)
1977 – Robert Middleton, American actor (b. 1911)
1953 – Tom Cole, Welsh-American racing driver (b. 1922)
1936 – Hans Poelzig, German architect, painter, and designer, designed the IG Farben Building (b. 1869)
1932 – Dorimène Roy Desjardins, Canadian businesswoman, co-founded Desjardins Group (b. 1858)
1926 – Mary Cassatt, American-French painter (b. 1843)
1914 – Adlai Stevenson I, American lawyer and politician, 23rd Vice President of the United States (b. 1835)
1907 – William Le Baron Jenney, American architect and engineer, designed the Home Insurance Building (b. 1832)
1864 – Leonidas Polk, American general and bishop (b. 1806)
1825 – Pierre Charles L'Enfant, French-American architect and engineer, designed Washington, D.C. (b. 1754)
1801 – Benedict Arnold, American general during the American Revolution later turned British spy (b. 1741)
1662 – Henry Vane the Younger, English-American politician, Governor of the Massachusetts Bay Colony (b. 1613)
Friday 14 June 2019
Robert La Follette Sr. Day in Wisconsin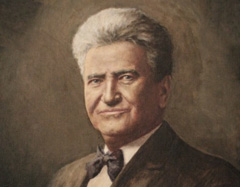 Robert Marion "Fighting Bob" La Follette Sr. (June 14, 1855 – June 18, 1925) is widely regarded as Wisconsin's most distinguished political leader. He served in..→