National Date-Nut Bread Day in United States
National Date-Nut Bread Day in United States is held on September 8. This event in the first decade of the month September is annual.
Help us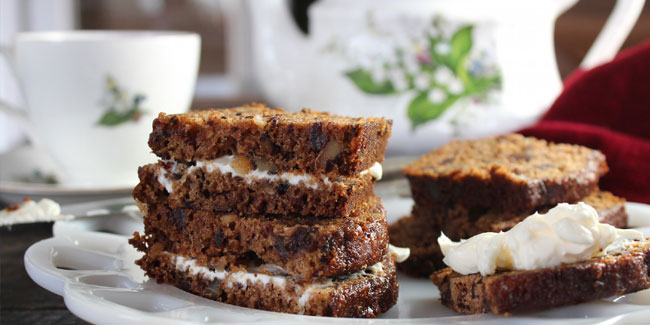 Date and walnut loaf is a traditional bread eaten in Britain, made using dates and walnuts. It is often made with treacle or tea to give it a dark brown colour. Traditionally from Scotland, date and walnut loaf is still enjoyed in many tea rooms around the country.
What is date nut bread made of? Cream sugar and butter together. Add eggs, vanilla, dates and soaking liquid, nuts, flour, and salt. Divide batter equally between two 9x5-inch (or three 8 1/2x4 1/2-inch) greased loaf pans. Bake 1 hour at 300 degrees F (150 degrees C) (or until loaf tests done). This bread will stay good when stored properly for 4-5 days at room temperature.
Walnut bread is an excellent source of omega 3 fatty acids that can give your immunity a significant boost. Walnuts have amino acids that offer multiple vascular benefits to people with heart disease, or those who are at an increased risk of heart disease.
Similar holidays and events, festivals and interesting facts

National Beer Lover's Day, National Acorn Squash Day and National Salami Day in United States on September 7
;

National Coffee Day in Costa Rica on September 8
;

National Steak Au Poivre Day and National "I Love Food" Day in United States on September 9
;

Wienerschnitzel Day on September 9
(United States);

Borscht Day in Ukraine on September 9
(Celebrated on the second Saturday of September);

National TV Dinner Day in USA on September 10
;

Port Wine Day on September 10