Monday 14 January 2019 Calendar with holidays, observances and special days
Holidays and observances
Clean Off Your Desk Day
Dress Up Your Pet Day
Feast of the Ass
National Hot Pastrami Sandwich Day in USA
Organize Your Home Day
Ratification Day (United States)
Events
1972 – Queen Margrethe II of Denmark ascends the throne, the first Queen of Denmark since 1412 and the first Danish monarch not named Frederick or Christian since 1513.
1954 – The Hudson Motor Car Company merges with Nash-Kelvinator Corporation forming the American Motors Corporation.
1953 – Josip Broz Tito is inaugurated as the first President of Yugoslavia.
1950 – The first prototype of the MiG-17 makes its maiden flight.
1943 – World War II: Franklin D. Roosevelt becomes the first President of the United States to travel by airplane while in office when he travels from Miami to Morocco to meet with Winston Churchill.
1784 – American Revolutionary War: Ratification Day, United States - Congress ratifies the Treaty of Paris with Great Britain.
1639 – The "Fundamental Orders", the first written constitution that created a government, is adopted in Connecticut.
1343 – Arnošt of Pardubice becomes the last bishop of Prague and, subsequently, the first Archbishop of Prague.
Births
1992 – Chieh-Yu Hsu, American tennis player
1985 – Joel Rosario, Dominican-American jockey
1984 – Erick Aybar, American baseball player
1984 – Mike Pelfrey, American baseball player
1982 – Marc Broussard, American singer-songwriter and guitarist
1981 – Hyleas Fountain, American heptathlete
1980 – Cory Gibbs, American soccer player
1972 – Kyle Brady, American football player and sportscaster
1969 – Dave Grohl, American singer-songwriter, guitarist, and drummer
1969 – Jason Bateman, American actor, director, and producer
1968 – LL Cool J, American rapper and actor
1966 – Dan Schneider, American TV-producer
1966 – Rene Simpson, Canadian-American tennis player (d. 2013)
1965 – Slick Rick, English-American rapper and producer
1964 – Shepard Smith, American television journalist
1963 – Steven Soderbergh, American director, producer, and screenwriter
1962 – Michael McCaul, American lawyer and politician
1962 – Patricia Morrison, American singer-songwriter and bass player
1959 – Geoff Tate, German-American singer-songwriter and musician
1957 – Anchee Min, Chinese-American painter, photographer, and author
1952 – Maureen Dowd, American journalist and author
1952 – Sydney Biddle Barrows, American businesswoman and author
1950 – Arthur Byron Cover, American author and screenwriter
1949 – Lamar Williams, American bass player (d. 1983)
1949 – Lawrence Kasdan, American director, producer, and screenwriter
1949 – Mary Robison, American short story writer and novelist
1948 – Carl Weathers, American football player and actor
1948 – John Lescroart, American author and screenwriter
1948 – T Bone Burnett, American singer-songwriter, guitarist, and producer
1947 – Bev Perdue, American educator and politician, 73rd Governor of North Carolina
1947 – Taylor Branch, American historian and author
1945 – Kathleen Chalfant, American actress
1944 – Nina Totenberg, American journalist
1943 – Holland Taylor, American actress and playwright
1943 – Shannon Lucid, American biochemist and astronaut
1942 – Dave Campbell, American baseball player and sportscaster
1941 – Faye Dunaway, American actress and producer
1941 – Gibby Gilbert, American golfer
1940 – Julian Bond, American academic and politician (d. 2015)
1940 – Ron Kostelnik, American football player (d. 1993)
1938 – Allen Toussaint, American singer-songwriter, pianist, and producer (d. 2015)
1938 – Billie Jo Spears, American country singer (d. 2011)
1938 – Jack Jones, American singer and actor
1937 – Leo Kadanoff, American physicist and academic (d. 2015)
1937 – Sonny Siebert, American baseball player
1936 – Clarence Carter, American blues and soul singer-songwriter, musician, and record producer
1933 – Stan Brakhage, American director and producer (d. 2003)
1932 – Don Garlits, American race car driver and engineer
1930 – Johnny Grande, American pianist and accordion player (Bill Haley & His Comets) (d. 2006)
1928 – Garry Winogrand, American photographer and author (d. 1984)
1928 – Gerald Arpino, American dancer and choreographer (d. 2008)
1926 – Frank Aletter, American actor (d. 2009)
1926 – Tom Tryon, American actor and author (d. 1991)
1925 – Jean-Claude Beton, Algerian-French engineer and businessman, founded Orangina (d. 2013)
1925 – Moscelyne Larkin, American ballerina (d. 2012)
1924 – Carole Cook, American actress and singer
1923 – Fred Beckey, American mountaineer and author
1921 – Kenneth Bulmer, American author (d. 2005)
1921 – Murray Bookchin, American author and philosopher (d. 2006)
1919 – Andy Rooney, American soldier, journalist, critic, and television personality (d. 2011)
1915 – Mark Goodson, American game show producer, created Family Feud and The Price Is Right (d. 1992)
1914 – Harold Russell, Canadian-American soldier and actor (d. 2002)
1912 – Tillie Olsen, American short story writer (d. 2007)
1911 – Anatoly Rybakov, Russian-American author (d. 1998)
1909 – Brenda Forbes, English-American actress (d. 1996)
1909 – Joseph Losey, American director, producer, and screenwriter (d. 1984)
1908 – Russ Columbo, American singer, violinist, and actor (d. 1934)
1906 – William Bendix, American actor (d. 1964)
1904 – Emily Hahn, American journalist and author (d. 1997)
1901 – Alfred Tarski, Polish-American mathematician and philosopher (d. 1983)
1901 – Bebe Daniels, American actress (d. 1971)
1896 – John Dos Passos, American novelist, poet, and playwright (d. 1970)
1892 – Hal Roach, American actor, director, and producer (d. 1992)
1882 – Hendrik Willem van Loon, Dutch-American historian and journalist (d. 1944)
1863 – Richard F. Outcault, American author and illustrator (d. 1928)
1856 – J. F. Archibald, Australian journalist and publisher, co-founded The Bulletin (d. 1919)
1806 – Matthew Fontaine Maury American astronomer, oceanographer, and historian (d. 1873)
1793 – John C. Clark, American lawyer and politician (d. 1852)
1780 – Henry Baldwin, American judge and politician (d. 1844)
1741 – Benedict Arnold, American-British general (d. 1801)
Deaths
2015 – Bob Boyd, American basketball player and coach (b. 1930)
2013 – Conrad Bain, Canadian-American actor (b. 1923)
2012 – Dan Evins, American businessman, founded Cracker Barrel Old Country Store (b. 1935)
2011 – Georgia Carroll, American singer, model and actress (b. 1919)
2009 – Jan Kaplický, Czech architect, designed the Selfridges Building (b. 1937)
2008 – Judah Folkman, American physician, biologist, and academic (b. 1933)
2006 – Shelley Winters, American actress (b. 1920)
2005 – Charlotte MacLeod, Canadian-American author (b. 1922)
2004 – Ron O'Neal, American actor, director, and screenwriter (b. 1937)
2004 – Uta Hagen, German-American actress (b. 1919)
2000 – Leonard Weisgard, American author and illustrator (b. 1916)
1986 – Donna Reed, American actress (b. 1921)
1984 – Ray Kroc, American businessman and philanthropist (b. 1902)
1981 – G. Lloyd Spencer, American lieutenant and politician (b. 1893)
1980 – Robert Ardrey, American-South African author, playwright, and screenwriter (b. 1908)
1978 – Kurt Gödel, Austrian-American mathematician and philosopher (b. 1906)
1977 – Anaïs Nin, French-American essayist and memoirist (b. 1903)
1970 – William Feller, Croatian-American mathematician and academic (b. 1906)
1965 – Jeanette MacDonald, American actress and singer (b. 1903)
1957 – Humphrey Bogart, American actor (b. 1899)
1949 – Harry Stack Sullivan, American psychiatrist and psychoanalyst (b. 1892)
1943 – Laura E. Richards, American author and poet (b. 1850)
1920 – John Francis Dodge, American businessman, co-founded the Dodge Automobile Company (b. 1864)
1915 – Richard Meux Benson, English priest and saint, founded the Society of St. John the Evangelist (b. 1824)
1892 – Alexander J. Davis, American architect (b. 1803)
1786 – Meshech Weare, American lawyer and politician, 1st Governor of New Hampshire (b. 1713)
Monday 14 January 2019
Eugenio Maria De Hostos' Birthday in Puerto Rico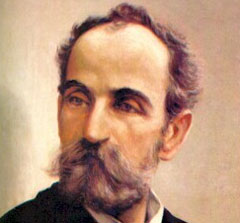 Eugenio Maria de Hostos (January 11, 1839 – August 11, 1903), known as "The Great Citizen of the Americas", was a Puerto Rican educator, philosopher, intellectu..→