Saturday 2 February 2019 Calendar with holidays, observances and special days
Holidays and observances
Festival of the Virgen de la Candelaria, Copacabana in Bolivia (At the beginning of February each year, people from all over the world make the pilgrimage to the glimmering shores of Lake Titicaca to honour the Patroness of Bolivia, Our Lady of Copacabana)
Groundhog Day (United States and Canada), and its related observances: - Marmot Day (Alaska)
Inventor's Day (Thailand)
Virgin of Candelaria (Tenerife, Spain)
Events
2000 – First digital cinema projection in Europe (Paris) realized by Philippe Binant with the DLP CINEMA technology developed by Texas Instruments.
1942 – The Osvald Group is responsible for the first, active event of anti-Nazi resistance in Norway, to protest the inauguration of Vidkun Quisling.
1935 – Leonarde Keeler administers polygraph tests to two murder suspects, the first time polygraph evidence was admitted in U.S. courts.
1934 – The Export-Import Bank of the United States is incorporated.
1887 – In Punxsutawney, Pennsylvania the first Groundhog Day is observed.
1848 – Mexican–American War: The Treaty of Guadalupe Hidalgo is signed.
962 – Translatio imperii: Pope John XII crowns Otto I, Holy Roman Emperor, the first Holy Roman Emperor in nearly 40 years.
Births
1989 – Harrison Smith, American football player
1987 – Javon Ringer, American football player
1987 – Mimi Page, American singer-songwriter and composer
1982 – Kelly Mazzante, American basketball player
1978 – Eden Espinosa, American actress and singer
1975 – Donald Driver, American football player
1973 – Marissa Jaret Winokur, American actress and singer
1970 – Jennifer Westfeldt, American actress and singer
1968 – Scott Erickson, American baseball player and coach
1968 – Sean Elliott, American basketball player and sportscaster
1966 – Robert DeLeo, American bass player, songwriter, and producer
1963 – Eva Cassidy, American singer and guitarist (d. 1996)
1955 – Kim Zimmer, American actress
1954 – Christie Brinkley, American actress, model, and businesswoman
1954 – John Tudor, American baseball player
1953 – Jerry Sisk, Jr., American gemologist, co-founded Jewelry Television (d. 2013)
1952 – John Cornyn, American lawyer and politician, 49th Attorney General of Texas
1952 – Ralph Merkle, American computer scientist and academic
1952 – Rick Dufay, French-American guitarist and songwriter
1949 – Brent Spiner, American actor
1949 – Ross Valory, American rock bass player and songwriter
1948 – Al McKay, American guitarist, songwriter, and producer
1948 – Ina Garten, American chef and author
1947 – Farrah Fawcett, American actress and producer (d. 2009)
1944 – Ursula Oppens, American pianist and educator
1942 – Graham Nash, English-American singer-songwriter and guitarist
1940 – Thomas M. Disch, American author and poet (d. 2008)
1940 – Wayne Fontes, American football player and coach
1939 – Dale T. Mortensen, American economist and academic, Nobel Prize laureate (d. 2014)
1939 – Mary-Dell Chilton, American chemist and inventor and one of the founders of modern plant biotechnology
1937 – Don Buford, American baseball player and coach
1937 – Tom Smothers, American comedian, actor, and activist
1935 – Pete Brown, American golfer (d. 2015)
1934 – Skip Battin, American singer-songwriter and bass player (d. 2003)
1933 – M'el Dowd, American actress and singer (d. 2012)
1933 – Tony Jay, English-American actor (d. 2006)
1932 – Arthur Lyman, American jazz vibraphone and marimba player (d. 2002)
1932 – Robert Mandan, American actor
1931 – Judith Viorst, American journalist and author
1929 – John Henry Holland, American computer scientist and academic (d. 2015)
1928 – A. Leon Higginbotham, Jr., American judge, author, and activist (d. 1998)
1928 – Jay Handlan, American basketball player and engineer (d. 2013)
1927 – Doris Sams, American baseball player (d. 2012)
1927 – Stan Getz, American saxophonist (d. 1991)
1925 – Elaine Stritch, American actress and singer (d. 2014)
1924 – Sonny Stitt, American saxophonist and composer (d. 1982)
1923 – Bonita Granville, American actress and producer (d. 1988)
1923 – James Dickey, American poet and novelist (d. 1997)
1923 – Liz Smith, American journalist and author
1923 – Red Schoendienst, American baseball player, coach, and manager
1922 – James L. Usry, American politician, first African-American mayor of Atlantic City, New Jersey (d. 2002)
1912 – Burton Lane, American songwriter and composer (d. 1997)
1908 – Wes Ferrell, American baseball player and manager (d. 1976)
1905 – Ayn Rand, Russian-born American novelist and philosopher (d. 1982)
1902 – Newbold Morris, American lawyer and politician (d. 1966)
1901 – Jascha Heifetz, Lithuanian-born American violinist and educator (d. 1987)
1900 – Willie Kamm, American baseball player and manager (d. 1988)
1897 – Gertrude Blanch, Russian-American mathematician (d. 1996)
1897 – Howard Deering Johnson, American businessman, founded Howard Johnson's (d. 1972)
1895 – George Halas, American football player and coach (d. 1983)
1895 – Robert Philipp, American painter (d. 1981)
1890 – Charles Correll, American actor and screenwriter (d. 1972)
1887 – Pat Sullivan, Australian-American animator and producer (d. 1933)
1886 – William Rose Benét, American poet and author (d. 1950)
1883 – Johnston McCulley, American author and screenwriter, created Zorro (d. 1958)
1881 – Orval Overall, American baseball player and manager (d. 1947)
1875 – Fritz Kreisler, Austrian-American violinist and composer (d. 1962)
1861 – Solomon R. Guggenheim, American businessman and philanthropist, founded the Solomon R. Guggenheim Museum (d. 1949)
1860 – Curtis Guild, Jr., American journalist and politician, 43rd Governor of Massachusetts (d. 1915)
1856 – Frederick William Vanderbilt, American railway magnate (d. 1938)
1803 – Albert Sidney Johnston, American general (d. 1862)
Deaths
2016 – Bob Elliott, American comedian, actor, and screenwriter (b. 1923)
2015 – Dave Bergman, American baseball player (b. 1953)
2015 – Joseph Alfidi, American pianist, composer, and conductor (b. 1949)
2014 – Philip Seymour Hoffman, American actor, director, and producer (b. 1967)
2013 – Chris Kyle, American soldier and sniper (b. 1974)
2013 – John Kerr, American actor and lawyer (b. 1931)
2013 – Pepper Paire, American baseball player (b. 1924)
2012 – Dorothy Gilman, American author (b. 1923)
2012 – Frederick William Danker, American lexicographer and scholar (b. 1920)
2012 – George Esper, American journalist and academic (b. 1932)
2012 – James F. Lloyd, American pilot and politician (b. 1922)
2004 – Bernard McEveety, American director and producer (b. 1924)
2003 – Lou Harrison, American composer and educator (b. 1917)
1997 – Sanford Meisner, American actor and coach (b. 1904)
1996 – Gene Kelly, American actor, singer, dancer, and director (b. 1912)
1992 – Bert Parks, American actor, singer, television personality; Miss America telecast presenter (b. 1914)
1980 – William Howard Stein, American biochemist and academic, Nobel Prize laureate (b. 1911)
1972 – Natalie Clifford Barney, American author, poet, and playwright (b. 1876)
1956 – Charley Grapewin, American actor (b. 1869)
1956 – Truxtun Hare, American football player and hammer thrower (b. 1878)
1948 – Thomas W. Lamont, American banker and philanthropist (b. 1870)
1918 – John L. Sullivan, American boxer (b. 1858)
1905 – Henri Germain, French banker and politician, founded Le Crédit Lyonnais (b. 1824)
1904 – Ernest Cashel, American-Canadian criminal (b. 1882)
1904 – William Collins Whitney, American financier and politician, 31st United States Secretary of the Navy (b. 1841)
1804 – George Walton, American lawyer and politician, Governor of Georgia (b. 1749)
Saturday 2 February 2019
Presentation of Jesus at the Temple (Presentation of the Lord)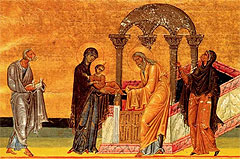 The Presentation of Jesus at the Temple falls on 2 February and celebrates an early episode in the life of Jesus. In the Eastern Orthodox Church, it is one of the twelve ..→