Tuesday 2 February 2021 Calendar with holidays, observances and special days
Calendars
:
Botswana
,
Canada
,
Environmental Dates
,
Pet and Animal Holidays
,
Worldwide Holidays
,
Azerbaijan
,
Bolivia
,
Brazil
,
Food holidays
,
Italy
,
Latvia
,
Liechtenstein
,
Mexico
,
Spain
,
Thailand
,
The Philippines
,
Unusual Holidays
Holidays and observances
Events
2000 – First digital cinema projection in Europe (Paris) realized by Philippe Binant with the DLP CINEMA technology developed by Texas Instruments.
1942 – The Osvald Group is responsible for the first, active event of anti-Nazi resistance in Norway, to protest the inauguration of Vidkun Quisling.
1935 – Leonarde Keeler administers polygraph tests to two murder suspects, the first time polygraph evidence was admitted in U.S. courts.
1934 – The Export-Import Bank of the United States is incorporated.
1887 – In Punxsutawney, Pennsylvania the first Groundhog Day is observed.
1848 – Mexican–American War: The Treaty of Guadalupe Hidalgo is signed.
962 – Translatio imperii: Pope John XII crowns Otto I, Holy Roman Emperor, the first Holy Roman Emperor in nearly 40 years.
Births
1987 – Javon Ringer, American football player. Javon Eugene Ringer (born February 2, 1987) is an American football running back who last played for the Tennessee Titans of the National Football League (NFL).
1987 – Mimi Page, American singer-songwriter and composer. Mimi Page (born February 2, 1987) is an American singer-songwriter, record producer and composer.
1982 – Kelly Mazzante, American basketball player. Kelly Anne Mazzante (born February 2, 1982) is an American retired professional women's basketball player who last played for the Atlanta Dream of the WNBA.
1978 – Eden Espinosa, American actress and singer. Eden Erica Espinosa (born February 2, 1978 in Anaheim, California) is an American actress and singer who is best known for her performances as Elphaba for the Broadway, Los Angeles, and San Francisco productions of the musical Wicked.
1975 – Donald Driver, American football player. He spent his entire 14-season NFL career with the Packers and holds the franchise's all-time records for most career receptions and receiving yards.
1973 – Marissa Jaret Winokur, American actress and singer. Marissa Jaret Winokur (born February 2, 1973), sometimes credited as Marissa Winokur, is an American actress known for her Tony-winning performance as Tracy Turnblad in the Broadway musical Hairspray, an adaptation of John Waters's film, as well as her work on the Pamela Anderson sitcom Stacked.
1970 – Jennifer Westfeldt, American actress and singer. Jennifer Westfeldt (born February 2, 1970) is an American actress and screenwriter known for the 2001 independent film Kissing Jessica Stein, her 2004 Tony nomination for Wonderful Town, and her 2011 film Friends with Kids.
1968 – Scott Erickson, American baseball player and coach. Scott Gavin Erickson (born February 2, 1968) is a former Major League Baseball pitcher.
1968 – Sean Elliott, American basketball player and sportscaster. Sean Michael Elliott (born February 2, 1968) is an American former professional basketball player who starred at small forward in both the college and professional ranks.
1966 – Robert DeLeo, American bass player, songwriter, and producer. He is the younger brother of Stone Temple Pilots guitarist Dean DeLeo.
1963 – Eva Cassidy, American singer and guitarist (d. 1996), was an American singer and guitarist known for her interpretations of jazz and blues blessed with a powerful, emotive soprano voice. In 1992, she released her first album, The Other Side, a set of duets with go-go musician Chuck Brown, followed by the 1996 live solo album titled Live at Blues Alley.
1955 – Kim Zimmer, American actress. Kimberly Jo Zimmer (born February 2, 1955) is an American actress, best known for her television roles as Echo DiSavoy on One Life to Live and as Reva Shayne on Guiding Light.
1954 – Christie Brinkley, American actress, model, and businesswoman. She spent 25 years as the face of CoverGirl, has appeared on over 500 magazine covers, and has signed contracts with major brands—both fashion and non-fashion.
1953 – Jerry Sisk, Jr., American gemologist, co-founded Jewelry Television (d. 2013). Sisk also served as the executive vice president of Jewelry Television until his death in 2013.
1952 – John Cornyn, American lawyer and politician, 49th Attorney General of Texas. Cornyn also previously served as Chair of the National Republican Senatorial Committee from 2007 to 2011.
1952 – Ralph Merkle, American computer scientist and academic. He is one of the inventors of public key cryptography, the inventor of cryptographic hashing, and more recently a researcher and speaker of cryonics.
1952 – Rick Dufay, French-American guitarist and songwriter. Richard Marc "Rick" Dufay (born February 2, 1952) is a French-American guitarist who played in Aerosmith in the period after Brad Whitford left the band in 1980 up to his return in 1984.
1949 – Brent Spiner, American actor. Brent Jay Spiner (/ˈspaɪnər/; born February 2, 1949) is an American actor, comedian, musician and singer best known for his portrayal of the android Lieutenant Commander Data in the television series Star Trek: The Next Generation and four subsequent films.
1949 – Ross Valory, American rock bass player and songwriter. Valory was inducted into the Rock and Roll Hall of Fame as a member of Journey in 2017.
1948 – Al McKay, American guitarist, songwriter, and producer. Al McKay (born February 2, 1948, in New Orleans, Louisiana) is an American guitarist, songwriter, producer, and former member of the American soul/funk/rock/pop band Earth, Wind & Fire, and a recipient of six Grammy Awards.
1948 – Ina Garten, American chef and author. Ina Rosenberg Garten (/ˈaɪnə/ EYE-nə; born February 2, 1948) is an American author, host of the Food Network program Barefoot Contessa, and a former staff member of the White House Office of Management and Budget.
1947 – Farrah Fawcett, American actress and producer (d. 2009), was an American actress of stage and screen, model, and artist. A five-time Emmy Award nominee and six-time Golden Globe Award nominee, Fawcett rose to international fame when she starred as private investigator Jill Munroe in the first season of the television series Charlie's Angels (1976–1977).
1944 – Ursula Oppens, American pianist and educator. She has received five Grammy Award nominations.
1942 – Graham Nash, English-American singer-songwriter and guitarist. Nash became an American citizen on 14 August 1978 and holds dual citizenship of the United Kingdom and the United States.
1940 – Thomas M. Disch, American author and poet (d. 2008), was an American science fiction author and poet. He won the Hugo Award for Best Related Book – previously called "Best Non-Fiction Book" – in 1999, and he had two other Hugo nominations and nine Nebula Award nominations to his credit, plus one win of the John W.
1940 – Wayne Fontes, American football player and coach, was the head coach of the National Football League's Detroit Lions from 1988 to 1996. His 67 wins and 71 losses are each the most for a head coach in team history.
1939 – Dale T. Mortensen, American economist and academic, Nobel Prize laureate (d. 2014), was an American economist and Nobel laureate.
1939 – Mary-Dell Chilton, American chemist and inventor and one of the founders of modern plant biotechnology. Mary-Dell Chilton (born February 2, 1939, in Indianapolis, Indiana) is one of the founders of modern plant biotechnology.
1937 – Don Buford, American baseball player and coach. He also played for the Chicago White Sox and played in the Nippon Professional Baseball league from 1973 to 1976.
1937 – Tom Smothers, American comedian, actor, and activist. Thomas Bolyn Smothers III (born February 2, 1937) is an American comedian, composer and musician, best known as half of the musical comedy duo the Smothers Brothers, alongside his younger brother Dick.
1935 – Pete Brown, American golfer (d. 2015). Peter Ronald Brown (born 25 December 1940) is an English performance poet, lyricist, and singer best known for his collaborations with Cream and Jack Bruce.
1933 – M'el Dowd, American actress and singer (d. 2012), was an American stage, musical theatre and film actress, and singer, whose career spanned more than 50 years. Beginning in Shakespeare roles and films in the 1950s, Dowd continued to perform on stage, film and television into the 21st century.
1933 – Tony Jay, English-American actor (d. 2006), was an English–American character actor, voice artist, and singer.
1932 – Arthur Lyman, American jazz vibraphone and marimba player (d. 2002). His group popularized a style of faux-Polynesian music during the 1950s and 1960s which later became known as exotica.
1932 – Robert Mandan, American actor, was an American actor, best known for his role as Chester Tate, the womanizing businessman husband of Jessica Tate (Katherine Helmond) on the satirical sitcom Soap from 1977–81.
1931 – Judith Viorst, American journalist and author. This includes The Tenth Good Thing About Barney (about the death of a pet) and the Alexander series of short picture books, which includes Alexander and the Terrible, Horrible, No Good, Very Bad Day (1972), which has sold over two million copies.
1929 – John Henry Holland, American computer scientist and academic (d. 2015), was an American scientist and Professor of psychology and Professor of electrical engineering and computer science at the University of Michigan, Ann Arbor. He was a pioneer in what became known as genetic algorithms.
1928 – A. Leon Higginbotham, Jr., American judge, author, and activist (d. 1998), was a prominent African-American civil rights advocate, author, and federal court judge. Higginbotham was the seventh African-American Article III judge appointed in the United States, and the first African-American United States District Judge of the United States District Court for the Eastern District of Pennsylvania.
1928 – Jay Handlan, American basketball player and engineer (d. 2013), was an American college basketball star at Washington and Lee University in Lexington, Virginia from 1948 to 1952. He was born in Wheeling, West Virginia.
1927 – Doris Sams, American baseball player (d. 2012), was an American outfielder and pitcher who played from 1946 through 1953 in the All-American Girls Professional Baseball League. Listed at 5 ft 9 in (1.75 m), 145 lbs., she batted and threw right-handed.
1927 – Stan Getz, American saxophonist (d. 1991), was an American jazz saxophonist. Playing primarily the tenor saxophone, Getz was known as "The Sound" because of his warm, lyrical tone, his prime influence being the wispy, mellow timbre of his idol, Lester Young.
1925 – Elaine Stritch, American actress and singer (d. 2014), was an American actress and singer, known for her work on Broadway. She made her professional stage debut in 1944 and appeared in numerous stage plays, musicals, feature films and television series.
1924 – Sonny Stitt, American saxophonist and composer (d. 1982), was an American jazz saxophonist of the bebop/hard bop idiom. Known for his warm tone, he was one of the best-documented saxophonists of his generation, recording more than 100 albums.
1923 – Bonita Granville, American actress and producer (d. 1988). She was nominated for an Academy Award for her supporting role in the film These Three (1936).
1923 – James Dickey, American poet and novelist (d. 1997). He was appointed the eighteenth United States Poet Laureate in 1966.
1923 – Red Schoendienst, American baseball player, coach, and manager. Albert Fred "Red" Schoendienst (/ˈʃeɪndiːnst/; February 2, 1923 – June 6, 2018) was an American professional baseball second baseman, coach, and manager in Major League Baseball (MLB), and is largely known for his coaching, managing, and playing years with the St.
1922 – James L. Usry, American politician, first African-American mayor of Atlantic City, New Jersey (d. 2002), was the first African-American Mayor of Atlantic City, New Jersey. He was also a professional basketball player.
1912 – Burton Lane, American songwriter and composer (d. 1997), was an American composer and lyricist primarily known for his theatre and film scores. His most popular and successful works include Finian's Rainbow in 1947 and On a Clear Day You Can See Forever 1965.
1908 – Wes Ferrell, American baseball player and manager (d. 1976), was an American professional baseball player. He played in Major League Baseball from 1927 through 1941.
1905 – Ayn Rand, Russian-born American novelist and philosopher (d. 1982), was a Russian-American writer and philosopher. She is known for her two best-selling novels, The Fountainhead and Atlas Shrugged, and for developing a philosophical system she named Objectivism.
1902 – Newbold Morris, American lawyer and politician (d. 1966), was an American politician, lawyer, president of the New York City Council, and two-time candidate for mayor of New York City.
1901 – Jascha Heifetz, Lithuanian-born American violinist and educator (d. 1987), was a Russian-American violinist. Many consider him the greatest violinist of the 20th century.
1900 – Willie Kamm, American baseball player and manager (d. 1988), was an American professional baseball player. He played as a third baseman in Major League Baseball from 1923 to 1935.
1897 – Gertrude Blanch, Russian-American mathematician (d. 1996), was an American mathematician who did pioneering work in numerical analysis and computation. She was a leader of the Mathematical Tables Project in New York from its beginning.
1897 – Howard Deering Johnson, American businessman, founded Howard Johnson's (d. 1972), was an American entrepreneur, businessman, and the founder of an American chain of restaurants and motels under one company of the same name, Howard Johnson's.
1895 – George Halas, American football player and coach (d. 1983). George Stanley Halas Sr. (/ˈhæləs/; February 2, 1895 – October 31, 1983), nicknamed "Papa Bear" and "Mr.
1895 – Robert Philipp, American painter (d. 1981), was an American painter influenced by Impressionism and Post-Impressionism, and known for his nudes, still lifes, and portraits of attractive women and Hollywood stars. Noted art critic Henry McBride called Philipp one of America's top six painters of his generation.
1890 – Charles Correll, American actor and screenwriter (d. 1972), was an American radio comedian, actor and writer, known best for his work for the radio series Amos 'n' Andy with Freeman Gosden. Correll voiced the main character Andy Brown, along with various lesser characters.
1886 – William Rose Benét, American poet and author (d. 1950), was an American poet, writer, and editor. He was the older brother of Stephen Vincent Benét.
1883 – Johnston McCulley, American author and screenwriter, created Zorro (d. 1958), was the author of hundreds of stories, fifty novels, numerous screenplays for film and television, and the creator of the character Zorro.
1881 – Orval Overall, American baseball player and manager (d. 1947), was an American pitcher in Major League Baseball. He was a member of the Chicago Cubs dynasty of the early 1900s.
1875 – Fritz Kreisler, Austrian-American violinist and composer (d. 1962), was an Austrian-born violinist and composer. One of the most noted violin masters of his day, and regarded as one of the greatest violinists of all time, he was known for his sweet tone and expressive phrasing.
1861 – Solomon R. Guggenheim, American businessman and philanthropist, founded the Solomon R. Guggenheim Museum (d. 1949), was an American businessman and art collector. He is best known for establishing the Solomon R.
1860 – Curtis Guild, Jr., American journalist and politician, 43rd Governor of Massachusetts (d. 1915), was an American journalist, soldier, diplomat and politician from Massachusetts. He was the 43rd Governor of Massachusetts, serving from 1906 to 1909.
1856 – Frederick William Vanderbilt, American railway magnate (d. 1938), was a member of the American plutocratic Vanderbilt family. He was a director of the New York Central Railroad for 61 years, and also a director of the Pittsburgh and Lake Erie Railroad and of the Chicago and North Western Railroad.
1803 – Albert Sidney Johnston, American general (d. 1862). Utah War (1857–1858)American Civil War (1861–1865)
Deaths
2015 – Dave Bergman, American baseball player (b. 1953)
2015 – Joseph Alfidi, American pianist, composer, and conductor (b. 1949)
2014 – Philip Seymour Hoffman, American actor, director, and producer (b. 1967)
2013 – Chris Kyle, American soldier and sniper (b. 1974)
2013 – Pepper Paire, American baseball player (b. 1924)
2012 – Dorothy Gilman, American author (b. 1923)
2012 – Frederick William Danker, American lexicographer and scholar (b. 1920)
2012 – George Esper, American journalist and academic (b. 1932)
2012 – James F. Lloyd, American pilot and politician (b. 1922)
2004 – Bernard McEveety, American director and producer (b. 1924)
2003 – Lou Harrison, American composer and educator (b. 1917)
1997 – Sanford Meisner, American actor and coach (b. 1904)
1996 – Gene Kelly, American actor, singer, dancer, and director (b. 1912)
1992 – Bert Parks, American actor, singer, television personality; Miss America telecast presenter (b. 1914)
1980 – William Howard Stein, American biochemist and academic, Nobel Prize laureate (b. 1911)
1972 – Natalie Clifford Barney, American author, poet, and playwright (b. 1876)
1956 – Charley Grapewin, American actor (b. 1869)
1956 – Truxtun Hare, American football player and hammer thrower (b. 1878)
1948 – Thomas W. Lamont, American banker and philanthropist (b. 1870)
1918 – John L. Sullivan, American boxer (b. 1858)
1905 – Henri Germain, French banker and politician, founded Le Crédit Lyonnais (b. 1824)
1904 – Ernest Cashel, American-Canadian criminal (b. 1882)
1904 – William Collins Whitney, American financier and politician, 31st United States Secretary of the Navy (b. 1841)
1804 – George Walton, American lawyer and politician, Governor of Georgia (b. 1749)
Presentation of Jesus at the Temple (Presentation of the Lord)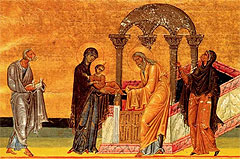 The Presentation of Jesus at the Temple falls on 2 February and celebrates an early episode in the life of Jesus. In the Eastern Orthodox Church, it is one of the twelve ..→