Wednesday 20 February 2019 Calendar with holidays, observances and special days
Holidays and observances
Love Your Pet Day
National Cherry Pie Day and National Muffin Day in USA
Northern Hemisphere Hoodie-Hoo Day
Events
2005 – Spain becomes the first country to vote in a referendum on ratification of the proposed Constitution of the European Union, passing it by a substantial margin, but on a low turnout.
1998 – American figure skater Tara Lipinski becomes the youngest gold-medalist at the 1998 Winter Olympics in Nagano, Japan.
1971 – The United States Emergency Broadcast System is accidentally activated in an erroneous national alert.
1965 – Ranger 8 crashes into the Moon after a successful mission of photographing possible landing sites for the Apollo program astronauts.
1962 – Mercury program: While aboard Friendship 7, John Glenn becomes the first American to orbit the earth, making three orbits in four hours, 55 minutes.
1956 – The United States Merchant Marine Academy becomes a permanent Service Academy.
1952 – Emmett Ashford becomes the first African-American umpire in organized baseball by being authorized to be a substitute umpire in the Southwestern International League.
1944 – World War II: The "Big Week" began with American bomber raids on German aircraft manufacturing centers.
1944 – World War II: The United States takes Eniwetok Island.
1943 – American movie studio executives agree to allow the Office of War Information to censor movies.
1943 – The Saturday Evening Post publishes the first of Norman Rockwell's Four Freedoms in support of United States President Franklin Roosevelt's 1941 State of the Union address theme of Four Freedoms.
1942 – Lieutenant Edward O'Hare becomes America's first World War II flying ace.
1935 – Caroline Mikkelsen becomes the first woman to set foot in Antarctica.
1933 – The Congress of the United States proposes the Twenty-first Amendment to the United States Constitution that will end Prohibition in the United States.
1931 – The Congress of the United States approves the construction of the San Francisco–Oakland Bay Bridge by the state of California.
1913 – King O'Malley drives in the first survey peg to mark commencement of work on the construction of Canberra.
1901 – The legislature of Hawaii Territory convenes for the first time.
1872 – The Metropolitan Museum of Art opens in New York City.
1864 – American Civil War: Battle of Olustee: The largest battle fought in Florida during the war.
1792 – The Postal Service Act, establishing the United States Post Office Department, is signed by United States President George Washington.
Births
1988 – Kealoha Pilares, American football player
1988 – Rihanna, Barbadian-American singer-songwriter and actress
1987 – Miles Teller, American actor
1985 – Ryan Sweeney, American baseball player
1984 – Brian McCann, American baseball player
1984 – Ramzee Robinson, American football player
1983 – Jose Morales, Puerto Rican-American baseball player
1983 – Justin Verlander, American baseball player
1982 – Jason Hirsh, American baseball player
1981 – Fred Jackson, American football player
1978 – Lauren Ambrose, American actress and producer
1977 – Stephon Marbury, American basketball player
1975 – Brian Littrell, American singer-songwriter and actor
1971 – Calpernia Addams, American actress, author, and activist
1967 – Andrew Shue, American actor and activist, founded Do Something
1967 – David Herman, American comedian and actor
1967 – Kurt Cobain, American singer-songwriter and guitarist (d. 1994)
1967 – Lili Taylor, American actress
1967 – Tom Waddle, American football player and sportscaster
1966 – Cindy Crawford, American model and businesswoman
1964 – French Stewart, American actor
1964 – Jeff Maggert, American golfer
1964 – Willie Garson, American actor and director
1963 – Charles Barkley, American basketball player and sportscaster
1962 – Dwayne McDuffie, American author, screenwriter, and producer, co-founded Milestone Media (d. 2011)
1961 – Steve Lundquist, American swimmer
1960 – Joel Hodgson, American comedian, actor, and screenwriter
1959 – Bill Gullickson, American baseball player
1959 – David Corn, American journalist and author
1959 – Scott Brayton, American race car driver (d. 1996)
1954 – Jon Brant, American bass player
1954 – Patty Hearst, American actress and author
1953 – Poison Ivy, American singer-songwriter, guitarist, and producer
1951 – Edward Albert, American actor (d. 2006)
1951 – Randy California, American singer-songwriter and guitarist (d. 1997)
1950 – Walter Becker, American singer-songwriter, guitarist, and producer (d. 2017)
1949 – Ivana Trump, Czech-American socialite and model
1948 – Jennifer O'Neill, American model and actress
1947 – Peter Strauss, American actor and producer
1946 – J. Geils, American singer-songwriter and guitarist (d. 2017)
1946 – Sandy Duncan, American actress, singer, and dancer
1944 – Lew Soloff, American trumpet player, composer, and actor (d. 2015)
1942 – Mitch McConnell, American lawyer, and politician
1938 – Richard Beymer, American actor, director, and cinematographer
1938 – Wiley W. Hilburn, American journalist and academic (d. 2014)
1937 – David Ackles, American singer-songwriter and actor (d. 1999)
1937 – Nancy Wilson, American singer and actress
1937 – Roger Penske, American race car driver and businessman
1936 – Larry Hovis, American actor and singer (d. 2003)
1936 – Marj Dusay, American actress
1935 – Ellen Gilchrist American novelist, short story writer, and poet
1934 – Bobby Unser, American race car driver
1931 – John Milnor, American mathematician and academic
1929 – Amanda Blake, American actress (d. 1989)
1928 – Jean Kennedy Smith, American diplomat, 25th United States Ambassador to Ireland
1928 – Roy Face, American baseball player and carpenter
1927 – Roy Cohn, American lawyer and political activist (d. 1986)
1927 – Sidney Poitier, Bahamian-American actor, director, and diplomat
1926 – Matthew Bucksbaum, American businessman and philanthropist, co-founded General Growth Properties (d. 2013)
1926 – Richard Matheson, American author and screenwriter (d. 2013)
1925 – Robert Altman, American director and screenwriter (d. 2006)
1924 – Gloria Vanderbilt, American actress and fashion designer
1923 – Victor G. Atiyeh, American businessman and politician, 32nd Governor of Oregon (d. 2014)
1921 – Buddy Rogers, American wrestler (d. 1992)
1920 – Karl Albrecht, German businessman, co-founded Aldi (d. 2014)
1918 – Leonore Annenberg, American businesswoman and diplomat (d. 2009)
1916 – Jean Erdman, American dancer and choreographer
1914 – John Charles Daly, South African–American journalist and game show host (d. 1991)
1913 – Tommy Henrich, American baseball player and sportscaster (d. 2009)
1906 – Gale Gordon, American actor (d. 1995)
1902 – Ansel Adams, American photographer and environmentalist (d. 1984)
1901 – Louis Kahn, American architect, designed the Salk Institute, the Kimbell Art Museum and the Bangladesh Parliament Building (d. 1974)
1901 – René Dubos, French-American biologist and author (d. 1982)
1899 – Cornelius Vanderbilt Whitney, American businessman and philanthropist (d. 1992)
1893 – Elizabeth Holloway Marston, American psychologist and author (d. 1993)
1874 – Mary Garden, Scottish-American soprano and actress (d. 1967)
1870 – Jay Johnson Morrow, American engineer and politician, 3rd Governor of the Panama Canal Zone (d. 1937)
1866 – Carl Westman, Swedish architect, designed the Stockholm Court House and Röhsska Museum (d. 1936)
1848 – E. H. Harriman, American businessman and philanthropist (d. 1909)
1839 – Benjamin Waugh, English activist, founded the NSPCC (d. 1908)
1726 – William Prescott, American colonel (d. 1795)
Deaths
2017 – Mildred Dresselhaus, American physicist (b. 1930)
2015 – Henry Segerstrom, American businessman and philanthropist (b. 1923)
2015 – John C. Willke, American physician, author, and activist (b. 1925)
2014 – Garrick Utley, American journalist (b. 1939)
2014 – Walter D. Ehlers, American lieutenant, Medal of Honor recipient (b. 1921)
2013 – David S. McKay, American biochemist and geologist (b. 1936)
2012 – Katie Hall, American educator and politician (b. 1938)
2010 – Alexander Haig, American general and politician, 59th United States Secretary of State (b. 1924)
2009 – Larry H. Miller, American businessman and philanthropist (b. 1944)
2006 – Curt Gowdy, American sportscaster (b. 1919)
2005 – Hunter S. Thompson, American journalist and author (b. 1937)
2005 – John Raitt, American actor and singer (b. 1917)
2005 – Sandra Dee, American actress (b. 1942)
2003 – Orville Freeman, American soldier, lawyer, and politician, 29th Governor of Minnesota (b. 1918)
2001 – Donella Meadows, American environmentalist, author, and academic (b. 1941)
2001 – Rosemary DeCamp, American actress (b. 1910)
1999 – Gene Siskel, American journalist and critic (b. 1946)
1996 – Audrey Munson, American model (b. 1891)
1996 – Solomon Asch, American psychologist and academic (b. 1907)
1993 – Ernest L. Massad, American general (b. 1908)
1993 – Ferruccio Lamborghini, Italian businessman, founded Lamborghini (b. 1916)
1992 – Dick York, American actor (b. 1928)
1987 – Wayne Boring, American illustrator (b. 1905)
1981 – Nicolas de Gunzburg, French-American banker and publisher (b. 1904)
1972 – Maria Goeppert-Mayer, German-American physicist and academic, Nobel Prize laureate (b. 1906)
1972 – Walter Winchell, American journalist and actor (b. 1897)
1966 – Chester W. Nimitz, American admiral (b. 1885)
1961 – Percy Grainger, Australian-American pianist and composer (b. 1882)
1920 – Robert Peary, American admiral and explorer (b. 1856)
1900 – Washakie, American tribal leader (b. 1798)
1895 – Frederick Douglass, American author and activist (b. 1818)
1893 – P. G. T. Beauregard, American general (b. 1818)
1862 – William Wallace Lincoln, American son of Abraham Lincoln (b. 1850)
1806 – Lachlan McIntosh, Scottish-American general and politician (b. 1725)
Wednesday 20 February 2019
John Glenn Friendship 7 Day in Ohio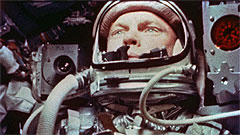 On February 20, 1962, NASA launched one of the most important flights in American history. The mission? Send a man to orbit Earth, observe his reactions and return him ho..→
Wednesday 20 February 2019