Tuesday 7 March 2023 Calendar with holidays, observances and special days
Calendars
:
Bangladesh
,
Israel
,
US Holidays
,
Albania
,
Argentina
,
Company Holidays
,
Dog Holidays and Celebrations
,
Ecuador
,
Food holidays
,
France
,
Germany
,
Mexico
,
Pet and Animal Holidays
,
Sports and Fitness Special Days
,
United Kingdom
,
Unusual Holidays (Weird and Funny Holidays)
,
Worldwide Holidays
Holidays and observances
Events
2009 – The Real Irish Republican Army kills two British soldiers and injures two other soldiers and two civilians at Massereene Barracks, the first British military deaths in Northern Ireland since the end of The Troubles.
1968 – Vietnam War: The United States and South Vietnamese military begin Operation Truong Cong Dinh to root out Viet Cong forces from the area surrounding Mỹ Tho.
1945 – World War II: American troops seize the Ludendorff Bridge over the Rhine river at Remagen.
1900 – The German liner SS Kaiser Wilhelm der Grosse becomes the first ship to send wireless signals to shore.
1876 – Alexander Graham Bell is granted a patent for an invention he calls the "telephone".
1862 – American Civil War: Union forces defeat Confederate troops at the Pea Ridge in northwestern Arkansas.
Births
1988 – Larry Asante, American football player. He played college football at Nebraska.
1985 – Andre Fluellen, American football player. He played college football at Florida State and was drafted in the third round of the 2008 NFL draft by the Detroit Lions.
1984 – Lindsay McCaul, American singer-songwriter. Lindsay McCaul Mattingly (née, Pritchett; born March 7, 1984) is an American contemporary Christian singer-songwriter raised in Merritt Island, Florida.
1983 – Taylor Tankersley, American baseball player. He played in Major League Baseball (MLB) for the Florida Marlins.
1980 – Laura Prepon, American actress. She is also known for her portrayal of Alex Vause in the Netflix comedy-drama series Orange Is the New Black (2013–2019).
1979 – Amanda Somerville, American singer-songwriter. She is known primarily for her work with many European symphonic metal bands.
1974 – Jenna Fischer, American actress, was nominated for the Primetime Emmy Award for Outstanding Supporting Actress in a Comedy Series in 2007, and was a producer for its final season.
1971 – Peter Sarsgaard, American actor. He then appeared in the 1998 independent films Another Day in Paradise and Desert Blue.
1970 – Rachel Weisz, English-American actress and producer. She is the recipient of several accolades, including an Academy Award and a British Academy Film Award.
1968 – Jeff Kent, American baseball player. Jeffrey Franklin Kent (born March 7, 1968) is an American former professional baseball second baseman.
1965 – Steve Beuerlein, American football player and sportscaster. Stephen Taylor Beuerlein (born March 7, 1965) is a former American football quarterback, and is currently an NFL and college football analyst for CBS.
1964 – Bret Easton Ellis, American author and screenwriter. He is a self-proclaimed satirist whose trademark technique, as a writer, is the expression of extreme acts and opinions in an affectless style.
1964 – Wanda Sykes, American comedian, actress, and screenwriter. In 2004, Entertainment Weekly named Sykes as one of the 25 funniest people in America.
1962 – Taylor Dayne, American singer-songwriter and actress. Dayne achieved six additional U.S. top 10 singles, including "Love Will Lead You Back", "Prove Your Love", and "I'll Always Love You".
1960 – Jim Spivey, American runner and coach. James Calvin Spivey (born March 7, 1960 in Schiller Park, Illinois) is a former American middle-distance runner and Olympian.
1960 – Joe Carter, American baseball player and sportscaster. Carter is best known for hitting a walk-off home run to win the 1993 World Series for the Toronto Blue Jays, their second consecutive championship.
1959 – Donna Murphy, American actress and singer. She was also nominated for her roles as Ruth Sherwood in Wonderful Town (2003), Lotte Lenya in LoveMusik (2007) and Bubbie/Raisel in The People in the Picture (2011).
1959 – Tom Lehman, American golfer. A former number 1 ranked golfer, his tournament wins include one major title, the 1996 Open Championship; and he is the only golfer in history to have been awarded the Player of the Year honor on all three PGA Tours: the regular PGA Tour, the Web.com Tour and the PGA Tour Champions.
1958 – Rick Bass, American author and environmentalist. Rick Bass (born March 7, 1958) is an American writer and an environmental activist.
1956 – Bryan Cranston, American actor, director, and producer. Tim Whatley on the NBC sitcom Seinfeld (1994–1997).
1955 – Tommy Kramer, American football player, was a quarterback in the NFL from 1977 to 1990. He played collegiately at Rice University and was selected by the Minnesota Vikings in the first round (27th overall) of the 1977 NFL Draft after being named MVP of the 1977 Senior Bowl.
1952 – Ernie Isley, American guitarist and songwriter. Ernest "Ernie" Isley (born March 7, 1952) is a member of the American musical ensemble The Isley Brothers.
1952 – Lynn Swann, American football player, sportscaster, and politician. Lynn Curtis Swann (born March 7, 1952) is an American football player, broadcaster, politician, and athletic director, best known for his association with the University of Southern California and the Pittsburgh Steelers.
1950 – Billy Joe DuPree, American football player. Billy Joe DuPree (born March 7, 1950) is a former professional American football tight end in the National Football League for the Dallas Cowboys.
1950 – Franco Harris, American football player and businessman. Franco Harris (born March 7, 1950) is a former American football running back who played professionally in the National Football League (NFL) for the Pittsburgh Steelers and Seattle Seahawks.
1950 – J. R. Richard, American baseball player and minister. James Rodney Richard (born March 7, 1950) is an American former starting pitcher in Major League Baseball who played his entire career, from 1971 to 1980, with the Houston Astros.
1946 – Peter Wolf, American singer-songwriter and musician. Peter Wolf (born Peter W.
1945 – Bob Herbert, American journalist. Robert "Bob" Herbert (born March 7, 1945) is an American journalist, an op-ed columnist who wrote for The New York Times.
1945 – Elizabeth Moon, American lieutenant and author. Her novel The Speed of Dark won the 2003 Nebula Award.
1944 – Townes Van Zandt, American singer-songwriter and guitarist (d. 1997). He wrote numerous songs, such as "Pancho and Lefty", "For the Sake of the Song", "Tecumseh Valley", "Rex's Blues", and "To Live Is to Fly", that are widely considered masterpieces of American folk music.
1942 – Michael Eisner, American businessman. Prior to Disney, Eisner was President and CEO of rival film studio Paramount Pictures from 1976 to 1984, and had brief stints at the major television networks: NBC, CBS, and ABC.
1942 – Tammy Faye Messner, American evangelist, television personality, and talk show host (d. 2007), was an American Christian singer, evangelist, author, talk show hostess, and television personality. She initially gained notice for her work with The PTL Club, a televangelist program she co-founded with her then-husband Jim Bakker in 1974.
1940 – Daniel J. Travanti, American actor. Travanti (born Danielo Giovanni Travanty; March 7, 1940) is an American actor.
1938 – David Baltimore, American biologist and academic, Nobel Prize laureate. David Baltimore (born March 7, 1938) is an American biologist, university administrator, and 1975 Nobel laureate in Physiology or Medicine, he is a Professor of Biology at the California Institute of Technology, where he served as president from 1997 to 2006.
1934 – Willard Scott, American television personality and actor. Willard Herman Scott Jr. (born March 7, 1934) is an American weather presenter, author, television personality, actor, clown, comedian and radio personality, best known for his TV work on the Today show and as the creator and original portrayer of Ronald McDonald.
1933 – Ed Bouchee, American baseball player (d. 2013), was an American professional baseball player. He appeared in Major League Baseball as a first baseman for three National League clubs (the Philadelphia Phillies, Chicago Cubs and New York Mets) from 1956 to 1962.
1927 – James Broderick, American actor and director (d. 1982). He is known for his role as Doug Lawrence in the television series Family, which ran from 1976 to 1980.
1925 – Rene Gagnon, American soldier (d. 1979), was a United States Marine Corps corporal who participated in the Battle of Iwo Jima during World War II. He is best known for having been identified as one of the six Marines who helped raise the second of two U.S. flags atop Mount Suribachi on February 23, 1945, in the iconic photograph Raising the Flag on Iwo Jima.
1924 – Bill Boedeker, American football player (d. 2014), was a halfback in the All-America Football Conference and National Football League who played for the Chicago Rockets, the Cleveland Browns, the Philadelphia Eagles and the Green Bay Packers.
1924 – Morton Bard, American psychologist (d. 1997). He was a one-time member of the New York Police Department, a psychologist, and a professor who studied the reactions of crime victims.
1917 – Betty Holberton, American engineer and programmer (d. 2001), was one of the six original programmers of the first general-purpose electronic digital computer, ENIAC. Holberton invented breakpoints in computer debugging.
1917 – Janet Collins, American ballerina and choreographer (d. 2003), was an African American ballet dancer, choreographer, and teacher. She performed on Broadway, in films, and appeared frequently on television.
1910 – Will Glickman, American playwright (d. 1983), was an American playwright who frequently collaborated with Joseph Stein.
1888 – William L. Laurence, Lithuanian-American journalist and author (d. 1977), was a Lithuanian-born American Jewish journalist known for his science journalism writing of the 1940s and 1950s while working for The New York Times. He won two Pulitzer Prizes and, as the official historian of the Manhattan Project, was the only journalist to witness the Trinity test and the atomic bombing of Nagasaki.
1886 – Virginia Pearson, American actress (d. 1958), was an American stage and film actress. She made fifty-one films in a career which extended from 1910 until 1932.
1886 – Wilson Dallam Wallis, American anthropologist (d. 1970). He is remembered for his studies of "primitive" science and religions.
1885 – Milton Avery, American painter (d. 1965), was an American modern painter. Born in Altmar, New York, he moved to Connecticut in 1898 and later to New York City.
1873 – Madame Sul-Te-Wan, American actress (d. 1959), was an American stage, film and television actress. The daughter of freed slaves, she began her career in entertainment touring the East Coast with various theatrical companies and moved to California to become a member of the fledgling film community.
1872 – Piet Mondrian, Dutch-American painter (d. 1944), was a Dutch painter and theoretician who is regarded as one of the greatest artists of the 20th century. He is known for being one of the pioneers of 20th century abstract art, as he changed his artistic direction from figurative painting to an increasingly abstract style, until he reached a point where his artistic vocabulary was reduced to simple geometric elements.
1850 – Champ Clark, American lawyer and politician, 41st Speaker of the United States House of Representatives (d. 1921), was a prominent American politician in the Democratic Party from the 1890s until his death. He represented Missouri in the United States House of Representatives and served as Speaker of the House from 1911 to 1919.
1849 – Luther Burbank, American botanist and author (d. 1926), was an American botanist, horticulturist and pioneer in agricultural science. He developed more than 800 strains and varieties of plants over his 55-year career.
1843 – Marriott Henry Brosius, American senator (d. 1901), was a Republican member of the U.S. House of Representatives from Pennsylvania.
1841 – William Rockhill Nelson, American businessman and publisher, founded The Kansas City Star (d. 1915), was a real estate developer and co-founder of The Kansas City Star in Kansas City, Missouri. He donated his estate (and home) for the establishment of the Nelson-Atkins Museum of Art.
1839 – Ludwig Mond, German-born chemist and British industrialist who discovered the metal carbonyls (d. 1909), was a German-born chemist and industrialist who took British nationality. He discovered an important, previously unknown, class of compounds called metal carbonyls.
1837 – Henry Draper, American physician and astronomer (d. 1882), was an American doctor and amateur astronomer. He is best known today as a pioneer of astrophotography.
1811 – Increase A. Lapham, American botanist and author (d. 1875), was an author, scientist, and naturalist.
1765 – Nicéphore Niépce, French inventor, invented photography (d. 1833), was a French inventor, usually credited as the inventor of photography and a pioneer in that field. Niépce developed heliography, a technique he used to create the world's oldest surviving product of a photographic process: a print made from a photoengraved printing plate in 1825.
1678 – Filippo Juvarra, Italian architect, designed the Basilica of Superga (d. 1736), was an Italian architect, active in a late-Baroque style, who worked primarily in Italy, Spain, and Portugal.
Deaths
2017 – Lynne Stewart, American attorney and activist (b. 1939)
2015 – F. Ray Keyser, Jr., American lawyer and politician, 72nd Governor of Vermont (b. 1927)
2014 – Ned O'Gorman, American poet and educator (b. 1929)
2013 – Claude King, American singer-songwriter and guitarist (b. 1923)
2013 – Frederick B. Karl, American lieutenant and politician (b. 1924)
2007 – Ronnie Wells, American singer and educator (b. 1943)
2006 – Gordon Parks, American photographer, director, and composer (b. 1912)
2005 – Debra Hill, American screenwriter and producer (b. 1950)
2004 – Paul Winfield, American actor (b. 1941)
2001 – Frankie Carle, American pianist and bandleader (b. 1903)
2000 – Pee Wee King, American singer-songwriter (b. 1914)
1999 – Sidney Gottlieb, American chemist and theorist (b. 1918)
1999 – Stanley Kubrick, American director, producer, and screenwriter (b. 1928)
1997 – Edward Mills Purcell, American physicist and academic, Nobel Prize laureate (b. 1912)
1991 – Cool Papa Bell, American baseball player (b. 1903)
1988 – Divine, American drag queen and film actor (b. 1945)
1986 – Jacob K. Javits, American colonel and politician, 58th New York State Attorney General (b. 1904)
1982 – Ida Barney, American astronomer, mathematician, and academic (b. 1886)
1976 – Wright Patman, American lieutenant, lawyer, and politician (b. 1893)
1971 – Richard Montague, American mathematician and philosopher (b. 1930)
1967 – Alice B. Toklas, American writer (b. 1877)
1949 – Bradbury Robinson, American football player, physician, and politician (b. 1884)
1928 – Robert Abbe, American surgeon and radiologist (b. 1851)
Birthday of Luther Burbank in California (Arbor Day)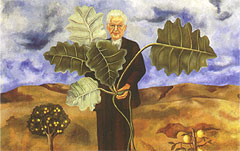 Luther Burbank developed more than 800 strains and varieties of plants including fruits, flowers, grains, grasses, and vegetables. Among his creations are 113 varieties o..→