Thursday 7 March 2019 Calendar with holidays, observances and special days
Holidays and observances
Be Heard Day
Doodle Day (Doodle Day became a worldwide event in 2004 to raise awareness and funds for epilepsy research and support)
Iditarod Trail Sled Dog Race (First Saturday in March)
National Cereal Day and Crown Roast of Pork Day in USA
Events
2009 – The Real Irish Republican Army kills two British soldiers and injures two other soldiers and two civilians at Massereene Barracks, the first British military deaths in Northern Ireland since the end of The Troubles.
1968 – Vietnam War: The United States and South Vietnamese military begin Operation Truong Cong Dinh to root out Viet Cong forces from the area surrounding Mỹ Tho.
1945 – World War II: American troops seize the Ludendorff Bridge over the Rhine river at Remagen.
1900 – The German liner SS Kaiser Wilhelm der Grosse becomes the first ship to send wireless signals to shore.
1876 – Alexander Graham Bell is granted a patent for an invention he calls the "telephone".
1862 – American Civil War: Union forces defeat Confederate troops at the Pea Ridge in northwestern Arkansas.
Births
1988 – Larry Asante, American football player
1985 – Andre Fluellen, American football player
1984 – Lindsay McCaul, American singer-songwriter
1983 – Taylor Tankersley, American baseball player
1980 – Laura Prepon, American actress
1979 – Amanda Somerville, American singer-songwriter
1974 – Jenna Fischer, American actress
1971 – Peter Sarsgaard, American actor
1970 – Rachel Weisz, English-American actress and producer
1968 – Jeff Kent, American baseball player
1965 – Steve Beuerlein, American football player and sportscaster
1964 – Bret Easton Ellis, American author and screenwriter
1964 – Wanda Sykes, American comedian, actress, and screenwriter
1962 – Taylor Dayne, American singer-songwriter and actress
1960 – Jim Spivey, American runner and coach
1960 – Joe Carter, American baseball player and sportscaster
1959 – Donna Murphy, American actress and singer
1959 – Tom Lehman, American golfer
1958 – Rick Bass, American author and environmentalist
1956 – Bryan Cranston, American actor, director, and producer
1955 – Tommy Kramer, American football player
1952 – Ernie Isley, American guitarist and songwriter
1952 – Lynn Swann, American football player, sportscaster, and politician
1950 – Billy Joe DuPree, American football player
1950 – Franco Harris, American football player and businessman
1950 – J. R. Richard, American baseball player and minister
1946 – Peter Wolf, American singer-songwriter and musician
1945 – Arthur Lee, American singer-songwriter and musician (d. 2006)
1945 – Bob Herbert, American journalist
1945 – Elizabeth Moon, American lieutenant and author
1945 – John Heard, American actor and producer (d. 2017)
1944 – Townes Van Zandt, American singer-songwriter and guitarist (d. 1997)
1942 – Michael Eisner, American businessman
1942 – Tammy Faye Messner, American evangelist, television personality, and talk show host (d. 2007)
1940 – Daniel J. Travanti, American actor
1938 – David Baltimore, American biologist and academic, Nobel Prize laureate
1936 – Florentino Fernández, Cuban-American boxer and coach (d. 2013)
1934 – Willard Scott, American television personality and actor
1933 – Ed Bouchee, American baseball player (d. 2013)
1927 – James Broderick, American actor and director (d. 1982)
1925 – Rene Gagnon, American soldier (d. 1979)
1924 – Bill Boedeker, American football player (d. 2014)
1924 – Morton Bard, American psychologist (d. 1997)
1917 – Betty Holberton, American engineer and programmer (d. 2001)
1917 – Janet Collins, American ballerina and choreographer (d. 2003)
1910 – Will Glickman, American playwright (d. 1983)
1888 – William L. Laurence, Lithuanian-American journalist and author (d. 1977)
1886 – Virginia Pearson, American actress (d. 1958)
1886 – Wilson Dallam Wallis, American anthropologist (d. 1970)
1885 – Milton Avery, American painter (d. 1965)
1873 – Madame Sul-Te-Wan, American actress (d. 1959)
1872 – Piet Mondrian, Dutch-American painter (d. 1944)
1850 – Champ Clark, American lawyer and politician, 41st Speaker of the United States House of Representatives (d. 1921)
1849 – Luther Burbank, American botanist and author (d. 1926)
1843 – Marriott Henry Brosius, American senator (d. 1901)
1841 – William Rockhill Nelson, American businessman and publisher, founded The Kansas City Star (d. 1915)
1839 – Ludwig Mond, German-born chemist and British industrialist who discovered the metal carbonyls (d. 1909)
1837 – Henry Draper, American physician and astronomer (d. 1882)
1811 – Increase A. Lapham, American botanist and author (d. 1875)
1765 – Nicéphore Niépce, French inventor, invented photography (d. 1833)
1678 – Filippo Juvarra, Italian architect, designed the Basilica of Superga (d. 1736)
Deaths
2017 – Lynne Stewart, American attorney and activist (b. 1939)
2015 – F. Ray Keyser, Jr., American lawyer and politician, 72nd Governor of Vermont (b. 1927)
2014 – Ned O'Gorman, American poet and educator (b. 1929)
2013 – Claude King, American singer-songwriter and guitarist (b. 1923)
2013 – Frederick B. Karl, American lieutenant and politician (b. 1924)
2007 – Ronnie Wells, American singer and educator (b. 1943)
2006 – Gordon Parks, American photographer, director, and composer (b. 1912)
2005 – Debra Hill, American screenwriter and producer (b. 1950)
2004 – Paul Winfield, American actor (b. 1941)
2001 – Frankie Carle, American pianist and bandleader (b. 1903)
2000 – Pee Wee King, American singer-songwriter (b. 1914)
1999 – Sidney Gottlieb, American chemist and theorist (b. 1918)
1999 – Stanley Kubrick, American director, producer, and screenwriter (b. 1928)
1997 – Edward Mills Purcell, American physicist and academic, Nobel Prize laureate (b. 1912)
1991 – Cool Papa Bell, American baseball player (b. 1903)
1988 – Divine, American drag queen and film actor (b. 1945)
1986 – Jacob K. Javits, American colonel and politician, 58th New York State Attorney General (b. 1904)
1982 – Ida Barney, American astronomer, mathematician, and academic (b. 1886)
1976 – Wright Patman, American lieutenant, lawyer, and politician (b. 1893)
1971 – Richard Montague, American mathematician and philosopher (b. 1930)
1967 – Alice B. Toklas, American writer (b. 1877)
1949 – Bradbury Robinson, American football player, physician, and politician (b. 1884)
1928 – Robert Abbe, American surgeon and radiologist (b. 1851)
1838 – Robert Townsend, American spy (b. 1753)
Thursday 7 March 2019
Birthday of Luther Burbank in California (Arbor Day)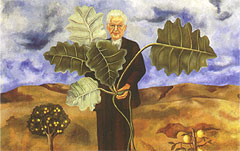 Luther Burbank developed more than 800 strains and varieties of plants including fruits, flowers, grains, grasses, and vegetables. Among his creations are 113 varieties o..→