Saturday 4 April 2020 Calendar with holidays, observances and special days
Holidays and observances
Events
1975 – A United States Air Force Lockheed C-5A Galaxy transporting orphans, crashes near Saigon, South Vietnam shortly after takeoff, killing 172 people.
1975 – Microsoft is founded as a partnership between Bill Gates and Paul Allen in Albuquerque, New Mexico
1969 – Dr. Denton Cooley implants the first temporary artificial heart.
1968 – A.E.K. Athens B.C. becomes the first Greek team to win the European Basketball Cup.
1965 – The first model of the new Saab Viggen fighter aircraft is unveiled.
1958 – The CND peace symbol is displayed in public for the first time in London.
1945 – World War II: American troops capture Kassel.
1945 – World War II: American troops liberate Ohrdruf forced labor camp in Germany.
1944 – World War II: First bombardment of oil refineries in Bucharest by Anglo-American forces kills 3000 civilians.
1925 – The Schutzstaffel (SS) is founded in Germany.
1913 – First Balkan War: Greek aviator Emmanouil Argyropoulos becomes the first pilot to die in the Hellenic Air Force when his plane crashes.
1887 – Argonia, Kansas elects Susanna M. Salter as the first female mayor in the United States.
1873 – The Kennel Club is founded, the oldest and first official registry of purebred dogs in the world.
1865 – American Civil War: A day after Union forces capture Richmond, Virginia, U.S. President Abraham Lincoln visits the Confederate capital.
1841 – William Henry Harrison dies of pneumonia, becoming the first President of the United States to die in office, and setting the record for the briefest administration. Vice President John Tyler succeeds Harrison as President.
1818 – The United States Congress adopts the flag of the United States with 13 red and white stripes and one star for each state (then 20).
1814 – Napoleon abdicates for the first time and names his son Napoleon II as Emperor of the French.
1812 – United States President James Madison enacts a ninety-day embargo on trade with the United Kingdom.
1796 – Georges Cuvier delivers the first paleontological lecture.
1768 – In London, Philip Astley stages the first modern circus.
1721 – Sir Robert Walpole becomes the first British prime minister.
1460 – Basel University is founded.
1147 – First historical record of Moscow.
Births
1996 – Austin Mahone, American singer-songwriter and actor
1993 – Frank Kaminsky, American basketball player
1991 – Jack Cooley, American basketball player
1991 – Jamie Lynn Spears, American actress and singer
1987 – Cameron Maybin, American baseball player
1984 – Sean May, American basketball player
1983 – Amanda Righetti, American actress
1983 – Ben Gordon, American basketball player
1982 – Justin Cook, American voice actor and producer
1981 – Casey Daigle, American baseball player
1981 – Currensy, American rapper
1981 – Ned Vizzini, American author and screenwriter (d. 2013)
1980 – Eric Steinbach, American football player
1980 – Trevor Moore, American actor, director, producer, and screenwriter
1979 – Andy McKee, American guitarist
1979 – Natasha Lyonne, American actress
1978 – Jason Ellison, American baseball player and scout
1977 – Adam Dutkiewicz, American guitarist, songwriter, and producer
1977 – Keith Bulluck, American football player and sportscaster
1977 – Omarr Smith, American football player and coach
1977 – Stephan Bonnar, American mixed martial artist
1976 – James Roday, American actor, director, and screenwriter
1975 – Joyce Giraud, Puerto Rican-American model, television actress and producer, Miss Puerto Rico 1994
1975 – Miranda Lee Richards, American singer-songwriter
1975 – Pamela Ribon, American actress, screenwriter, and author
1975 – Scott Rolen, American baseball player
1973 – Chris Banks, American football player (d. 2014)
1973 – David Blaine, American magician and producer
1973 – Kelly Price, American singer-songwriter
1972 – Jill Scott, American singer-songwriter and actress
1971 – John Zandig, American wrestler and promoter
1971 – Josh Todd, American singer-songwriter and actor
1971 – Malik Yusef, American actor, producer, and poet
1970 – Greg Garcia, American director, producer, and screenwriter
1966 – Mike Starr, American bass player (d. 2011)
1966 – Nancy McKeon, American actress
1965 – Robert Downey Jr., American actor, producer, and screenwriter
1964 – Anthony Clark, American actor
1964 – David Cross, American actor, producer, and screenwriter
1964 – Dr. Chud, American drummer and singer
1963 – A. Michael Baldwin, American actor, producer, and screenwriter
1963 – Jack Del Rio, American football player and coach
1961 – Hildi Santo-Tomas, American interior decorator
1959 – Phil Morris, American actor and screenwriter
1956 – David E. Kelley, American screenwriter and producer
1956 – Tom Herr, American baseball player and manager
1951 – John Hannah, American football player and coach
1950 – Christine Lahti, American actress and director
1949 – Junior Braithwaite, Jamaican-American singer (d. 1999)
1949 – Shing-Tung Yau, Chinese-American mathematician and academic
1948 – Berry Oakley, American bass player (d. 1972)
1948 – Dan Simmons, American author
1947 – Ray Fosse, American baseball player and sportscaster
1946 – Bubba Wyche, American football player and coach
1945 – Caroline McWilliams, American actress (d. 2010)
1944 – Bob McDill, American country music songwriter
1944 – Craig T. Nelson, American actor, director, producer, and screenwriter
1942 – Elizabeth Levy, American author
1942 – Jim Fregosi, American baseball player and manager (d. 2014)
1942 – Kitty Kelley, American journalist and biographer
1940 – Sharon Sheeley, American singer-songwriter (d. 2002)
1939 – Darlene Hooley, American educator and politician
1939 – JoAnne Carner, American golfer
1938 – A. Bartlett Giamatti, American businessman and academic (d. 1989)
1935 – Kenneth Mars, American actor and comedian (d. 2011)
1934 – Helen Hanft, American actress (d. 2013)
1933 – Bill France, Jr., American businessman (d. 2007)
1932 – Anthony Perkins, American actor (d. 1992)
1932 – Clive Davis, American record producer, founded Arista Records and J Records
1932 – Johanna Reiss, Dutch-American author
1932 – Richard Lugar, American lieutenant and politician, 44th Mayor of Indianapolis
1931 – Bobby Ray Inman, American admiral and intelligence officer
1929 – Humbert Allen Astredo, American actor (d. 2016)
1928 – Estelle Harris, American actress and comedian
1928 – Maya Angelou, American memoirist and poet (d. 2014)
1927 – Joe Orlando, Italian-American author and illustrator (d. 1998)
1926 – Mildred Fay Jefferson, American physician and activist (d. 2010)
1925 – Emmett Williams, American poet and author (d. 2007)
1925 – Frank Truitt, American basketball player and coach (d. 2014)
1925 – Gene Reynolds, American actor, director, producer, and screenwriter
1924 – Bob Christie, American racing driver (d. 2009)
1924 – Gil Hodges, American baseball player and manager (d. 1972)
1922 – Elmer Bernstein, American composer and conductor (d. 2004)
1921 – Elizabeth Wilson, American actress (d. 2015)
1920 – Orunamamu, American-Canadian author and educator (d. 2014)
1916 – David White, American actor (d. 1990)
1916 – Mickey Owen, American baseball player and coach (d. 2005)
1914 – Richard Coogan, American actor (d. 2014)
1913 – Frances Langford, American actress and singer (d. 2005)
1913 – Muddy Waters, American singer-songwriter and guitarist (d. 1983)
1913 – Rosemary Lane, American actress and singer (d. 1974)
1906 – Bea Benaderet, Turkish-Jewish Irish-American television, radio, and voice actress (d. 1968)
1906 – John Cameron Swayze, American journalist (d. 1995)
1902 – Stanley G. Weinbaum, American author and poet (d. 1935)
1898 – Agnes Ayres, American actress (d. 1940)
1897 – Dina Manfredini, Italian-American super-centenarian (d. 2012)
1896 – Robert E. Sherwood, American playwright and screenwriter (d. 1955)
1895 – Arthur Murray, American dancer and educator (d. 1991)
1888 – Tris Speaker, American baseball player and manager (d. 1958)
1886 – Frank Luther Mott, American historian and journalist (d. 1964)
1884 – James Alberione, Italian priest, founded the Society of St. Paul (d. 1971)
1875 – Pierre Monteux, Sephardic Jewish French-American viola player and conductor (d. 1964)
1869 – Mary Colter, American architect, designed the Desert View Watchtower (d. 1958)
1843 – William Henry Jackson, American painter and photographer (d. 1942)
1826 – Zénobe Gramme, Belgian engineer, invented the Gramme machine (d. 1901)
1821 – Linus Yale, Jr., American engineer and businessman (d. 1868)
1818 – Thomas Mayne Reid, Irish-American author and poet (d. 1883)
1802 – Dorothea Dix, American nurse and activist (d. 1887)
1792 – Thaddeus Stevens, American lawyer and politician (d. 1868)
1780 – Edward Hicks, American minister and painter (d. 1849)
Deaths
2015 – Donald N. Levine, American sociologist and academic (b. 1931)
2014 – Curtis Bill Pepper, American journalist and author (b. 1917)
2014 – Wayne Henderson, American trombonist and producer (b. 1939)
2013 – Carmine Infantino, American illustrator (b. 1925)
2013 – Roger Ebert, American journalist, critic, and screenwriter (b. 1942)
2012 – A. Dean Byrd, American psychologist and academic (b. 1948)
2012 – Roberto Rexach Benítez, American-Puerto Rican academic and politician, 10th President of the Senate of Puerto Rico (b. 1929)
2011 – Scott Columbus, American drummer (b. 1956)
2009 – Maxine Cooper, American actress, activist and photographer (b. 1924)
2007 – Bob Clark, American actor, director, producer, and screenwriter (b. 1941)
2003 – Anthony Caruso, American actor (b. 1916)
2001 – Ed Roth, American illustrator and engineer (b. 1932)
2001 – Maury Van Vliet, American-Canadian academic (b. 1913)
1999 – Early Wynn, American baseball player and sportscaster (b. 1920)
1999 – Lucille Lortel, American actress, artistic director and producer (b. 1900)
1996 – Barney Ewell, American runner and long jumper (b. 1918)
1996 – Boone Guyton, American lieutenant and pilot (b. 1913)
1995 – Priscilla Lane, American actress (b. 1915)
1993 – Alfred Mosher Butts, American game designer, invented Scrabble (b. 1899)
1992 – Arthur Russell, American singer-songwriter and cellist (b. 1951)
1991 – Graham Ingels, American illustrator (b. 1915)
1991 – H. John Heinz III, American soldier and politician (b. 1938)
1987 – C. L. Moore, American author and academic (b. 1911)
1984 – Oleg Antonov, Russian-Ukrainian engineer and businessman, founded Antonov (b. 1906)
1983 – Gloria Swanson, American actress (b. 1899)
1980 – Red Sovine, American singer-songwriter and guitarist (b. 1917)
1979 – Edgar Buchanan, American actor (b. 1903)
1977 – Andrey Dikiy, Ukrainian-American journalist, historian, and politician (b. 1893)
1972 – Adam Clayton Powell, Jr., American pastor and politician (b. 1908)
1972 – Stefan Wolpe, German-American composer and academic (b. 1902)
1968 – Martin Luther King Jr., American minister and activist, Nobel Prize laureate (b. 1929)
1967 – Al Lewis, American songwriter (b. 1901)
1958 – Johnny Stompanato, American soldier and bodyguard (b. 1925)
1951 – George Albert Smith, American religious leader, 8th President of The Church of Jesus Christ of Latter-day Saints (b. 1870)
1941 – Emine Nazikedâ Kadınefendi, the first wife and chief consort of Sultan Mehmed VI (b. 1866)
1933 – Elizabeth Bacon Custer, American author and educator (b. 1842)
1931 – André Michelin, French businessman, co-founded the Michelin Tyre Company (b. 1853)
1929 – Karl Benz, German engineer and businessman, founded Mercedes-Benz (b. 1844)
1912 – Charles Brantley Aycock, American lawyer and politician, 50th Governor of North Carolina (b. 1859)
1912 – Isaac K. Funk, American minister, lexicographer, and publisher, co-founded Funk & Wagnalls (b. 1839)
1883 – Peter Cooper, American businessman and philanthropist, founded Cooper Union (b. 1791)
1878 – Richard M. Brewer, American criminal (b. 1850)
1864 – Joseph Pitty Couthouy, American commander and paleontologist (b. 1808)
1861 – John McLean, American jurist and politician, 6th United States Postmaster General (b. 1785)
1846 – Solomon Sibley, American lawyer and politician, 1st Mayor of Detroit (b. 1769)
1841 – William Henry Harrison, American general and politician, 9th President of the United States (b. 1773)
1792 – James Sykes, American lawyer and politician (b. 1725)
Saturday 4 April 2020
International Day of Mine Awareness and Assistance in Mine Action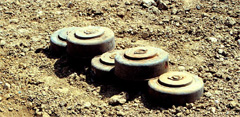 On 8 December 2005, the General Assembly declared that 4 April of each year shall be observed as the International Day for Mine Awareness and Assistance in Mine Action. R..→