Saturday 3 June 2023 Calendar with holidays, observances and special days
Calendars
:
US Holidays
,
Argentina
,
Australia
,
Career Holidays (Recognition Holidays)
,
Chocolate holidays
,
Ecuador
,
Environmental Dates
,
Fiji
,
Food holidays
,
France
,
Germany
,
Health Calendar
,
Ireland
,
Namibia
,
New Zealand
,
Smart events
,
Sports and Fitness Special Days
,
Thailand
,
Tonga
,
United Kingdom
,
United Nations Holidays
,
Unusual Holidays (Weird and Funny Holidays)
,
Worldwide Holidays
Holidays and observances
Events
2013 – The trial of United States Army private Chelsea Manning for leaking classified material to WikiLeaks begins in Fort Meade, Maryland.
1973 – A Soviet supersonic Tupolev Tu-144 crashes near Goussainville, France, killing 14, the first crash of a supersonic passenger aircraft.
1965 – The launch of Gemini 4, the first multi-day space mission by a NASA crew. Ed White, a crew member, performs the first American spacewalk.
1940 – Franz Rademacher proposes plans to make Madagascar the "Jewish homeland", an idea that had first been considered by 19th century journalist Theodor Herzl.
1916 – The National Defense Act is signed into law, increasing the size of the United States National Guard by 450,000 men.
1889 – The first long-distance electric power transmission line in the United States is completed, running 14 miles (23 km) between a generator at Willamette Falls and downtown Portland, Oregon.
1866 – The Fenians are driven out of Fort Erie, Ontario back into the United States.
1864 – American Civil War: Battle of Cold Harbor: Union forces attack Confederate troops in Hanover County, Virginia.
1861 – American Civil War: Battle of Philippi (also called the Philippi Races): Union forces rout Confederate troops in Barbour County, Virginia, now West Virginia.
1839 – In Humen, China, Lin Tse-hsü destroys 1.2 million kg of opium confiscated from British merchants, providing Britain with a casus belli to open hostilities, resulting in the First Opium War.
Births
1995 – Dani Cameranesi, American ice hockey player. She made her debut for the US national women's team at the 2014 4 Nations Cup in Kamloops, British Columbia, Canada.
1989 – Katie Hoff, American swimmer. Kathryn Elise Hoff (born June 3, 1989) is an American former competition swimmer, Olympic medalist, and former world record-holder.
1978 – Lyfe Jennings, American singer-songwriter and producer. The New York Times referred to him as a "socially minded R&B singer".
1977 – Az-Zahir Hakim, American football player. He was drafted by the St.
1977 – Travis Hafner, American baseball player. A left-handed hitter, Hafner played for the Texas Rangers, Cleveland Indians and New York Yankees.
1976 – Jamie McMurray, American race car driver. James Christopher McMurray (born June 3, 1976), nicknamed Jamie Mac, is an American former professional stock car racing driver and currently an analyst for Fox NASCAR.
1975 – Jeff Soto, American painter and illustrator. His distinct color palette, subject matter and technique have been said to bridge the gap between Pop Surrealism and Street Art.
1975 – Jose Molina, Puerto Rican-American baseball player. José Molina is the name of:
1972 – Matt Pike, American singer-songwriter and guitarist. Matt Pike (born June 3, 1972) is an American metal musician best known as the guitarist of the stoner metal/doom metal band Sleep and the frontman of High on Fire.
1971 – Carl Everett, American baseball player. Carl Edward Everett III (born June 3, 1971) is a former Major League Baseball outfielder.
1970 – Greg Hancock, American motorcycle racer. Gregory Alan "Greg" Hancock (born June 3, 1970) is an American professional motorcycle speedway rider.
1967 – Anderson Cooper, American journalist and author. The program is usually broadcast live from a New York City studio; however, Cooper often broadcasts live from CNN's studios in Washington, D.C., or on location for breaking news stories.
1965 – Jeff Blumenkrantz, American actor and composer. Jeff Blumenkrantz (born June 3, 1965) is an American actor, composer and lyricist.
1965 – Mike Gordon, American singer, bass player, and director. Michael Eliot "Mike" Gordon (born June 3, 1965) is an American bass guitarist and vocalist most recognized as a founding member of the band Phish.
1964 – Kerry King, American guitarist and songwriter. He co-founded the band with Jeff Hanneman in 1981 and remained a member for nearly four decades.
1961 – Lawrence Lessig, American lawyer, academic, and author, founded the Creative Commons. Furman Professor of Law at Harvard Law School and the former director of the Edmond J.
1961 – Peter Vidmar, American gymnast. Peter Glen Vidmar (born June 3, 1961 in Los Angeles) is an American gymnast and Olympic medalist.
1959 – Sam Mills, American football player, was an American football linebacker who played twelve seasons in the National Football League (NFL) for the New Orleans Saints and Carolina Panthers. He also played for three seasons in the United States Football League (USFL) with the Philadelphia Stars and won two championships.
1956 – Brad Nessler, American sportscaster. Bradley Nessler (born June 3, 1956) is an American sportscaster, who currently calls college football and college basketball games for CBS Sports.
1954 – Susan Landau, American mathematician and engineer. Susan Landau (born June 3, 1954, New York City) is an American mathematician, engineer, cybersecurity policy expert, and Bridge Professor in Cybersecurity and Policy at the Fletcher School of Law and Diplomacy at Tufts University.
1952 – Billy Powell, American keyboard player and songwriter (Lynyrd Skynyrd) (d. 2009), was an American musician and a longtime keyboardist of Southern rock band Lynyrd Skynyrd from 1972 until his death in 2009.
1950 – Deniece Williams, American singer-songwriter. Williams has won four Grammys with twelve nominations altogether.
1950 – Larry Probst, American businessman. Lawrence Francis Probst III (born June 3, 1950) is an American businessman who is best known for his work with the video game publisher Electronic Arts, including acting as CEO from 1991 until 2007 and as executive chairman from 2013–14.
1950 – Melissa Mathison, American screenwriter and producer (d. 2015), was an American film and television screenwriter and an activist for Tibetan freedom. She was best known for writing the screenplays for the films The Black Stallion (1979) and E.T. the Extra-Terrestrial (1982), the latter of which earned her the Saturn Award for Best Writing and a nomination for the Academy Award for Best Original Screenplay.
1950 – Suzi Quatro, American-English singer-songwriter, bass player, producer, and actress. She was the first female bass player to become a major rock star.:1–3
1947 – John Dykstra, American special effects artist and producer. John Charles Dykstra, A.S.C. (/ˈdaɪkstrə/; born June 3, 1947) is an American special effects artist, pioneer in the development of the use of computers in filmmaking and recipient of three Academy Awards, among many other awards and prizes.
1946 – Eddie Holman, American pop/R&B/gospel singer. His specialty ranges from R&B and pop to gospel.
1946 – Tristan Rogers, Australian-American actor. He is currently starring as Robert Scorpio on General Hospital.
1945 – Hale Irwin, American golfer and architect. Irwin (born June 3, 1945) is an American professional golfer.
1945 – Ramon Jacinto, Filipino singer, guitarist, and businessman, founded the Rajah Broadcasting Network. Ramón Pereyra Jacinto (born June 3, 1945), best known by his initials RJ , is a Filipino businessman, musician and radio personality.
1944 – Edith McGuire, American sprinter and educator. Edith Marie McGuire (born June 3, 1944), later known as Edith McGuire Duvall, is an American former sprinter.
1944 – Mary Thom, American journalist and author, was an American feminist, writer, and editor. She was one of the founding editors of Ms. magazine, and was an editor for the magazine for 20 years.
1943 – Billy Cunningham, American basketball player and coach. He spent a total of 17 seasons with the NBA's Philadelphia 76ers (nine as player, eight as coach), and two seasons as a player with the Carolina Cougars of the ABA.
1942 – Curtis Mayfield, American singer-songwriter and producer (d. 1999), was an American singer-songwriter, guitarist, and record producer, and one of the most influential musicians behind soul and politically conscious African-American music. He first achieved success and recognition with The Impressions during the civil rights movement of the late 1950s and 1960s, and later worked as a solo artist.
1940 – Connie Saylor, American race car driver (d. 1993), was a journeyman NASCAR racecar driver.
1939 – Steve Dalkowski, American baseball player. Stephen Louis Dalkowski Jr. (born June 3, 1939), nicknamed Dalko, is an American retired left-handed pitcher.
1936 – Larry McMurtry, American novelist and screenwriter. Larry Jeff McMurtry (born June 3, 1936) is an American novelist, essayist, bookseller, and screenwriter whose work is predominantly set in either the Old West or in contemporary Texas.
1934 – Rolland D. McCune, American minister and theologian. McCune (born June 3, 1934- June 17, 2019) was an American theologian and ordained Baptist minister (First Baptist Church of Warsaw, Indiana).
1931 – John Norman, American philosopher and author. John Norman is the pen name of John Frederick Lange, Jr. (born June 3, 1931), who is the author of the Gor series of fantasy novels, and a professor of philosophy.
1931 – Lindy Remigino, American runner and coach, was an American track and field athlete, the 1952 Olympic 100 m champion.
1930 – Dakota Staton, American singer (d. 2007), was an American jazz vocalist who found international acclaim with the 1957 No. 4 hit "The Late, Late Show". She was also known by the Muslim name Aliyah Rabia for a period due to her conversion to Islam as interpreted by the Ahmadiyya Muslim Community.
1930 – Marion Zimmer Bradley, American author and poet (d. 1999), was an American author of fantasy, historical fantasy, science fiction, and science fantasy novels, and is best known for the Arthurian fiction novel The Mists of Avalon, and the Darkover series. While she is noted for her feminist perspective in her writing,:28–29 her popularity has been posthumously marred by multiple accusations against her of child sexual abuse and rape by two of her children, Mark and Moira Greyland, and others.
1929 – Chuck Barris, American game show host and producer (d. 2017), was an American game show creator, producer and host. Barris was known for hosting The Gong Show and creating The Dating Game and The Newlywed Game.
1928 – Donald Judd, American sculptor and painter (d. 1994), was an American artist associated with minimalism (a term he nonetheless stridently disavowed). In his work, Judd sought autonomy and clarity for the constructed object and the space created by it, ultimately achieving a rigorously democratic presentation without compositional hierarchy.
1927 – Boots Randolph, American saxophonist and composer (d. 2007), was an American musician best known for his 1963 saxophone hit "Yakety Sax" (which became Benny Hill's signature tune). Randolph was a major part of the "Nashville sound" for most of his professional career.
1926 – Allen Ginsberg, American poet (d. 1997), was an American poet, philosopher, and writer. As a Columbia University college student in the 1940s, he began friendships with William S.
1925 – Tony Curtis, American actor (d. 2010), was an American film actor whose career spanned six decades but who achieved the height of his popularity in the 1950s and early 1960s. He acted in more than 100 films in roles covering a wide range of genres, from light comedy to serious drama.
1924 – Bernard Glasser, American director and producer (d. 2014). The first film he produced was Gold Raiders.
1924 – Colleen Dewhurst, Canadian-American actress (d. 1991). She is known most for theatre roles, and for a while as "the Queen of Off-Broadway".
1924 – Jimmy Rogers, American singer and guitarist (d. 1997), was a Chicago blues singer, guitarist and harmonica player, best known for his work as a member of Muddy Waters's band in the early 1950s. He also had solo hits on the R&B chart with "That's All Right" in 1950 and "Walking by Myself" in 1954.
1918 – Lili St. Cyr, American dancer (d. 1999). Willis Marie Van Schaack (June 3, 1918 – January 29, 1999), known professionally as Lili St.
1917 – Leo Gorcey, American actor (d. 1969), was an American stage and movie actor who became famous for portraying the leader of the group of young hooligans known variously as the Dead End Kids, The East Side Kids, and as an adult, The Bowery Boys. Always the most pugnacious member of the gangs in which he participated, young Leo was the filmic prototype of the young punk.
1911 – Ellen Corby, American actress and screenwriter (d. 1999). She is best remembered for the role of Esther "Grandma" Walton on the CBS television series The Waltons, for which she won three Emmy Awards.
1910 – Paulette Goddard, American actress and model (d. 1990), was an American actress, a child fashion model and a performer in several Broadway productions as a Ziegfeld Girl; she became a major star of Paramount Pictures in the 1940s. Her most notable films were her first major role, as Charlie Chaplin's leading lady in Modern Times, and Chaplin's subsequent film The Great Dictator.
1904 – Charles R. Drew, American physician and surgeon (d. 1950), was an American surgeon and medical researcher. He researched in the field of blood transfusions, developing improved techniques for blood storage, and applied his expert knowledge to developing large-scale blood banks early in World War II.
1904 – Jan Peerce, American tenor and actor (d. 1984), was an American operatic tenor. Peerce was an accomplished performer on the operatic and Broadway concert stages, in solo recitals, and as a recording artist.
1903 – Eddie Acuff, American actor (d. 1956), was an American stage and film actor. His best-known recurring role is that of Mr.
1900 – Adelaide Ames, American astronomer and academic (d. 1932), was an American astronomer and research assistant at Harvard University. She contributed to the study of galaxies with her co-authorship of A Survey of the External Galaxies Brighter Than the Thirteenth Magnitude, which was later known as the Shapley-Ames catalog.
1899 – Georg von Békésy, Hungarian-American biophysicist and academic, Nobel Prize laureate (d. 1972), was a Hungarian biophysicist.
1897 – Memphis Minnie, American singer-songwriter (d. 1973), was a blues guitarist, vocalist, and songwriter whose recording career lasted for over three decades. She recorded around 200 songs, some of the best known being "Bumble Bee", "Nothing in Rambling", and "Me and My Chauffeur Blues".
1879 – Alla Nazimova, Ukrainian-American actress, producer, and screenwriter (d. 1945), was a Russian-American actress.
1879 – Raymond Pearl, American biologist and botanist (d. 1940), was an American biologist, regarded as one of the founders of biogerontology. He spent most of his career at Johns Hopkins University in Baltimore.
1873 – Otto Loewi, German-American pharmacologist and psychobiologist, Nobel Prize laureate (d. 1961), was a German-born pharmacologist and psychobiologist who discovered the role of acetylcholine as an endogenous neurotransmitter. For his discovery he was awarded the Nobel Prize in Physiology or Medicine in 1936, which he shared with Sir Henry Dale, who was a lifelong friend who helped to inspire the neurotransmitter experiment.
1866 – George Howells Broadhurst, English-American director and manager (d. 1952), was an Anglo-American theatre owner/manager, director, producer and playwright.
1864 – Ransom E. Olds, American businessman, founded Oldsmobile and REO Motor Car Company (d. 1950), was a pioneer of the American automotive industry, after whom the Oldsmobile and REO brands were named. He claimed to have built his first steam car as early as 1887 and his first gasoline-powered car in 1896.
1852 – Theodore Robinson, American painter and academic (d. 1896), was an American painter best known for his Impressionist landscapes. He was one of the first American artists to take up Impressionism in the late 1880s, visiting Giverny and developing a close friendship with Claude Monet.
1844 – Garret Hobart, American lawyer and politician, 24th Vice President of the United States (d. 1899), was the 24th vice president of the United States, serving from 1897 until his death. He was the sixth American vice president to die in office.
1808 – Jefferson Davis, American colonel and politician, President of the Confederate States of America (d. 1889), was an American politician who served as the president of the Confederate States from 1861 to 1865. As a member of the Democratic Party, he represented Mississippi in the United States Senate and the House of Representatives before the American Civil War.
Deaths
2016 – Muhammad Ali, American boxer (b. 1942)
2015 – Bevo Francis, American basketball player (b. 1932)
2015 – Eugene Kennedy, American psychologist and academic (b. 1928)
2014 – Elodie Lauten, French-American composer and educator (b. 1950)
2013 – Arnold Eidus, American violinist and producer (b. 1922)
2013 – Deacon Jones, American football player and actor (b. 1938)
2013 – Frank Lautenberg, American soldier and politician (b. 1924)
2013 – Will D. Campbell, American minister, author, and activist (b. 1924)
2012 – Carol Ann Abrams, American producer, author, and academic (b. 1942)
2011 – Andrew Gold, American singer, songwriter, musician and arranger (b. 1951)
2011 – Jack Kevorkian, American pathologist, author, and activist (b. 1928)
2011 – James Arness, American actor and producer (b. 1923)
2010 – Rue McClanahan, American actress (b. 1934)
2009 – David Carradine, American actor (b. 1936)
2009 – Koko Taylor, American singer (b. 1928)
2003 – Felix de Weldon, Austrian-American sculptor, designed the Marine Corps War Memorial (b. 1907)
2002 – Lew Wasserman, American talent agent and manager (b. 1913)
2001 – Anthony Quinn, Mexican-American actor and producer (b. 1915)
1997 – Dennis James, American actor and game show host (b. 1917)
1990 – Robert Noyce, American physicist and businessman, co-founded the Intel Corporation (b. 1927)
1987 – Will Sampson, American actor and painter (b. 1933)
1981 – Carleton S. Coon, American anthropologist and academic (b. 1904)
1975 – Ozzie Nelson, American actor and bandleader (b. 1906)
1969 – George Edwin Cooke, American soccer player (b. 1883)
1933 – William Muldoon, American wrestler (b. 1852)
1861 – Stephen A. Douglas, American lawyer and politician, 7th Secretary of State of Illinois (b. 1813)
1780 – Thomas Hutchinson, American businessman and politician, Governor of the Province of Massachusetts Bay (b. 1711)
Confederate Memorial Day in Kentucky, Louisiana and Tennessee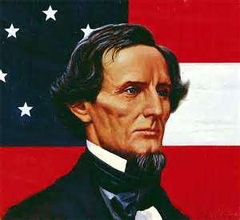 In Kentucky, Louisiana and Tennessee,Confederate Memorial Day is observed on June 3. On this day in 1808 was the birthday of Jefferson Davis (the only President of the Co..→