Monday 3 June 2019 Calendar with holidays, observances and special days
Calendars
:
Argentina
,
Australia
,
Career Holidays (Recognition Holidays)
,
Environmental Dates
,
Food holidays
,
Germany
,
Health Calendar
,
Namibia
,
United Nations Holidays
,
Unusual Holidays
,
Worldwide Holidays
Holidays and observances
Confederate Memorial Day (Kentucky, Louisiana, and Tennessee, United States)
Mabo Day in Australia (It commemorates Eddie Koiki Mabo (c. 29 June 1936–21 January 1992) a Torres Strait Islander whose campaign for Indigenous land rights led to a landmark decision of the High Court of Australia that, on 3 June 1992, overturned the legal fiction of terra nullius which had characterised Australian law with regards to land and title since the voyage of James Cook in 1770)
World Clubfoot Day (an initiative of the Ponseti International Association to commemorate the birthday of Ignacio Ponseti (1914-2009), the pioneer of the Ponseti technique for clubfoot)
Events
2013 – The trial of United States Army private Chelsea Manning for leaking classified material to WikiLeaks begins in Fort Meade, Maryland.
1973 – A Soviet supersonic Tupolev Tu-144 crashes near Goussainville, France, killing 14, the first crash of a supersonic passenger aircraft.
1965 – The launch of Gemini 4, the first multi-day space mission by a NASA crew. Ed White, a crew member, performs the first American spacewalk.
1940 – Franz Rademacher proposes plans to make Madagascar the "Jewish homeland", an idea that had first been considered by 19th century journalist Theodor Herzl.
1916 – The National Defense Act is signed into law, increasing the size of the United States National Guard by 450,000 men.
1889 – The first long-distance electric power transmission line in the United States is completed, running 14 miles (23 km) between a generator at Willamette Falls and downtown Portland, Oregon.
1866 – The Fenians are driven out of Fort Erie, Ontario back into the United States.
1864 – American Civil War: Battle of Cold Harbor: Union forces attack Confederate troops in Hanover County, Virginia.
1861 – American Civil War: Battle of Philippi (also called the Philippi Races): Union forces rout Confederate troops in Barbour County, Virginia, now West Virginia.
1839 – In Humen, China, Lin Tse-hsü destroys 1.2 million kg of opium confiscated from British merchants, providing Britain with a casus belli to open hostilities, resulting in the First Opium War.
Births
1995 – Dani Cameranesi, American ice hockey player
1989 – Katie Hoff, American swimmer
1978 – Lyfe Jennings, American singer-songwriter and producer
1977 – Az-Zahir Hakim, American football player
1977 – Travis Hafner, American baseball player
1976 – Jamie McMurray, American race car driver
1975 – Jeff Soto, American painter and illustrator
1975 – Jose Molina, Puerto Rican-American baseball player
1973 – Jason Jones, Canadian-American actor and screenwriter
1972 – Matt Pike, American singer-songwriter and guitarist
1971 – Carl Everett, American baseball player
1970 – Greg Hancock, American motorcycle racer
1967 – Anderson Cooper, American journalist and author
1965 – Jeff Blumenkrantz, American actor and composer
1965 – Mike Gordon, American singer, bass player, and director
1964 – Kerry King, American guitarist and songwriter
1962 – David Cole, American DJ, producer, and songwriter (d. 1995)
1961 – Lawrence Lessig, American lawyer, academic, and author, founded the Creative Commons
1961 – Peter Vidmar, American gymnast
1960 – Don Brown, American novelist, author and attorney.
1959 – John Carlson, American radio host
1959 – Sam Mills, American football player
1956 – Brad Nessler, American sportscaster
1956 – Danny Wilde, American singer-songwriter and guitarist
1954 – Susan Landau, American mathematician and engineer
1952 – Billy Powell, American keyboard player and songwriter (Lynyrd Skynyrd) (d. 2009)
1950 – Deniece Williams, American singer-songwriter
1950 – Larry Probst, American businessman
1950 – Melissa Mathison, American screenwriter and producer (d. 2015)
1950 – Suzi Quatro, American-English singer-songwriter, bass player, producer, and actress
1947 – John Dykstra, American special effects artist and producer
1946 – Eddie Holman, American pop/R&B/gospel singer
1946 – Michael Clarke, American drummer (d. 1993)
1946 – Tristan Rogers, Australian-American actor
1945 – Hale Irwin, American golfer and architect
1945 – Ramon Jacinto, Filipino singer, guitarist, and businessman, founded the Rajah Broadcasting Network
1944 – Edith McGuire, American sprinter and educator
1944 – Mary Thom, American journalist and author
1943 – Billy Cunningham, American basketball player and coach
1942 – Curtis Mayfield, American singer-songwriter and producer (d. 1999)
1940 – Connie Saylor, American race car driver (d. 1993)
1939 – Steve Dalkowski, American baseball player
1936 – Larry McMurtry, American novelist and screenwriter
1934 – Rolland D. McCune, American minister and theologian
1931 – John Norman, American philosopher and author
1931 – Lindy Remigino, American runner and coach
1930 – Dakota Staton, American singer (d. 2007)
1930 – Marion Zimmer Bradley, American author and poet (d. 1999)
1929 – Chuck Barris, American game show host and producer (d. 2017)
1928 – Donald Judd, American sculptor and painter (d. 1994)
1927 – Boots Randolph, American saxophonist and composer (d. 2007)
1926 – Allen Ginsberg, American poet (d. 1997)
1925 – Tony Curtis, American actor (d. 2010)
1924 – Bernard Glasser, American director and producer (d. 2014)
1924 – Colleen Dewhurst, Canadian-American actress (d. 1991)
1924 – Jimmy Rogers, American singer and guitarist (d. 1997)
1918 – Lili St. Cyr, American dancer (d. 1999)
1917 – Leo Gorcey, American actor (d. 1969)
1911 – Ellen Corby, American actress and screenwriter (d. 1999)
1910 – Paulette Goddard, American actress and model (d. 1990)
1904 – Charles R. Drew, American physician and surgeon (d. 1950)
1904 – Jan Peerce, American tenor and actor (d. 1984)
1903 – Eddie Acuff, American actor (d. 1956)
1900 – Adelaide Ames, American astronomer and academic (d. 1932)
1899 – Georg von Békésy, Hungarian-American biophysicist and academic, Nobel Prize laureate (d. 1972)
1897 – Memphis Minnie, American singer-songwriter (d. 1973)
1879 – Alla Nazimova, Ukrainian-American actress, producer, and screenwriter (d. 1945)
1879 – Raymond Pearl, American biologist and botanist (d. 1940)
1873 – Otto Loewi, German-American pharmacologist and psychobiologist, Nobel Prize laureate (d. 1961)
1866 – George Howells Broadhurst, English-American director and manager (d. 1952)
1864 – Ransom E. Olds, American businessman, founded Oldsmobile and REO Motor Car Company (d. 1950)
1852 – Theodore Robinson, American painter and academic (d. 1896)
1844 – Garret Hobart, American lawyer and politician, 24th Vice President of the United States (d. 1899)
1808 – Jefferson Davis, American colonel and politician, President of the Confederate States of America (d. 1889)
1636 – John Hale, American minister (d. 1700)
Deaths
2016 – Muhammad Ali, American boxer (b. 1942)
2015 – Bevo Francis, American basketball player (b. 1932)
2015 – Eugene Kennedy, American psychologist and academic (b. 1928)
2014 – Elodie Lauten, French-American composer and educator (b. 1950)
2013 – Arnold Eidus, American violinist and producer (b. 1922)
2013 – Deacon Jones, American football player and actor (b. 1938)
2013 – Frank Lautenberg, American soldier and politician (b. 1924)
2013 – Will D. Campbell, American minister, author, and activist (b. 1924)
2012 – Carol Ann Abrams, American producer, author, and academic (b. 1942)
2011 – Andrew Gold, American singer, songwriter, musician and arranger (b. 1951)
2011 – Jack Kevorkian, American pathologist, author, and activist (b. 1928)
2011 – James Arness, American actor and producer (b. 1923)
2010 – Rue McClanahan, American actress (b. 1934)
2009 – David Carradine, American actor (b. 1936)
2009 – Koko Taylor, American singer (b. 1928)
2003 – Felix de Weldon, Austrian-American sculptor, designed the Marine Corps War Memorial (b. 1907)
2002 – Lew Wasserman, American talent agent and manager (b. 1913)
2001 – Anthony Quinn, Mexican-American actor and producer (b. 1915)
1997 – Dennis James, American actor and game show host (b. 1917)
1990 – Robert Noyce, American physicist and businessman, co-founded the Intel Corporation (b. 1927)
1987 – Will Sampson, American actor and painter (b. 1933)
1981 – Carleton S. Coon, American anthropologist and academic (b. 1904)
1975 – Ozzie Nelson, American actor and bandleader (b. 1906)
1969 – George Edwin Cooke, American soccer player (b. 1883)
1938 – John Flanagan, Irish-American hammer thrower and tug of war competitor (b. 1873)
1933 – William Muldoon, American wrestler (b. 1852)
1906 – John Maxwell, American golfer (b. 1871)
1861 – Stephen A. Douglas, American lawyer and politician, 7th Secretary of State of Illinois (b. 1813)
1780 – Thomas Hutchinson, American businessman and politician, Governor of the Province of Massachusetts Bay (b. 1711)
Confederate Memorial Day in Kentucky, Louisiana and Tennessee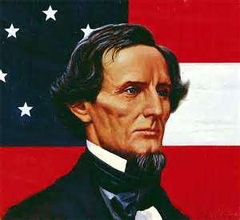 In Kentucky, Louisiana and Tennessee,Confederate Memorial Day is observed on June 3. On this day in 1808 was the birthday of Jefferson Davis (the only President of the Co..→