Sunday 9 June 2019 Calendar with holidays, observances and special days
Holidays and observances
Coral Triangle Day (The CTD was first held on June 10, 2012, as a regional interpretation of World Oceans Day. During the 8th Coral Triangle Initiative on Coral Reefs, Fisheries and Food Security (a multilateral partnership to safeguard the Coral Triangle's marine and coastal biological resources) Senior Official Meeting, member countries declared to designate the Coral Triangle Day to be held annually. The region covers the exclusive economic zones of six countries: Indonesia, Malaysia, Philippines, Papua New Guinea, Solomon Islands, and Timor-Leste)
Donald Duck Day (Donald first appeared to us in a 1934 film called The Wise Little Hen, a retelling of the original little red hen story)
International Accreditation Day
National Strawberry-Rhubarb Pie Day in USA
World Pet Memorial Day
Events
1959 – The USS George Washington is launched. It is the first nuclear-powered ballistic missile submarine.
1957 – First ascent of Broad Peak by Fritz Wintersteller, Marcus Schmuck, Kurt Diemberger, and Hermann Buhl.
1954 – McCarthyism: Joseph Welch, special counsel for the United States Army, lashes out at Senator Joseph McCarthy during hearings on whether Communism has infiltrated the Army giving McCarthy the famous rebuke, "You've done enough. Have you no sense of decency, sir, at long last? Have you left no sense of decency?"
1928 – Charles Kingsford Smith completes the first trans-Pacific flight in a Fokker Trimotor monoplane, the Southern Cross.
1915 – William Jennings Bryan resigns as Woodrow Wilson's Secretary of State over a disagreement regarding the United States' handling of the sinking of the RMS Lusitania.
1863 – American Civil War: Battle of Brandy Station, Virginia.
1862 – American Civil War: Stonewall Jackson concludes his successful Shenandoah Valley Campaign with a victory in the Battle of Port Republic; his tactics during the campaign are now studied by militaries around the world.
1534 – Jacques Cartier is the first European to discover the Saint Lawrence River.
Births
1986 – Ashley Postell, American gymnast
1986 – Doug Legursky, American football player
1985 – Sebastian Telfair, American basketball player
1983 – Danny Richar, Dominican-American baseball player
1983 – Dwayne Jones, American basketball player
1983 – Josh Cribbs, American football player
1981 – Natalie Portman, Israeli-American actress, director, and producer
1980 – Mike Fontenot, American baseball player
1980 – Udonis Haslem, American basketball player
1979 – Amanda Lassiter, American basketball player
1978 – Hayden Schlossberg, American director, producer, and screenwriter
1978 – Heather Mitts, American soccer player
1978 – Shandi Finnessey, American model and actress, Miss USA 2004
1977 – Olin Kreutz, American football player
1973 – Tedy Bruschi, American football player and sportscaster
1969 – Eric Wynalda, American soccer player, coach, and sportscaster
1967 – Dean Dinning, American rock musician (Toad the Wet Sprocket)
1964 – Gloria Reuben, Canadian-American actress
1964 – Slaid Cleaves, American singer-songwriter and guitarist
1964 – Wayman Tisdale, American basketball player and bass player (d. 2009)
1963 – David Koepp, American director, producer, and screenwriter
1963 – Johnny Depp, American actor
1962 – Ken Rose, American football player
1961 – Aaron Sorkin, American screenwriter, producer, and playwright
1961 – Michael J. Fox, Canadian-American actor, producer, and author
1961 – Thomas Benson, American football player
1958 – David Ancrum, American basketball player and coach
1956 – Patricia Cornwell, American journalist and author
1954 – Elizabeth May, American-Canadian environmentalist, lawyer, and politician
1954 – George Pérez, American author and illustrator
1954 – Gregory Maguire, American author
1953 – Ken Navarro, Italian-American guitarist and composer
1952 – Billy Knight, American basketball player
1951 – Brian Taylor, American basketball player
1951 – Dave Parker, American baseball player and coach
1951 – James Newton Howard, American composer, conductor, and producer
1951 – Michael Patrick Cronan, American graphic designer and academic (d. 2013)
1950 – Fred Jackson, American football player and coach
1950 – Giorgos Kastrinakis, Greek-American basketball player
1948 – Jim Bailey, American football player
1946 – Deyda Hydara, Gambian journalist and publisher, co-founded The Point (d. 2004)
1944 – Wally Gabler, American football player and sportscaster
1943 – Charles Saatchi, Iraqi-English businessman, co-founded Saatchi & Saatchi
1939 – Charles Webb, American author
1939 – Dick Vitale, American basketball player, coach, and sportscaster
1938 – Charles Wuorinen, American composer and educator
1935 – Dutch Savage, American wrestler and promoter (d. 2013)
1934 – Jackie Wilson, American singer-songwriter (d. 1984)
1933 – Al Cantello, American javelin thrower and coach
1931 – Bill Virdon, American baseball player, coach, and manager
1931 – Jackie Mason, American comedian, actor, and screenwriter
1929 – Johnny Ace, American singer and pianist (d. 1954)
1927 – Jim Nolan, American basketball player (d. 1983)
1926 – Calvin "Fuzz" Jones, American singer and bass player (d. 2010)
1926 – Happy Rockefeller, American philanthropist, 31st Second Lady of the United States (d. 2015)
1925 – Herman Sarkowsky, German-American businessman and philanthropist, co-founded the Seattle Seahawks (d. 2014)
1925 – Keith Laumer, American soldier and author (d. 1993)
1924 – Ed Farhat, American wrestler and manager (d. 2003)
1922 – George Axelrod, American director, producer, and screenwriter (d. 2003)
1922 – John Gillespie Magee, Jr., Chinese-American pilot and poet (d. 1941)
1921 – Arthur Hertzberg, American rabbi and scholar (d. 2006)
1918 – John Hospers, American philosopher and politician (d. 2011)
1916 – Robert McNamara, American businessman and politician, 8th United States Secretary of Defense (d. 2009)
1915 – Jim McDonald, American football player and coach (d. 1997)
1915 – Les Paul, American guitarist and songwriter (d. 2009)
1912 – Ingolf Dahl, German-American pianist, composer, and conductor (d. 1970)
1910 – Robert Cummings, American actor, singer, and director (d. 1990)
1908 – Branch McCracken, American basketball player and coach (d. 1970)
1908 – Luis Kutner, American lawyer, author, and activist (d. 1993)
1906 – Robert Klark Graham, American eugenicist and businessman, founded Repository for Germinal Choice (d. 1997)
1903 – Marcia Davenport, American author and critic (d. 1996)
1902 – Skip James, American singer-songwriter and guitarist (d. 1969)
1900 – Fred Waring, American singer, bandleader, and television host (d. 1984)
1895 – Archie Weston, American football player and journalist (d. 1981)
1893 – Irish Meusel, American baseball player and coach (d. 1963)
1891 – Cole Porter, American composer and songwriter (d. 1964)
1879 – Harry DeBaecke, American rower (d. 1961)
1851 – Charles Joseph Bonaparte, American lawyer and politician, 46th United States Attorney General (d. 1921)
1845 – Frank Norton, American baseball player (d. 1920)
1842 – Hazard Stevens, American military officer, mountaineer, politician and writer (d. 1918)
1781 – George Stephenson, English engineer, designed the Liverpool and Manchester Railway (d. 1848)
1768 – Samuel Slater, English-American engineer and businessman (d. 1835)
Deaths
2017 – Adam West, American actor and investor (b. 1928)
2015 – Pumpkinhead, American rapper (b. 1975)
2014 – Alicemarie Huber Stotler, American lawyer and judge (b. 1942)
2014 – Bob Welch, American baseball player and coach (b. 1956)
2014 – Elsie Quarterman, American ecologist and academic (b. 1910)
2014 – Gustave Tassell, American fashion designer (b. 1926)
2012 – Abram Wilson, American-English trumpet player and educator (b. 1973)
2012 – Hawk Taylor, American baseball player and coach (b. 1939)
2011 – Mike Mitchell, American basketball player (b. 1956)
2009 – Dick May, American race car driver (b. 1930)
2008 – Algis Budrys, Lithuanian-American author and critic (b. 1931)
2007 – Frankie Abernathy, American purse designer, cast-member on The Real World: San Diego (b. 1981)
2004 – Brian Williamson, Jamaican activist, co-founded J-FLAG (b. 1945)
2004 – Rosey Brown, American football player and coach (b. 1932)
2000 – Jacob Lawrence, American painter and academic (b. 1917)
2000 – John Abramovic, American basketball player (b. 1919)
1998 – Lois Mailou Jones, American painter and academic (b. 1905)
1997 – Stanley Knowles, American-Canadian academic and politician (b. 1908)
1993 – Alexis Smith, Canadian-born American actress (b. 1921)
1991 – Claudio Arrau, Chilean-American pianist and educator (b. 1903)
1989 – George Wells Beadle, American geneticist and academic, Nobel Prize laureate (b. 1903)
1984 – Helen Hardin, American painter (b. 1943)
1981 – Allen Ludden, American game show host (b. 1917)
1973 – Chuck Bennett, American football player and coach (b. 1907)
1960 – Harry S. Hammond, American football player and businessman (b. 1884)
1953 – Ernest Graves, Sr., American football player, coach, and general (b. 1880)
1929 – Margaret Lawrence, American actress (b. 1889)
1889 – Mike Burke, American baseball player (b. 1854)
Sunday 9 June 2019
Day of the Holy Trinity. Pentecost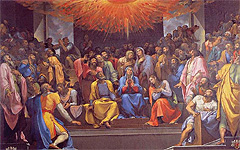 In Christianity, Pentecost (Day of the Holy Trinity) is celebrated fifty days after Easter Sunday, inclusively (i.e., 49 days with the first day counted, seven weeks), he..→